Ref.: 676740 10
LONGLIFE power battery – VARTA
D
Powerful energy source for devices that need plenty of power, such as battery operated toys, cordless computer accessories, torches, etc.
Modern icons make the recommended application easy to identify

This label from kaiserkraft evaluates products based on a wide range of sustainability criteria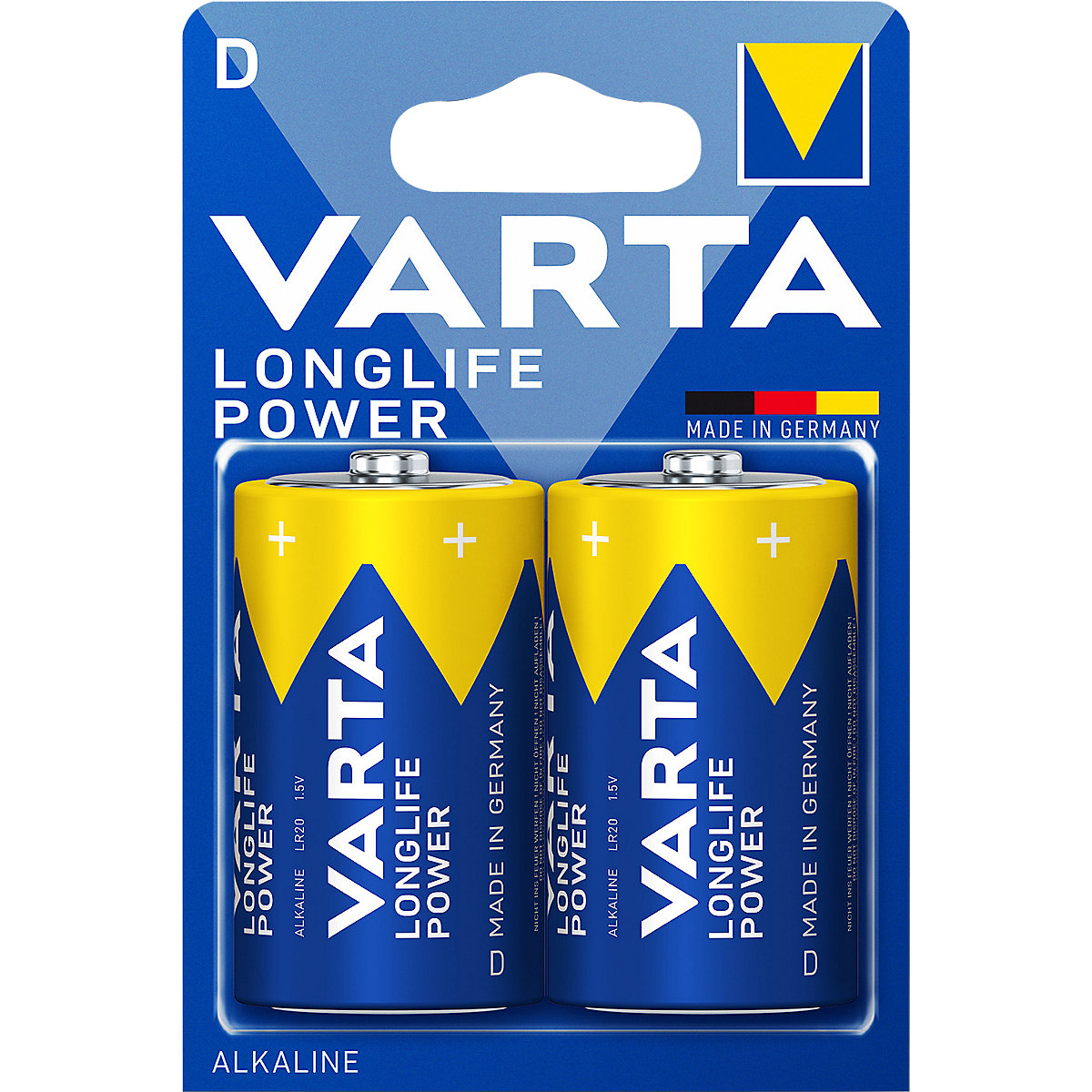 pack of 2, 10+ packs
Do you need as much power as possible? Then this is exactly the battery that you've been looking for. The VARTA Longlife power is the most powerful of the VARTA batteries. Developed especially for devices with high energy requirements.
Please note:
It is prohibited to dispose of batteries and rechargeable batteries as household waste, as they can contain hazardous substances that can harm the environment and your health. At the same time, they also contain important resources such as nickel, iron, zinc or manganese that can be recycled.
You are therefore obliged to dispose of these products in the correct manner. After using the batteries and rechargeable batteries, you can either send them back to us or dispose of them at the nearest collection point (e.g. at official collection points or at retailers) free of charge.
Powerful energy source for devices that need plenty of power, such as battery operated toys, cordless computer accessories, torches, etc.
Modern icons make the recommended application easy to identify
Battery version

alkaline manganese battery

Voltage

1,5

V
Height

61.5

mm
Width

34.2

mm
Battery size

D

Product type

batteries

Supplied

assembled

Weight

0.27

kg

Sustainability
Enkelfähig
Enkelfähig product
Enkelfähig refers to multi-generational thinking, and reflects the extent to which a product or service contributes to the emergence of a sustainable, social and fair future in which our grandchildren will still be able to live. Enkelfähig asks the same question of every product: will this product help create a better tomorrow for future generations?
The 2 categories in which this product performs particularly well are listed below.
For more information about the product evaluation and the Enkelfähig Initiative, please visit our
Enkelfähig information page
.

Circular economy
A circular economy is an economic system in which waste is avoided and resources are used efficiently by recirculating materials, products and waste in closed cycles and reusing them as raw materials or sources of energy for new products.
This product makes a greater contribution to achieving a circular economy. The greater contribution compared to other products is the result of several factors, including the use of hardwearing materials, the ability to be recycled, and the use of recycled materials in the product design. Sustainable packaging is also factored into any assessment within a circular economy.

Innovation and technological progress
This product scores points within its product group due to the use of an innovative product design or innovative materials that advance product sustainability. Compared to other products, the product utilises, for example, material solutions that are more sustainable, the use of an increased share of recycled materials, or an optimised product design that has a positive impact on the recyclability, service life, durability and therefore the general sustainability of the product solution.