TCL – 11000 BTU mobile air conditioner
3-in-1 device, cooling power 3.2 kW
3-in-1 device: air conditioning, dehumidification and ventilation
Suitable for rooms up to approx. 35 m²
Ideal air distribution due to adjustable air outlet
Air conditioning can be set from +16 °C to +31 °C
No water tank – condensate is recycled and used in the device, no tank emptying necessary
Self-diagnosis function automatically detects faults, shows them on the display, and activates an automatic circuit breaker
A washable dust and air filter ensures a healthy climate in the room
The device can be operated directly or using a remote control
Mobile on 360° castors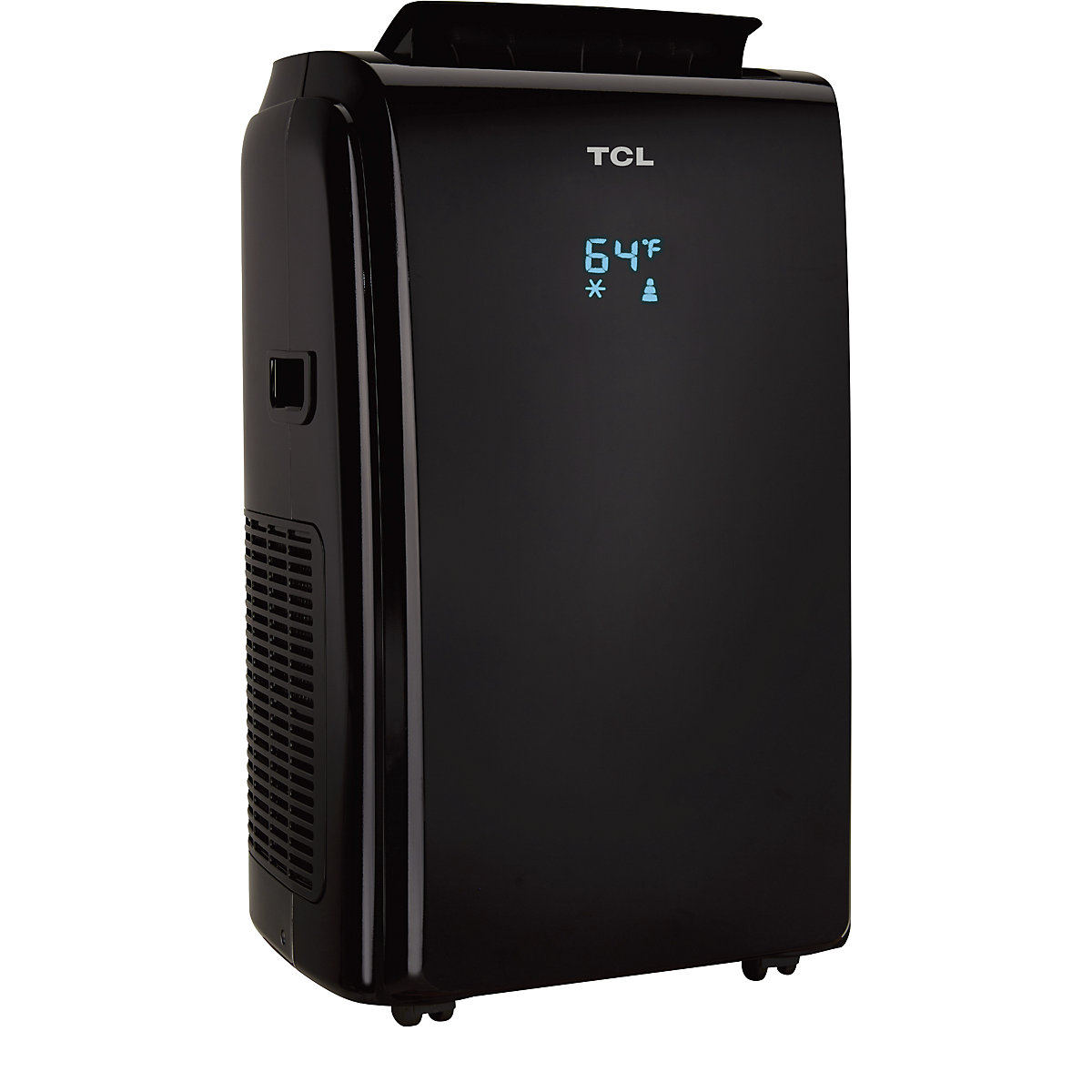 Ref.: 570485 49
TCL – 11000 BTU mobile air conditioner, 3-in-1 device, cooling power 3.2 kW, white
Housing colour: white
Monoblock air conditioner with 3 speed settings. A programmable timer featuring 24-hour mode switches the device on or off, and the additional sleep mode gradually reduces the cooling power to guarantee healthy sleep.

Cooling power: 3200 W, power consumption: 1200 W, air circulation: 330 m³/h, hourly energy consumption (cooling): 1.2 kWh, energy efficiency class A (spectrum A++ to E), coolant: R290, energy efficiency index: 2.70, coolant GWP: 3.
Cable length 1.5 m, including air outlet hose, length x Ø 1500 x 150 mm (no extension possible).

You will find suitable window seals under Accessories (see below).
The escape of coolant causes climate change. Coolants with a low global warming potential are not quite as harmful to the environment if they escape as those with a high global warming potential. This device uses coolant with a global warming potential of 3. This means that the escape of 1 kg of this coolant has 3 times the effect on global warming as 1 kg of CO₂ over a period of one hundred years. Do not perform any work on the cooling circuit or disassemble the device, and always consult an expert.
3-in-1 device: air conditioning, dehumidification and ventilation
Suitable for rooms up to approx. 35 m²
Ideal air distribution due to adjustable air outlet
Air conditioning can be set from +16 °C to +31 °C
No water tank – condensate is recycled and used in the device, no tank emptying necessary
Self-diagnosis function automatically detects faults, shows them on the display, and activates an automatic circuit breaker
A washable dust and air filter ensures a healthy climate in the room
The device can be operated directly or using a remote control
Mobile on 360° castors
Room size

35

m²
Power

3.2

kW
Cooling capacity

11000

BTU/h
Nominal cooling capacity

3.2

kW
Mains voltage

220 – 240 V / 50 Hz

Height

715

mm
Width

435

mm
Depth

350

mm
Weight

32

kg
Sound power LWA

65

dB(A)
Fittings

remote control




air outlet hose

Power consumption

1200

watt
Energy efficiency class for cooling

A (spectrum A++ to E)

Energy consumption

1.2

kWh/1000h
Air circulation

330

m³/h
Refrigerant

R290

Energy efficiency index

EER 2.7

Hose diameter

150

mm
Hose length

1.5

m
Temperature range

+16 °C to +31 °C

Product type

air conditioners

Supplied

pre-assembled, final assembly by customer

Instructions