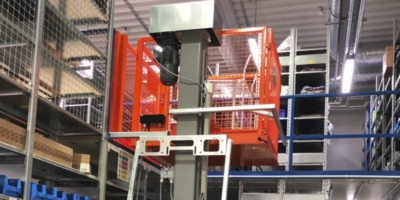 Project MVA Müllverwertungsanlage Bonn GmbH
Task assignment
The MVA waste utilisation plant employs around 89 people, who work around the clock, 365 days a year, to make sure that non-recyclable waste from the Bonn region, as well as certain types of commercial waste, are utilised in an environmentally friendly and sustainable way. They use innovative thermal energy recovery technologies to do this.

For an existing shelving system, the client was looking for a way to move components requiring storage from the ground floor to the first floor quickly and with minimum effort.
Solution
When something needs to be taken from A to B, or in this case, from below to above, there is only one thing that can help: a mini lift. Our experts created a custom version of this practical lifting device to suit the scenario in question.

The result: a goods lift system that was compatible with the existing shelves.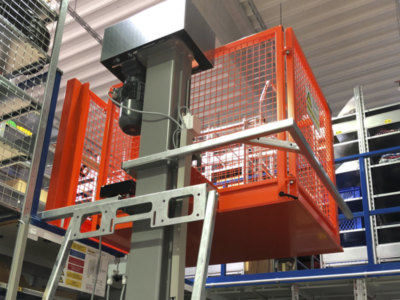 The project
KAISER+KRAFT had previously supplied the MVA with a system of shelving units. Going into this new project, therefore, we had extensive experience and know-how regarding the client's product range, allowing us to produce a goods lift that was compatible with the system. Visiting the site to assess the current conditions was also a key part of the process.

The first step towards the solution, in this case the expert integration of a goods lift system, is always this visit to the customer at their premises. It enables our project team to get an exact picture of the existing situation and to factor this into the design process. In addition, our experts respond to individual customer needs. Only then did we draw up a detailed design for the future goods lift.
The specific challenges
In order to install the custom-made goods lift system in exactly the right place, it was essential to find smart ways of working on site. The two key factors that needed to be considered and assessed in this project were the safety of staff and the location of the goods lift. There was only a limited amount of space for both of these within the hall itself. Working together as a team, we found a suitable solution.

With the support of the client, who was of course an expert in the on-site conditions and processes, and drawing on the project experience of our experts, we found the most suitable location for the lift. Staff and goods can now be transported up and down safely, easily and ergonomically.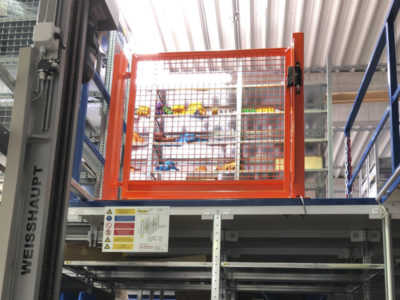 Contact us!
If you are also working on planning a project, then please do not hesitate to contact us. Our experts are always happy to advise you and provide competent support.
Contact for advice, planning and needs analysis: