Wet surface disinfection cloths
for surfaces, pack of 4 buckets of 225 wipes
For hygienic disinfection of surfaces – effectively counteract viruses, bacteria and fungi
Kills 99.99% of bacteria within 10 seconds
Ideal for quick, effective disinfection of surfaces
Hazard class GHS07 – Attention, irritating substances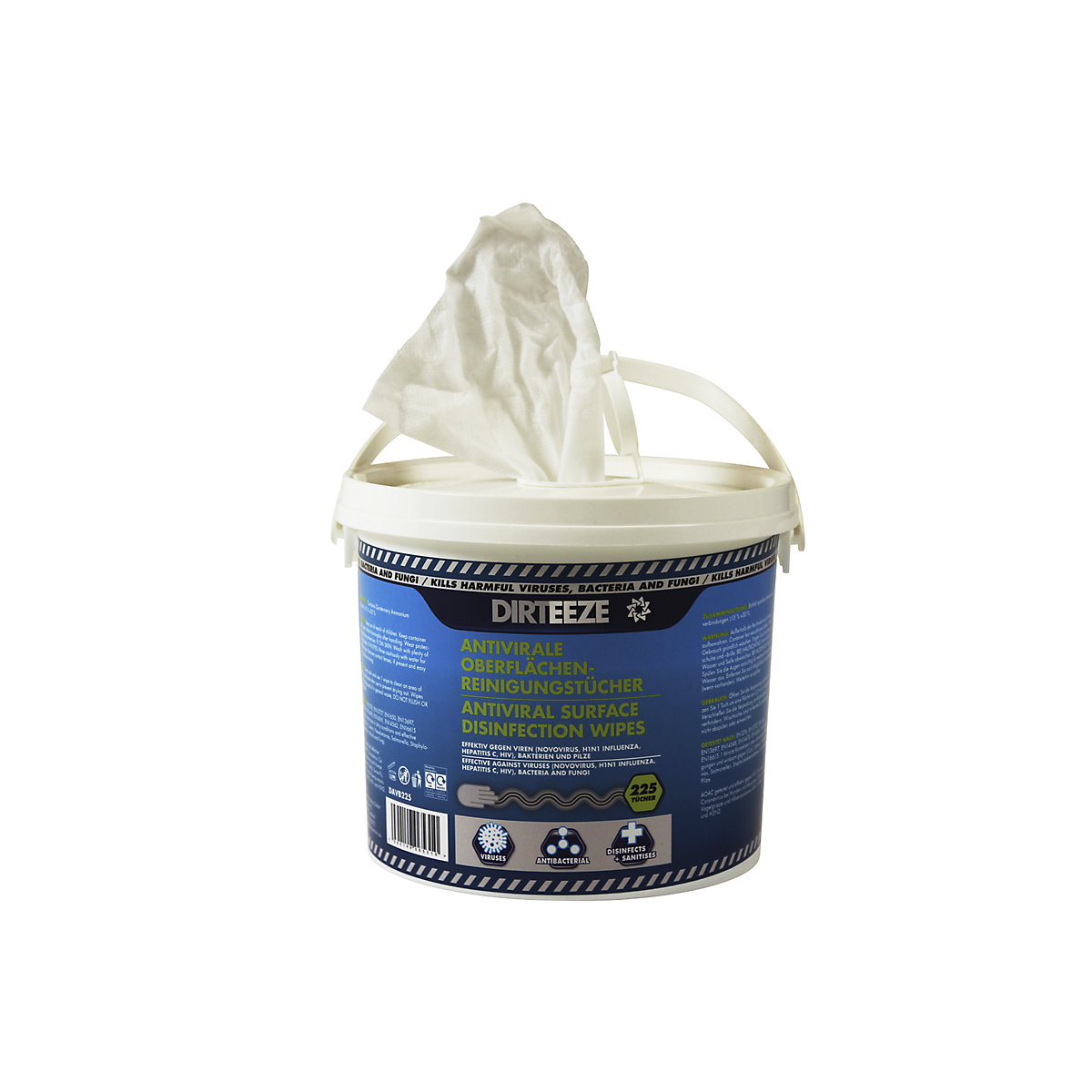 Ref.: 570475 49
Wet surface disinfection cloths, for surfaces, pack of 4 buckets of 225 wipes, PP cloths 280 x 250 mm
Bulk discount
| Quantity | Price/Pack | You save | |
| --- | --- | --- | --- |
| 1 | | - | |
| 10 | | 5,85% | |
| 20 | | 11,7% | |
Bulk discount
| Quantity | Price/Pack | You save | |
| --- | --- | --- | --- |
| 1 | | - | |
| 10 | | 5,85% | |
| 20 | | 11,7% | |
In a hygienic, handy, resealable dispenser bucket.
Pre-moistened surface disinfection cloths easy to take out individually.

Tested according to EN 1276, EN 13727, EN 1650, EN 13697, EN 14348, EN 14476, EN 14561, EN 14562, EN 16651.

AOAC tested and effective against SARS, coronavirus in dogs and people, swine flu, bird flu, HIV and influenza strains H5N1, H3N2 and H1N1.
Effective against: e-coli, listeria, pseudomonas, salmonella, staphylococcus strains, mould and fungi.

Cloth size 280 x 250 mm.
Pack of 4 buckets, 225 cloths each.
Please note: use biocidal products with caution. Always read the label and product information before use.
For hygienic disinfection of surfaces – effectively counteract viruses, bacteria and fungi
Kills 99.99% of bacteria within 10 seconds
Ideal for quick, effective disinfection of surfaces
Hazard class GHS07 – Attention, irritating substances