All-purpose absorbent granulate R
for binding oils, paints
For interior and exterior use – DEKRA tested
Binds oil, varnish, alkaline solutions, acids, diesel
No clumping and clogging – easy to sweep up after a short absorption time
Low weight ensures optimal handling – precise dispensing
This label distinguishes products that meet particularly sustainable criteria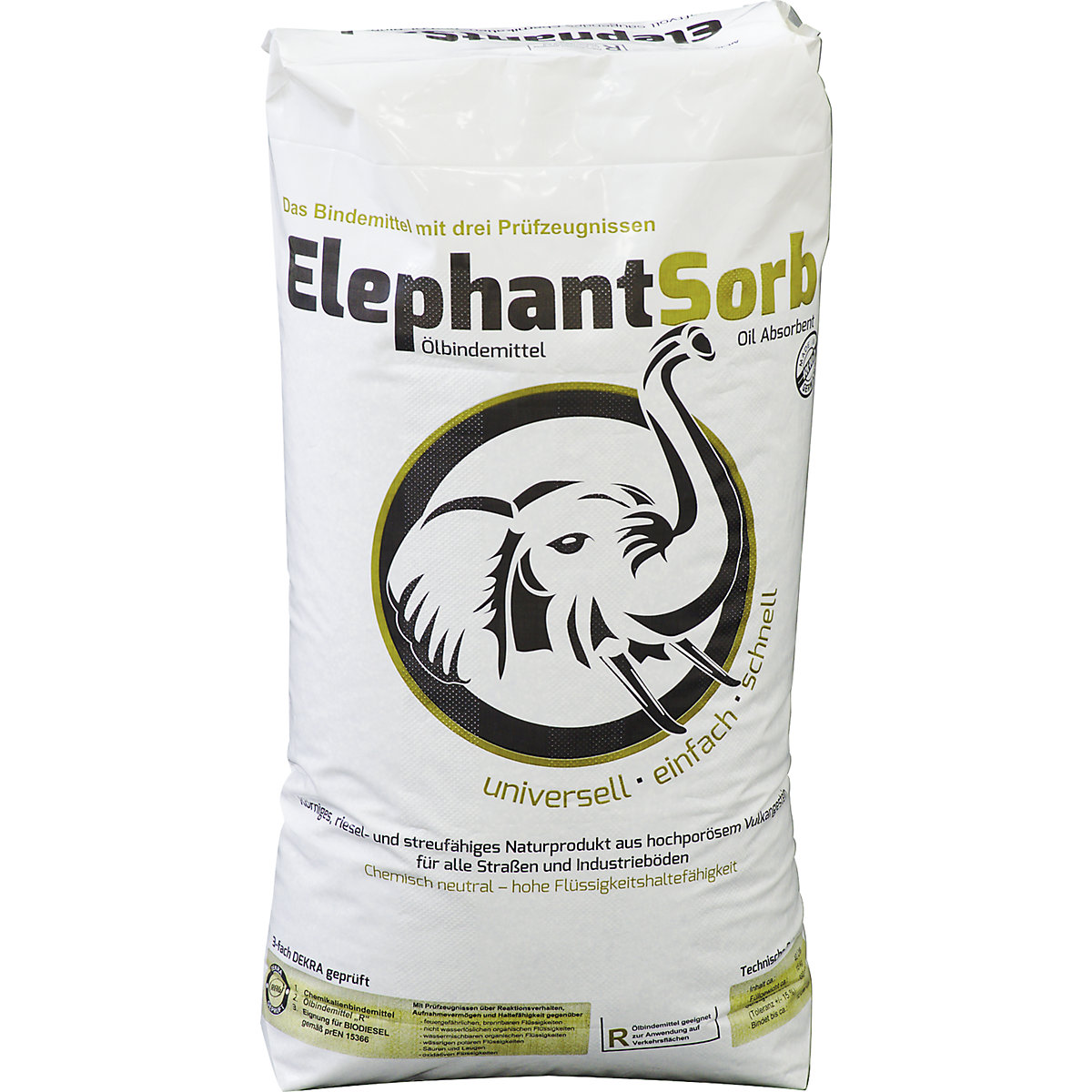 All-purpose absorbent granulate R, for binding oils, paints, pack of 4 sacks
1 sack (15 kg or 40 litres) is sufficient for approx. 15 m² and absorbs approx. 11.3 litres of oil.
Approved for use on traffic surfaces contaminated with oil.
Can be ordered as 4 x 15 kg sacks in 2 boxes, or as 36 x 15 kg sacks on 1 Euro pallet.

Highly absorbent granulate for scattering on roads and industrial floors.
For the absorption of oils, water-based liquids, acids and alkaline solutions, oxidising and flammable liquid chemicals.
With the suffix R due to suitability for use on traffic areas.

Suitable for universal use, high absorption capacity and fast absorption.
Hazard prevention and harm minimisation following spillages involving mineral oil products or other chemicals, safety in the event of leaks on roads, in industry and production. Anti-slip even on oily surfaces. Certified safety for the safe storage of liquid commodity chemicals.

With three DEKRA test certificates:
DEKRA tested chemical binding agent
DEKRA tested oil binding agent R
DEKRA tested biodiesel suitability in accordance with prEN 15366.

Mineral granulate made of pure, high porous volcanic rock (pumice as a basis), chemically neutral with high liquid absorption capacity.
Classed as non-flammable, non-self igniting and non-explosive.
Not to be used on bodies of water, not suitable for absorption of hydrofluoric acid.
For interior and exterior use – DEKRA tested
Binds oil, varnish, alkaline solutions, acids, diesel
No clumping and clogging – easy to sweep up after a short absorption time
Low weight ensures optimal handling – precise dispensing
This label distinguishes products that meet particularly sustainable criteria


Contents

40

l
Delivery form

sack

Situation

reaction to leaks (emergency)

Property

absorbent / soaking up

Place of use

indoor and outdoor use

Type of leakage

surface leaks




spilling

Model

universal

Oil binding agent classification

R

For media

oils, petrol, diesel etc.

Frequency of use

single

Application

normal

Weight per item

15

kg
Supplied

assembled

Information on absorbent agents and spillage management products

(DE)
Customers who purchased this item also purchased