BLUE electric chain hoist
with push trolley
Quality product made in Germany
Fast and easy commissioning
Chain hoist and chassis certified according to IP55 (dust and splash water protected)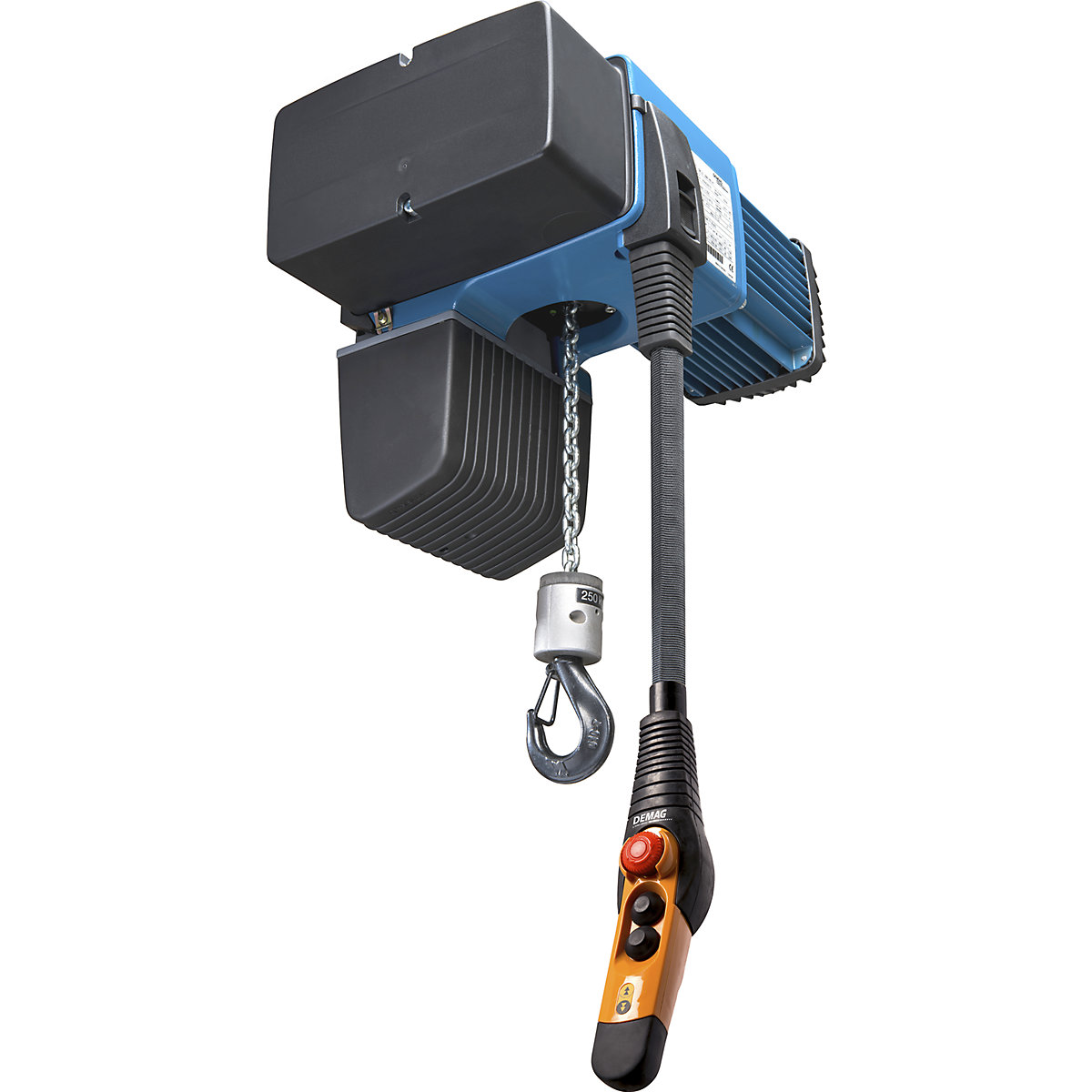 BLUE electric chain hoist, with push trolley, lifting height 4000 mm, max. load 125 kg
Make your everyday workshop tasks easier to manage with this electric chain hoist. Its ergonomic design and the manual control unit that can be freely positioned ensure all tasks at work are quick and easy to complete. It also features two lifting speeds. The high quality powder coating of the surface optimally protects the device from outside influences.
A friction clutch with an automatic shutdown function ensures you remain safe by monitoring the speed. The electric chain hoist is compact, and is ready to use quickly. It also functions reliably even when there are high temperature fluctuations from –20 °C to +45 °C. The related slack chain box is included as standard.
Motor: 380 – 415 V / 50 Hz
Contactor control: 24 V
Control cable length: 2.8 – 3.8 m
FEM hoist classification: FEM 3 m = 3200 hours, FEM 2 m = 1600 hours
This device does not meet your requirements? Additional lifting heights, max. loads and individual options available on request.
Quality product made in Germany
Fast and easy commissioning
Chain hoist and chassis certified according to IP55 (dust and splash water protected)
Design of chain hoist

with push trolley

Colour

azure blue RAL 5009

Operating voltage

400 V

Protection class

IP55

Control cable length

2.8

m
Standard slack chain box up to lift height

4

m
Hook travel

4

m
Lifting height

4000

mm
Starting time main lift / precise lift

40 / 20

%
Supplied

assembled
Customers who purchased this item also purchased