MAUL – Workstation lamp, rotates through 360°
output 3 x 14 W, 2 jointed arms, each 400 mm
Ideal for working in laboratories, workshops, technical offices and ateliers
Anti-glare due to shutter mesh on the lamp head
Switch on lamp head for convenient switching on and off

This label distinguishes products that meet particularly sustainable criteria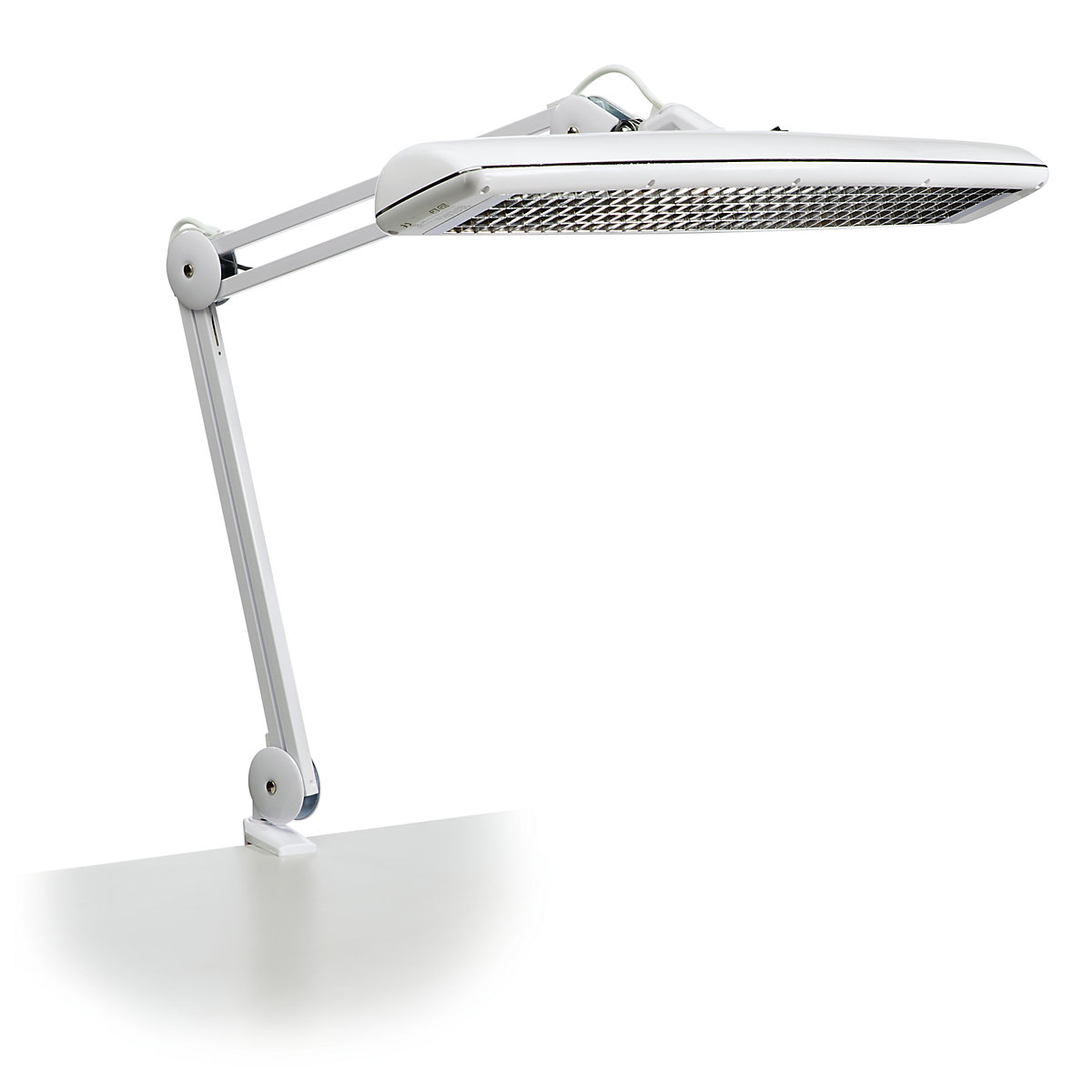 Ref.: 522291 49
MAUL – Workstation lamp, rotates through 360°, output 3 x 14 W, 2 jointed arms, each 400 mm, white
Three 14 W energy saving fluorescent tubes, 6500 Kelvin, daylight white, 2800 Lux brightness at 35 cm distance, luminous flux 1250 lumens per tube.
Light head, 610 x 110 mm, with mirrored parabolic grid for non glaring work.
Robust metal arm, rotates through 360°. Height in normal working position approx. 400 mm.
Table clamp, jaw width 65 mm.

Lamps are supplied with 3 bulbs in efficiency class A+ (spectrum A++ to E). Also suitable for bulbs in efficiency classes A++ to B.
Weighted energy consumption 16 kWh/1000h per bulb. Bulb service life 8000 hours.
Ideal for working in laboratories, workshops, technical offices and ateliers
Anti-glare due to shutter mesh on the lamp head
Switch on lamp head for convenient switching on and off
This label distinguishes products that meet particularly sustainable criteria

Product type

clip lamp




desk lamp

Lamp base

clamp base

Energy consumption

16

kWh/1000h
Bulb

energy saving

Power

3 x 14

watt
Luminous colour

daylight white

Colour temperature

6500

K
Colour reproduction index

89

Max. brightness

2800

lux
Luminous flux

1250

lumen
Mains voltage

220 – 240 V

Mains cable

1.5

m
Service life

8000

hrs
Protection type

II Euro plug

Colour

white

Activation

switch

Material

metal




plastic

Overall height

400

mm
Length per arm

400

mm
Clamp width

65

mm
Weight

3.22

kg
Lamp head width

610

mm
Lamp head depth

110

mm
Supplied

assembled

Customers who purchased this item also purchased