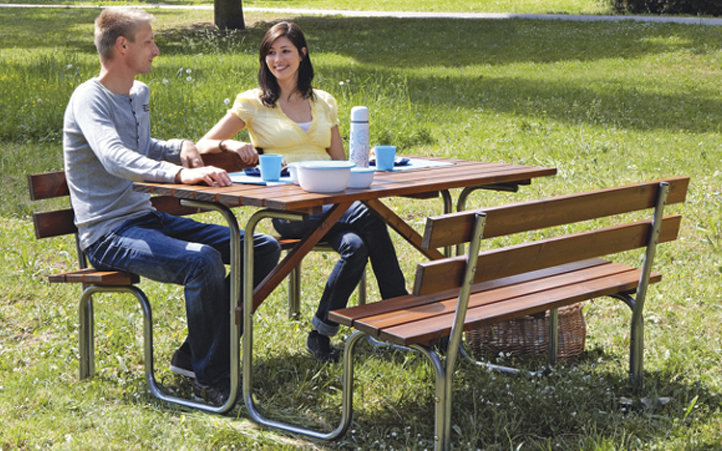 Give your employees a relaxing break in a gorgeous outdoor area, or design inviting places to relax in leisure facilities, parks and rest areas.
KAISER+KRAFT offers you benches, bike racks and waste bins, everything you need for designing your outdoor space.
On this page we have compiled our current top-offers for you. For a list of our complete product range, please click here:
Bicycle and support stands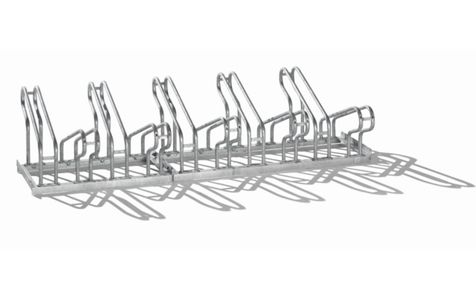 Cyclists need rails to park their bikes safely. Outdoor locations are only safe for bikes, if you can lock the bike to a bicycle rack or rail. Travelling by bicycle is very environmentally conscious. Any company, recreational facility, school or city should hence provide an adequate supply of bicycle parking spaces to promote environmental awareness. Each individual who can avoid to use their car can dramatically cut CO2 emissions. Depending on the location, KAISER+KRAFT offers bicycle racks or shelters with one-sided or two-sided bike racks. Covered bike racks ensure that cyclists remain faithful to the bike, no matter the weather. The bicycle stands at KAISER+KRAFT are made ​​of sturdy material such as steel pipe and can to some extent even be set in concrete or in any case be bolted in place.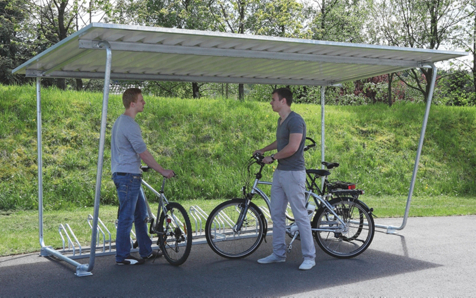 Any outdoor area can be a hive of activity, as long as the weather plays along and the sun shines. Come rain, storm or snow, everyone is looking for a dry spot quickly. Especially smokers are grateful for canopies and shelters that protect them from wind and bad weather. Even in large parks, at bus stops or for bicycle rails; a canopy is sensible and will be gratefully accepted. Therefore, companies can provide their employees with the opportunity to protect themselves from bad weather. KAISER+KRAFT offers the classic smoking shelter, practical bicycle shelters and carports. Our web-shop offers basic and extension elements, which can be extended so that the layout can be changed at any time. The material of the outdoor facilities usually consists of sturdy steel construction and safety glass to guarantee a long life.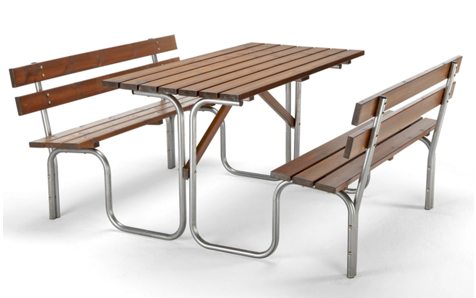 Design your outdoor areas with an inviting bench or offer your employees a retreat outdoors. Whether for lunch or just a place in the sun. With just a bench and a table, you can make it more comfortable. KAISER+KRAFT provides you with classic plastic benches, park benches made ​​of wood or whole seat groups; a wide range of furniture for outdoor use. The material of the tables and benches is weather resistant, regardless of whether you choose wood, plastic or metal, when designing your outdoor space. Metal benches are ideal for public spaces, parks and school yards, as they easily blend in. However, benches used in company courtyards are often chosen for their looks and are made from charming wood. Weather-resistant materials and high quality workmanship guarantee a long service life. All benches and tables can be found in the KAISER+KRAFT web-shop.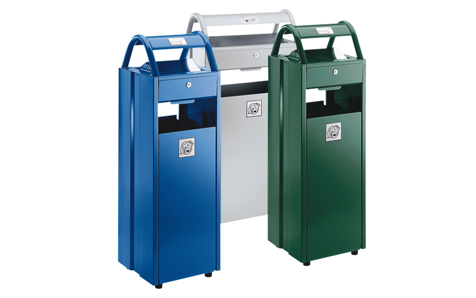 Waste bins and ashtrays are a must for any outdoor area. Outdoor locations are an inviting space for relaxation, often combined with a lunch break. Without bins and ashtrays it would look unsightly very quickly in those places. Especially in public parks and at motorway service stations. Practical combined ashtray and waste bins provide an easy way to promote the waste management of users. Rugged and weather-resistant materials such as sheet steel or hard plastic can withstand the weather and vandalism. In the outdoor areas of businesses, waste bins and ashtrays may also be design-oriented. In our online store you will find products of stainless steel and in attractive colours that are in keeping with a well maintained site layout: