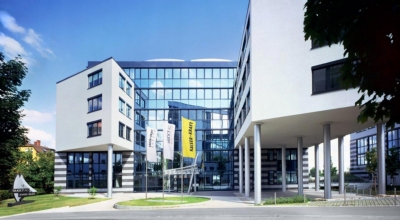 Time to get to know each other.
kaiserkraft at your disposal.
Welcome to Europe's leading mail order group for production, warehouse and office equipment – kaiserkraft Europa GmbH. Around 1,000 employees handle the wishes and interests of our customers and offer you excellent in-house brands, tried-and-tested solutions and outstanding service along with a guarantee of up to 15 years, assembly, repair and maintenance work if desired.

From office chairs to forklift trucks we deliver "everything for the business" punctually, reliably and quickly. Or more concisely: We provide you with over 80,000 top products for production transport, storage, environmental requirements and the office − via catalogue and web. You can benefit from our optimum quality and amazingly wide product range in many European countries. And that is by no means all: As a multi-channel company we can advise you via all of our communication channels and can send our technical specialists out to you on-site.

By the way, did you know that you could replace all your paper-based purchasing procedures with us with a completely electronic process? For more than 15 years, we have been offering our customers tailored eProcurement solutions with a high degree of automation covering the entire order chain – from electronic catalogue to electronic orders and electronic credit notification.

This makes kaiserkraft an indispensable one-stop-shop for every company.
The kaiserkraft group is represented by companies located in 19 European countries and is a member of the TAKKT group.
1945 Founding of kaiserkraft in Stuttgart

1967 Acquisition of Vink en Zonen in Holland
1973 Acquisition of Frankel in France
1974 Founding of kaiserkraft in Great Britain and in Switzerland
1975 Founding of kaiserkraft in Belgium

1983 Founding of kaiserkraft in Austria
1986 Founding of kaiserkraft in Italy
1989 Founding of kaiserkraft in Spain

1990 Founding of kaiserkraft in Hungary
1992 Founding of kaiserkraft in Poland
1993 Founding of kaiserkraft in the Czech Republic

2001 Founding of kaiserkraft in Portugal
2002 Founding of kaiserkraft in Japan
2006 Founding of kaiserkraft in China
2007 Founding of kaiserkraft in Slovakia
2010 Founding of kaiserkraft in Russia
2012 Founding of kaiserkraft in Slovenia

2016 Founding of kaiserkraft in Croatia
Brief profile of TAKKT AG
TAKKT is the leading multi-channel mail order group for business equipment in Europe and North America. The corporate group is represented by its brands in more than 25 countries. The product range of the subsidiaries is comprised of more than 200,000 products from the areas of workshop and warehouse equipment, classic and design oriented office furniture and accessories, transport packaging, display items, equipment for the retail as well as the catering and hotel sectors.

You can find additional information about the TAKKT Group at www.takkt.de.