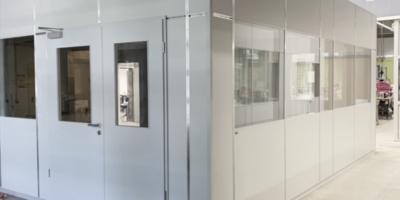 Project Diakonie Ruhr Werkstätten gGmbH
Task assignment
The Constantin Bewatt Workshop, part of Diakonie Ruhr Werkstätten gGmbH, supports people with learning disabilities into employment. A wide range of work is carried out in the Diakonie Ruhr workshops, including metalwork, floristry, home economics, powder coating, textile processing, digital archiving, packing and order picking. Popular products produced here include children's bikes.

Constantin Bewatt wanted to create a designated space inside his workshop for tasks where extra assistance was required, and for staff who needed peace and quiet in order to concentrate on their work.
Solution
No sooner said than planned, no sooner planned than done! Following several field service visits to the site, a quote was drawn up and submitted. Once all details had been clarified to everyone's satisfaction, the materials were delivered and work on assembly could begin.

During the assembly process, we impressed our client with our expertise in advising on workplace regulations. For example, we ensured that the correct amount of light came into the space. The new room, which is located in the centre of the hall and is well soundproofed, offers a fixed, ergonomically furnished workspace for seven members of staff. The professional soundproofing ensures that staff have the peace and quiet they need to carry out a varied range of tasks.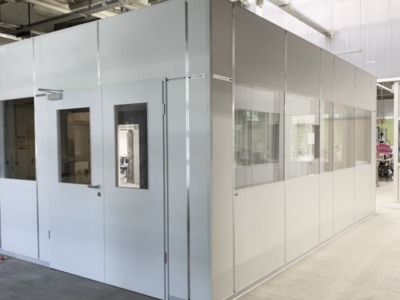 The project
Before we started on the plans for the new workroom, the project experts from kaiserkraft reviewed a recycling idea provided by the client: taking down an older prefab office at another site and rebuilding it in Bochum. kaiserkraft had already carried out a similar project (another prefab office) for the Diakonie Ruhr workshops, which enabled us to provide highly specific advice. In addition, our previous experience helped us to assess and implement the current project more quickly. In particular, our client was impressed by how fast the assembly process was.
The specific challenges
Without the new prefab office, the workshop would have had to let some of its staff go. The project thus had an important role to play in preserving people's jobs, and everyone rallied around to make sure it was a success. In addition, it was very important to everyone involved to create a working environment that the staff could be proud of and feel was their own.

But how do you create a feel-good factor and ensure staff satisfaction when you don't know the individuals personally? It's quite simple really: spend plenty of time on site, observe, make notes and include these in the design process. The results can be seen and heard. Actually, you don't hear anything at all, which was, after all, the point.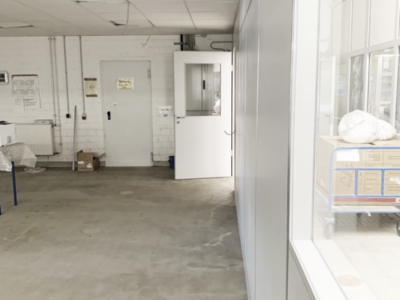 Contact us!
If you are also working on planning a project, then please do not hesitate to contact us. Our experts are always happy to advise you and provide competent support.
Contact for advice, planning and needs analysis: