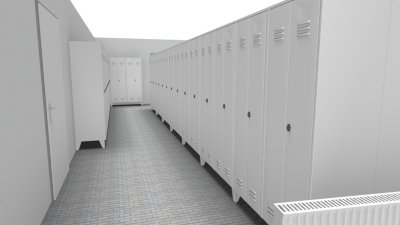 BIW Isolierstoffe project
Everything in the right place
BIW Isolierstoffe is a leading manufacturer of high-quality insulation materials and heat-resistant seals. The company wished to install women's and men's changing rooms in a new building. The changing rooms had to contain lockers that, in compliance with Paragraph 34 of the German Workplace Ordinance, would allow personal clothes to be stored separately from work clothes. The aim was to fully exploit the spaces while observing the Workplace Ordinance.
By providing on-site consultations in particular, it was possible to develop a proposal for a solution that caters to BIW's requirements perfectly: a clearly identifiable colour code (alternating between RAL 7035 light grey and RAL 5010 gentian blue) for the doors as well as customising the lockers to fit under the pitched roofs. Another plus point: the service. The the project offer was rounded off by transport, installation, assembly and disposal of the packaging.
Michael Runte, project manager at KAISER+KRAFT
"We met all requirements to our customer's utmost satisfaction."
Passing with flying colours – and gentian blue
Not only do the clearly colour-coded lockers comply with the Workplace Ordinance, they also perfectly match the company. The RAL colour 5010 gentian blue is based on the company's logo and is therefore in line with its corporate identity.

Personal consultation with BWI played a key role in achieving this excellent outcome. The processes of space planning, on-site measurement, modification and colour scheme selection were all carried out in close cooperation with the customer. Ultimately, BWI was impressed by the combination we offered of solution and full-service package.
We had to fulfil two fundamental criteria: firstly, we had to meet our customer's demands, and secondly, we had to comply with the Workplace Ordinance, which stipulates that personal and work clothes be stored separately.
Contact us!
If you are also working on planning a project, then please do not hesitate to contact us. Our experts are always happy to advise you and provide competent support.
Contact for advice, planning and needs analysis: