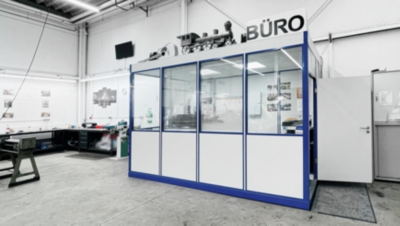 Bohle Isoliertechnik project
Perfectly integrated, optimally insulated
Task assignment
The Bohle Group is at home in the construction industry, an area in which it offers extensive know-how. For example, when it comes to avoiding unintentional energy losses and to using thermal insulation and soundproofing, the experts from Bohle Isoliertechnik GmbH in Cologne are the people to call. One of these experts needed a new office, and one that could be integrated directly into the workshop.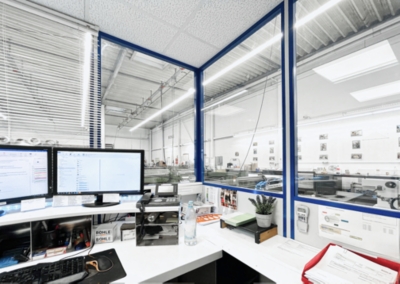 Solution
Before implementation of the project began, it was preceded by detailed, in-person and on-site consultations. The customer was then promptly presented with an offer for a soundproofed and flexible factory office system. After drafting detailed plans, including the blueprint for the floor plan, the project was realised without problems to the full satisfaction of the customer and within a very short period of time.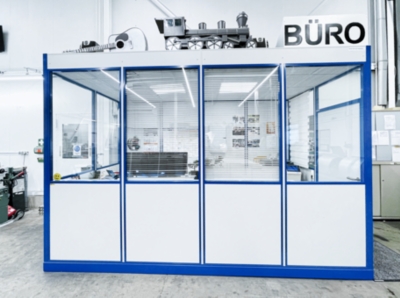 Bohle Isoliertechnik
"We are completely satisfied with the way the factory office was implemented. The partnership with KAISER+KRAFT was simply great. The employees are not only competent, they were also available by phone or email at any time."
Although a factory office consists of standard elements, it could be customised to suit individual requirements and be perfectly integrated into the production hall. This flexibility of the system satisfied all of the requirements set.
In the end, the customer was particularly impressed by the high quality of the materials used, the reduction of the noise level within the office, and the package as a whole with its guaranteed installation date and open, honest advice.
The office was to be integrated into the workshop. This made it necessary – due to the high noise level – to install high quality, soundproofing elements in the factory office system.

The concept worked: the reduction of the noise level inside the office is obvious to everyone.
Contact us!
If you are also working on planning a project, then please do not hesitate to contact us. Our experts are always happy to advise you and provide competent support.
Contact for advice, planning and needs analysis: