MAUL – MAULvitrum LED magnifying lamp
with clamp base
Ideal for precise work in laboratories, workshops, technical agencies, doctors' surgeries or for private use for stamp collectors, precision engineers or as a reading magnifier
LEDs in a ring shape for uniform illumination
Includes a protective flap that prevents the sun from shining on the lens, and prevents dust accumulating on the lens
Double benefits: magnifying lamp and functional workplace lamp
Sturdy and solid, highly variable adjustment
Zero power consumption when switched off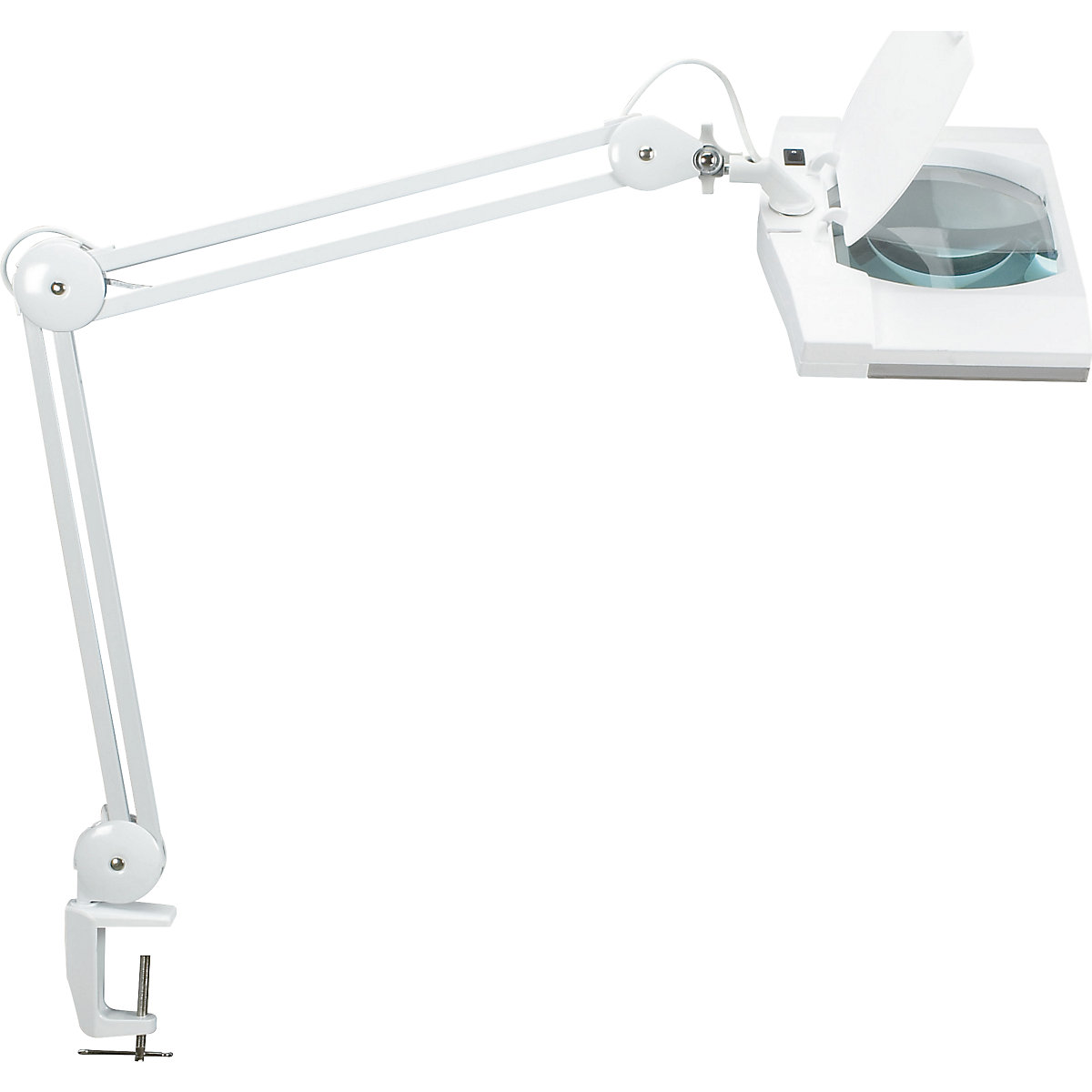 MAUL – MAULvitrum LED magnifying lamp, with clamp base, black
Sturdy rhomboid metal arm, rotates 360°. Arm length at top and bottom 400 mm. Height in normal working position 420 mm.
Particularly large lens, 307 cm², 3 dioptres lens (1.75-fold magnification), 7.5'' x 6.2'' (195 x 157.5 mm). Light head approx. 215 x 300 mm, can be rotated and tilted.
Switch on lamp head for convenient switching on and off.
With 108 LEDs, 6500 Kelvin, daylight white, 1620 Lux brightness at 35 cm distance, luminous flux 470 lumens.
Clamp base made of plastic coated metal (clamping width up to 65 mm).
Energy efficiency class A. Weighted energy consumption 7 kWh/1000h. Lamp contains built in LED bulbs.
The bulbs cannot be replaced. The standard service life of the LEDs is 10000 hours.
Ideal for precise work in laboratories, workshops, technical agencies, doctors' surgeries or for private use for stamp collectors, precision engineers or as a reading magnifier
LEDs in a ring shape for uniform illumination
Includes a protective flap that prevents the sun from shining on the lens, and prevents dust accumulating on the lens
Double benefits: magnifying lamp and functional workplace lamp
Sturdy and solid, highly variable adjustment
Zero power consumption when switched off
Power

8

watt
Bulb

LED

Mains voltage

220 – 240 V

Protection type

II Euro plug power supply unit

Energy consumption

7

kWh/1000h
Mains cable

1.6

m
Lamp base

clamp base

Lamp head width

300

mm
Light head

rotating




tilting

Service life

20000

hrs
Luminous flux

949

lumen
Lamp head depth

215

mm
Max. brightness

1830

lux
Weight

3.48

kg
Luminous colour

daylight white

Colour temperature

6500 K (daylight white)

Colour temperature

6500

K
Arm length

410

mm
Material

metal




plastic

Energy efficiency class for each light source

E (spectrum A to G)

Product type

magnifying lamps

Colour reproduction index

82

Overall height

380

mm
Clamp width

65

mm
Supplied

pre-assembled, final assembly by customer

Customers who purchased this item also purchased