Desk partition for an individual workplace
enamel and PET felt surface
The combined whiteboard/pin board partition for your desk
Protection from droplet infections and suitable for use as a sneeze and cough guard and for shielding workplaces in the office and at the desk
Simple and easy assembly using 2 clamps on a desktop with a thickness of 15 mm to 34 mm
Also suitable for height adjustable desks
Ideal for use at team workplaces when desks are opposite each other
Increase in concentration due to shielded workplace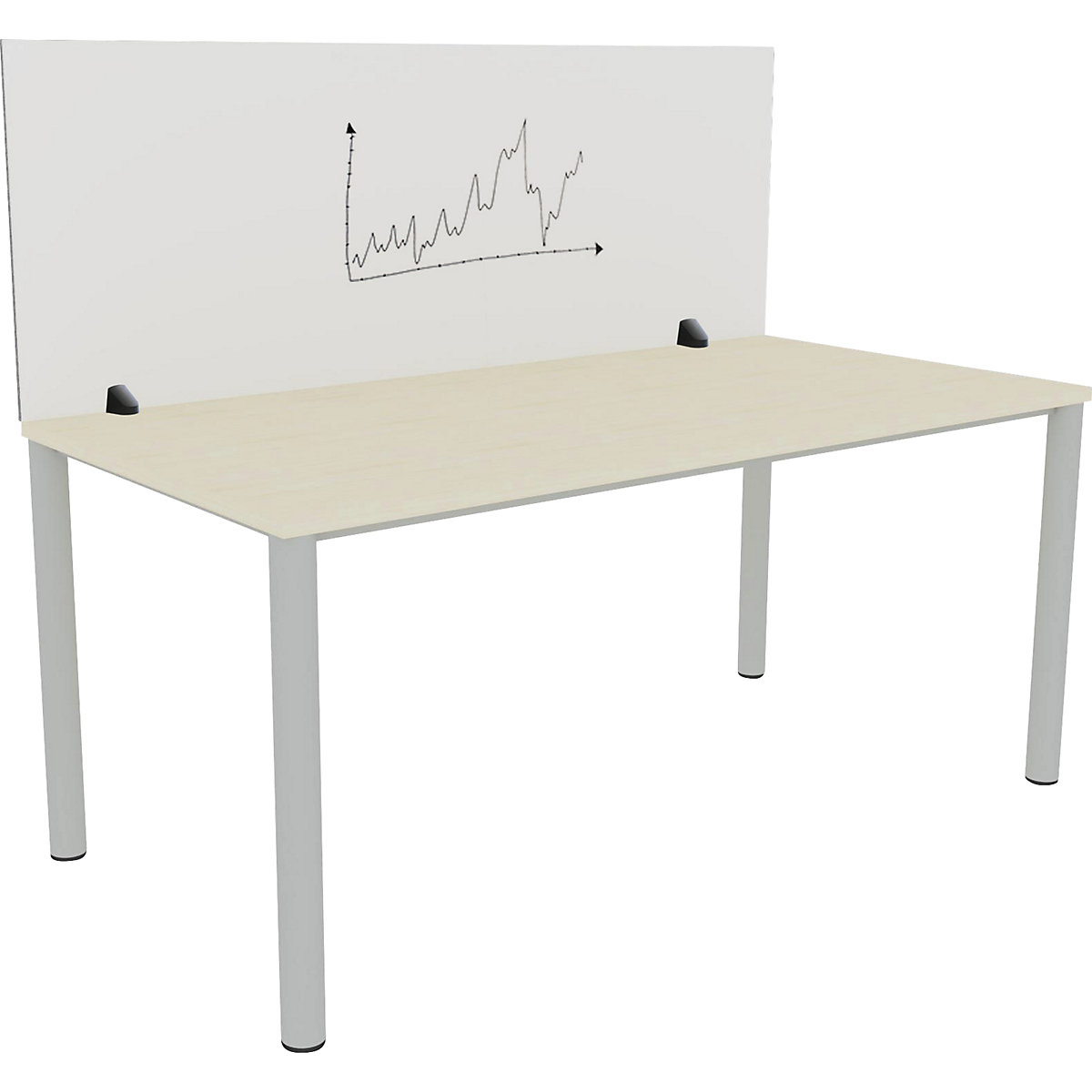 Ref.: 571164 49
Desk partition for an individual workplace, enamel and PET felt surface, white / grey, width 750 mm
Overall width [mm]: 750, Weight [kg]: 3.8
Desk partition on one side with a magnetic whiteboard surface that can be written on and dry wiped, and with a pinnable, magnetic PET felt surface on the other side, providing noise dampening and acoustic properties.
With two clamps the partition can simply and easily be attached to desks from any side.
Desks can be shielded on several sides, e.g. in an L shape or U shape. There are 3 different widths available which can be combined. The edges and corners have a radius of 5 mm. Supplied complete with two desk clamps.
The combined whiteboard/pin board partition for your desk
Protection from droplet infections and suitable for use as a sneeze and cough guard and for shielding workplaces in the office and at the desk
Simple and easy assembly using 2 clamps on a desktop with a thickness of 15 mm to 34 mm
Also suitable for height adjustable desks
Ideal for use at team workplaces when desks are opposite each other
Increase in concentration due to shielded workplace
Overall height

590

mm
Panel material

enamelled steel




PET felt

Panel colour

white-grey

Panel thickness

16

mm
Panel height

580

mm
Product type

desk partitions

Supplied

flat pack