Ref.: 722300 10
Multifunctional add-on module for workbench – LISTA
with perforated panel, equipment rail, adjustable shelf and rear power panel
High stability – max. loads up to 150 kg
Easy to install on workbench panels with perforated support column profile on 4 sides
Fully modular due to standardised dimensions for all LISTA workbench and workstation systems
Individual configuration options when it comes to height and positioning of add-on widths

This label from kaiserkraft evaluates products based on a wide range of sustainability criteria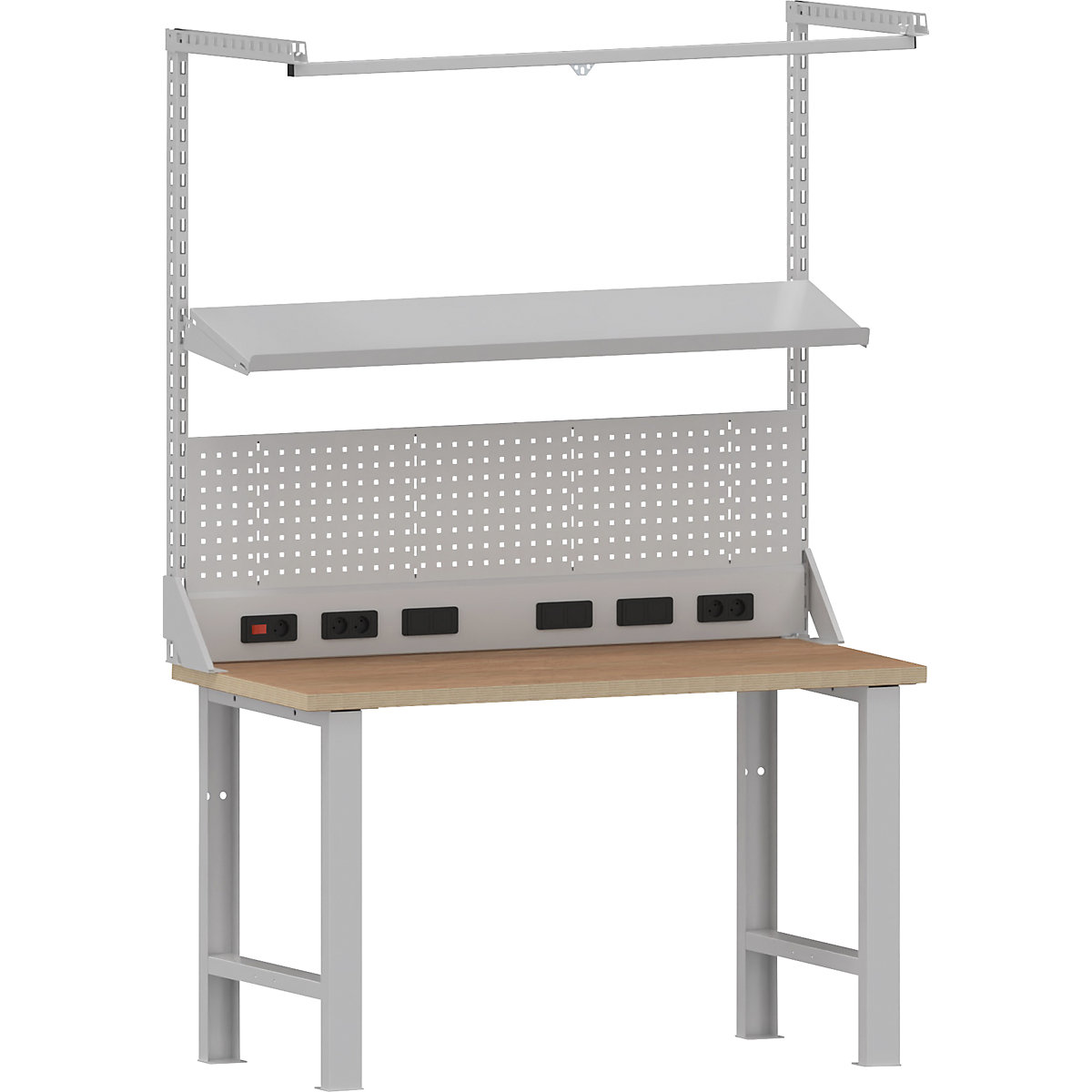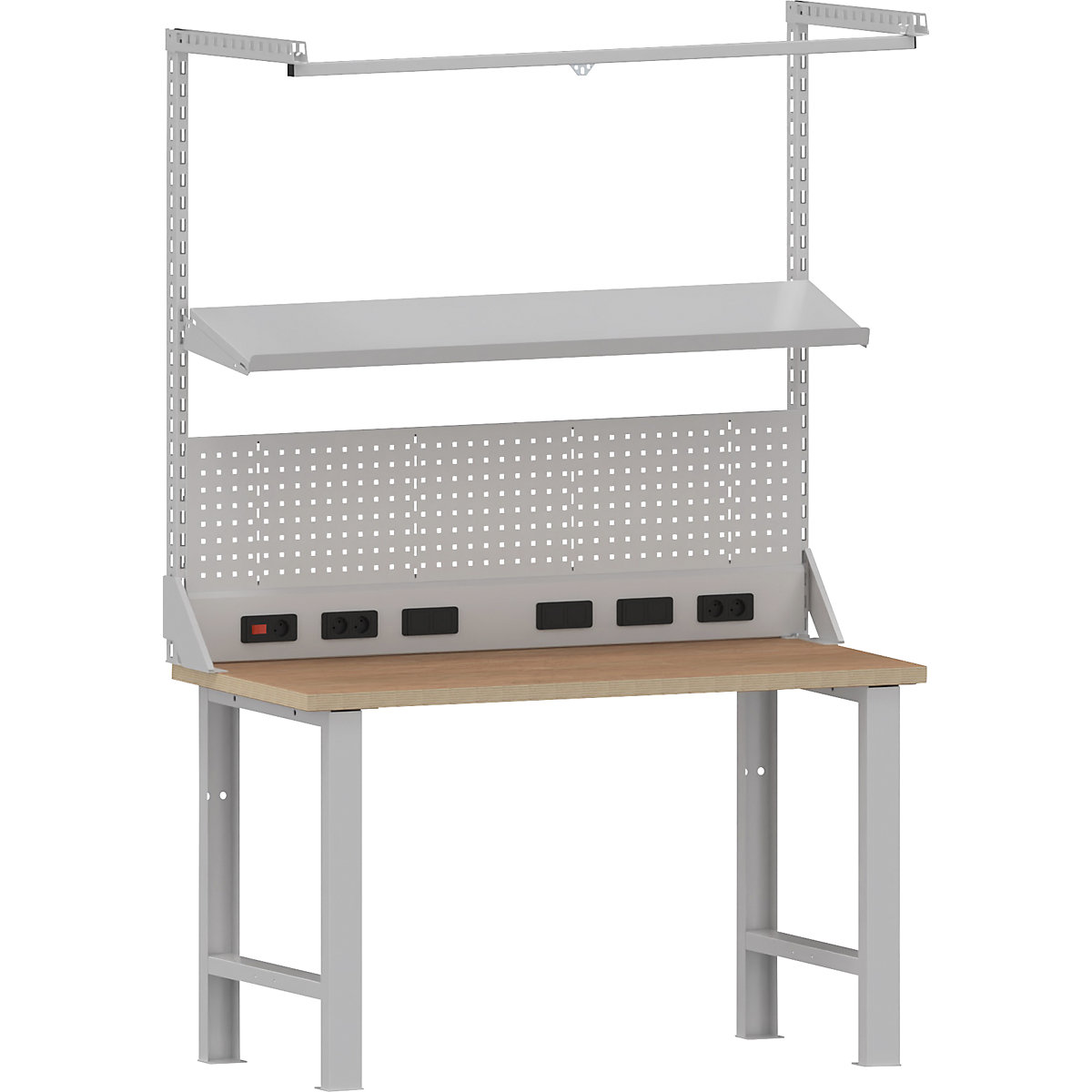 width 1500 mm
Universal add-on modules: our universal add-on modules allow you to design every workplace ergonomically, with a well organised layout that caters to individual needs. The consistent and form-fitting design ensures an attractive appearance and allows cables to be routed largely concealed. All add-on modules are easy to assemble and are also available in ESD versions. Also suitable as a retrofit for existing workstations.

1 perforated panel height 350 mm, 2 support columns for mounting on the workbench panel including support brackets for the left and right, 1 equipment rail including 2 suspension sets, 1 carriage, 1 adjustable shelf depth 350 mm, 1 rear power panel preconfigured with ON/OFF switch and 5 x 230 V sockets including mains cable.
High stability – max. loads up to 150 kg
Easy to install on workbench panels with perforated support column profile on 4 sides
Fully modular due to standardised dimensions for all LISTA workbench and workstation systems
Individual configuration options when it comes to height and positioning of add-on widths
Colour

light grey RAL 7035

Material

sheet steel

Height

1460

mm
Product type

accessories for workbenches

Supplied

flat pack

Width

1500

mm
Weight

38

kg

Sustainability
Enkelfähig
Enkelfähig product
Enkelfähig refers to multi-generational thinking, and reflects the extent to which a product or service contributes to the emergence of a sustainable, social and fair future in which our grandchildren will still be able to live. Enkelfähig asks the same question of every product: will this product help create a better tomorrow for future generations?
The 2 categories in which this product performs particularly well are listed below.
For more information about the product evaluation and the Enkelfähig Initiative, please visit our
Enkelfähig information page
.

Circular economy
A circular economy is an economic system in which waste is avoided and resources are used efficiently by recirculating materials, products and waste in closed cycles and reusing them as raw materials or sources of energy for new products.
This product makes a greater contribution to achieving a circular economy. The greater contribution compared to other products is the result of several factors, including the use of hardwearing materials, the ability to be recycled, and the use of recycled materials in the product design. Sustainable packaging is also factored into any assessment within a circular economy.

Innovation and technological progress
This product scores points within its product group due to the use of an innovative product design or innovative materials that advance product sustainability. Compared to other products, the product utilises, for example, material solutions that are more sustainable, the use of an increased share of recycled materials, or an optimised product design that has a positive impact on the recyclability, service life, durability and therefore the general sustainability of the product solution.