Ref.: 676746 10
ENERGY battery – VARTA
AAA
Ideal for appliances with low energy consumption, such as battery operated toys, wall clocks, electric lamps and electric candles
Modern icons make the recommended application easy to identify
Made in Germany – made to last – guaranteed VARTA brand quality

This label from kaiserkraft evaluates products based on a wide range of sustainability criteria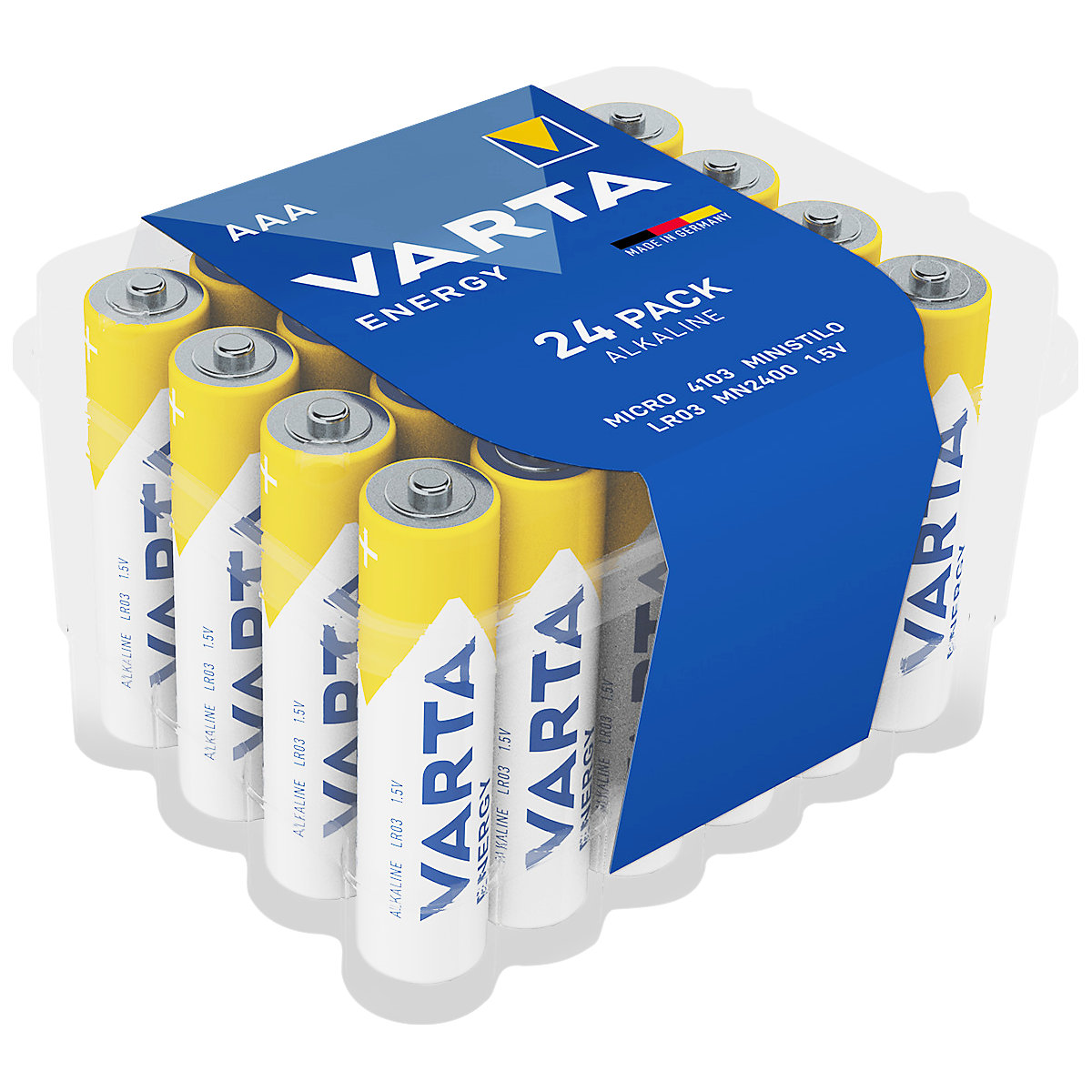 pack of 24
There's some basic devices without which everyday life in particular would not proceed as smoothly. The wall clock you look at every morning to guarantee you're on time, or the radio that helps you get in the mood for the day. Our VARTA Energy range offers the best source of energy for devices that require little power. A reliable power supply every minute of the day will ensure all options are open to you.
Please note:
It is prohibited to dispose of batteries and rechargeable batteries as household waste. They can contain hazardous substances that can harm the environment and your health. At the same time, they also contain important resources such as nickel, iron, zinc or manganese that can be recycled.
You are therefore obliged to dispose of these products in the correct manner. After using the batteries and rechargeable batteries, you can either send them back to us or dispose of them free of charge at the nearest collection point (e.g. at official collection points or at retailers).
Ideal for appliances with low energy consumption, such as battery operated toys, wall clocks, electric lamps and electric candles
Modern icons make the recommended application easy to identify
Made in Germany – made to last – guaranteed VARTA brand quality
Battery version

alkaline manganese battery

Voltage

1,5

V
Height

44.5

mm
Width

10.5

mm
Battery size

AAA

Product type

batteries

Supplied

assembled

Weight

0.27

kg

Sustainability
Enkelfähig
Non-Enkelfähig product
This product is currently not yet Enkelfähig. This does not mean that the product does not exhibit any sustainable features, and instead only means that it does not yet meet enough of the sustainability aspects included in the diverse criteria covered by our sustainability evaluation to achieve a rating of more than 3 points. This is why it does not feature the Enkelfähig endorsement.
For more information about product evaluation and the Enkelfähig Initiative, please visit our
Enkelfähig information page
.