Gura – 90° curve for roller conveyor
track width 300 mm
Transport flow without drive due to slight pitch of approx. 2 – 5 %
High quality workmanship
Ideal supplement in a conveyor system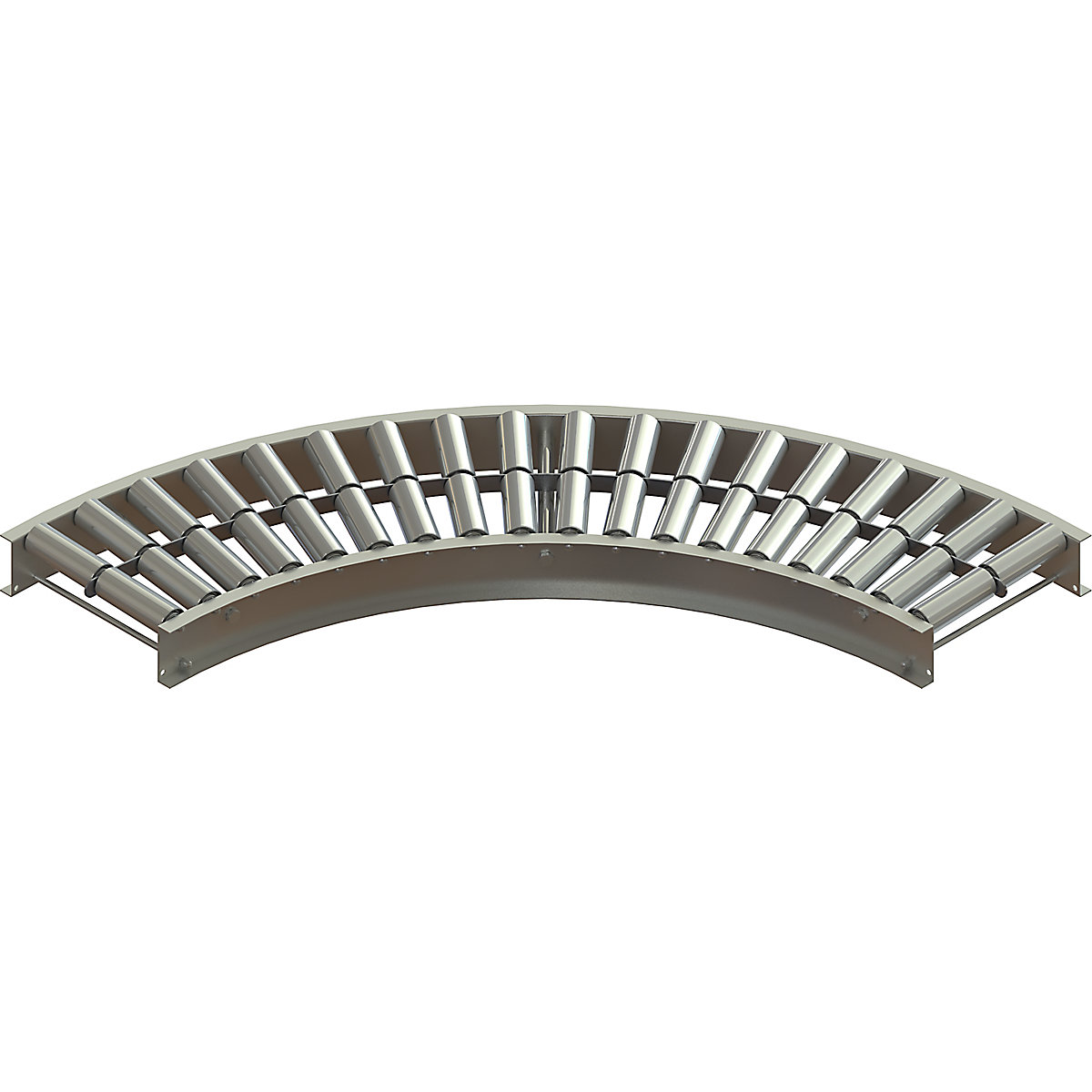 Ref.: 903705 49
Gura – 90° curve for roller conveyor, track width 300 mm, axle spacing 100 mm
Axle spacing [mm]: 100, Length of goods conveyed [mm]: 350, Weight [kg]: 34.5
U-profile frame made of zinc plated steel 25 x 100 x 25 x 2 mm, with robust cross pieces. Ball bearing mounted, zinc plated steel rollers, Ø 50 mm, with sprung axle, Ø 12 mm. Curves with split rollers.
Static maximum load 400 kg per metre of track with supports spaced 1 m apart.
Designing your conveyor
Assemble required conveyor length from individual sections. Determine required number of straight and curved sections.
Determine track width according to largest dimension of goods to be transported and axle spacing of the rollers according to smallest dimension of goods to be transported.
With 75 mm axle spacing the effective length for 1 m = 975 mm, for 2 m = 1950 mm.

Alternative versions, 45° curves and passages available on request.
Two-legged supports and side guide rails can be found under combinations and accessories.
We can supply any type of conveyor belt on request. Please request an individual offer.
Transport flow without drive due to slight pitch of approx. 2 – 5 %
High quality workmanship
Ideal supplement in a conveyor system
Track width

300

mm
Overall height

110

mm
Curve

90

°
Radius of curve

800

mm
Roller diameter

50

mm
Overall width

350

mm
Skate wheel material

steel, zinc plated

Design of frame

steel, zinc plated

Max. load with 1 m frame support spacing

400

kg
Width of goods conveyed

450

mm
Product type

roller conveyors, heavy duty

Supplied

assembled

Pictorial instructions