Ref.: 944279 10
Stair platform – MUNK
step width 800 mm, max. load 200 kg
2 steps
Ideal for mobile use – rolls ergonomically
Non-slip plastic inserts on the lower ends of the rails
Robust extruded aluminium profiles with screw channel for custom made models
Ribbed aluminium steps
Particularly stable model, heavy duty rectangular rails

This label from kaiserkraft evaluates products based on a wide range of sustainability criteria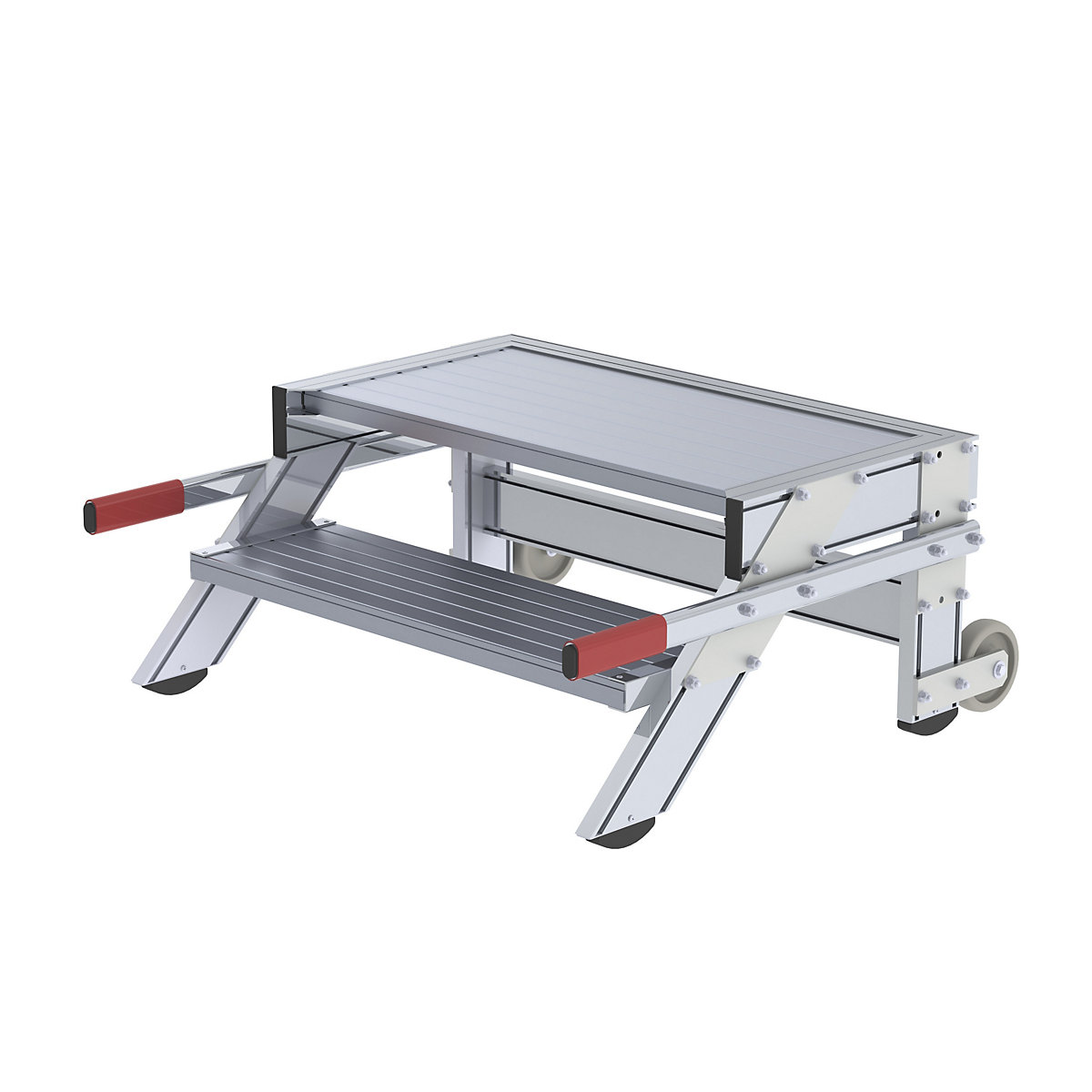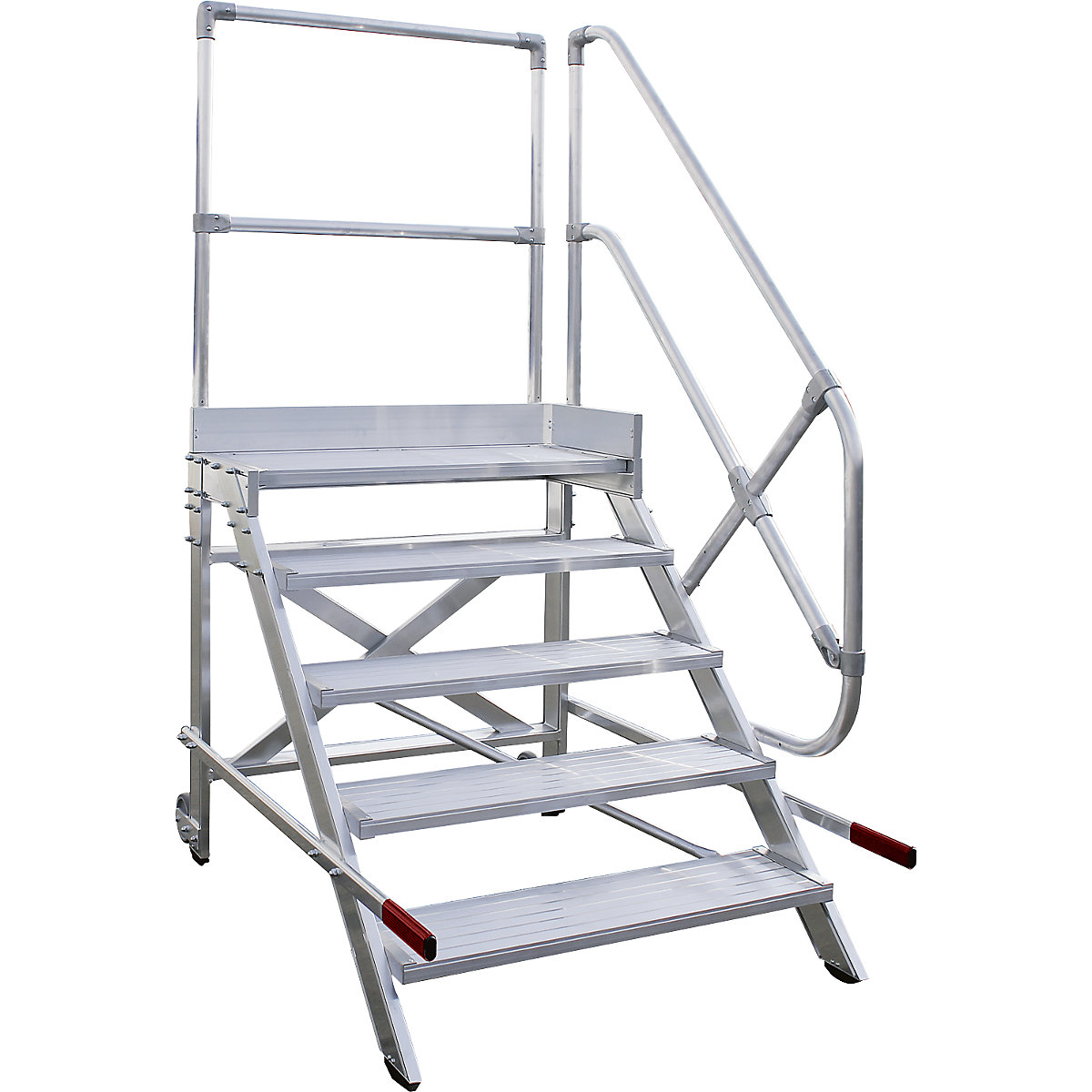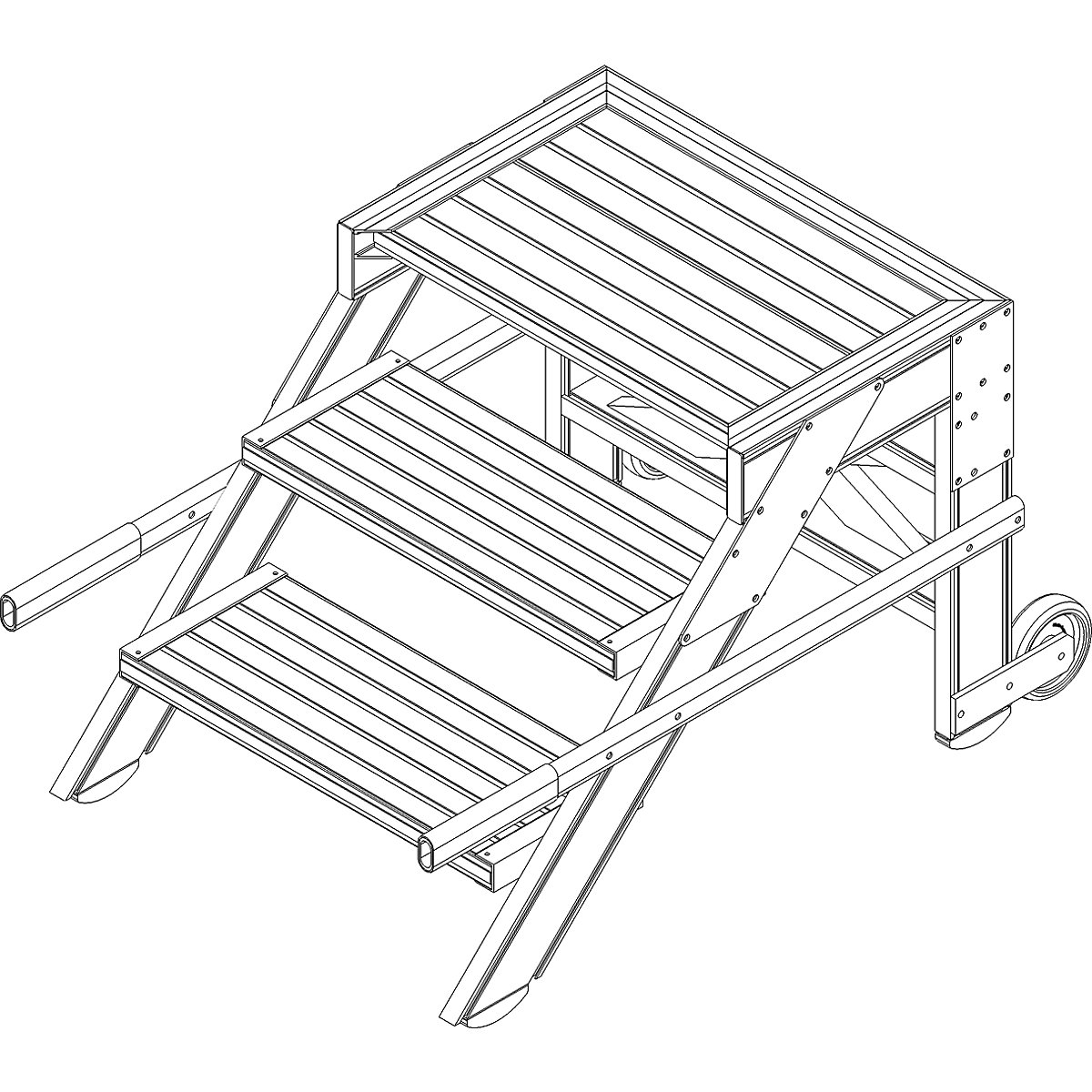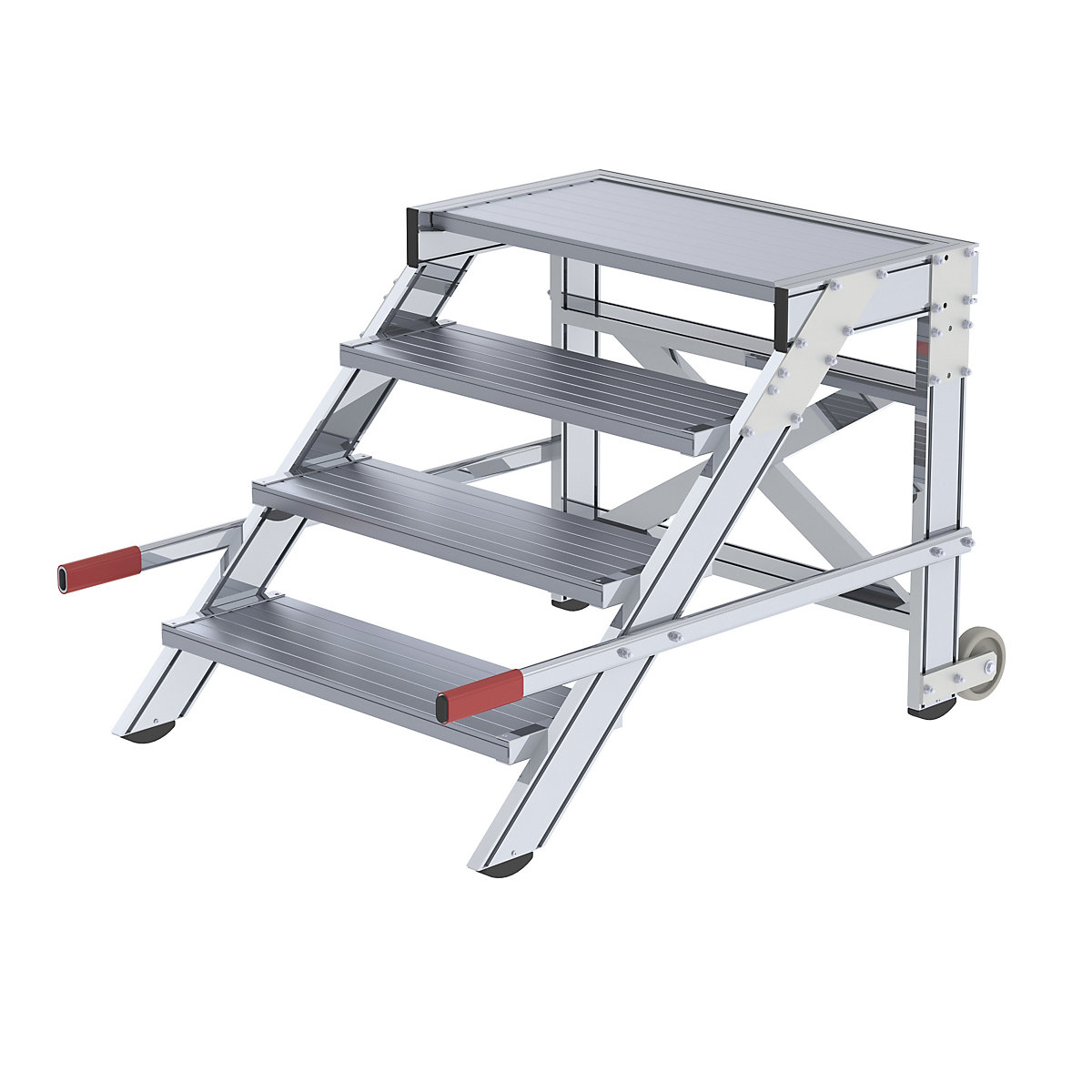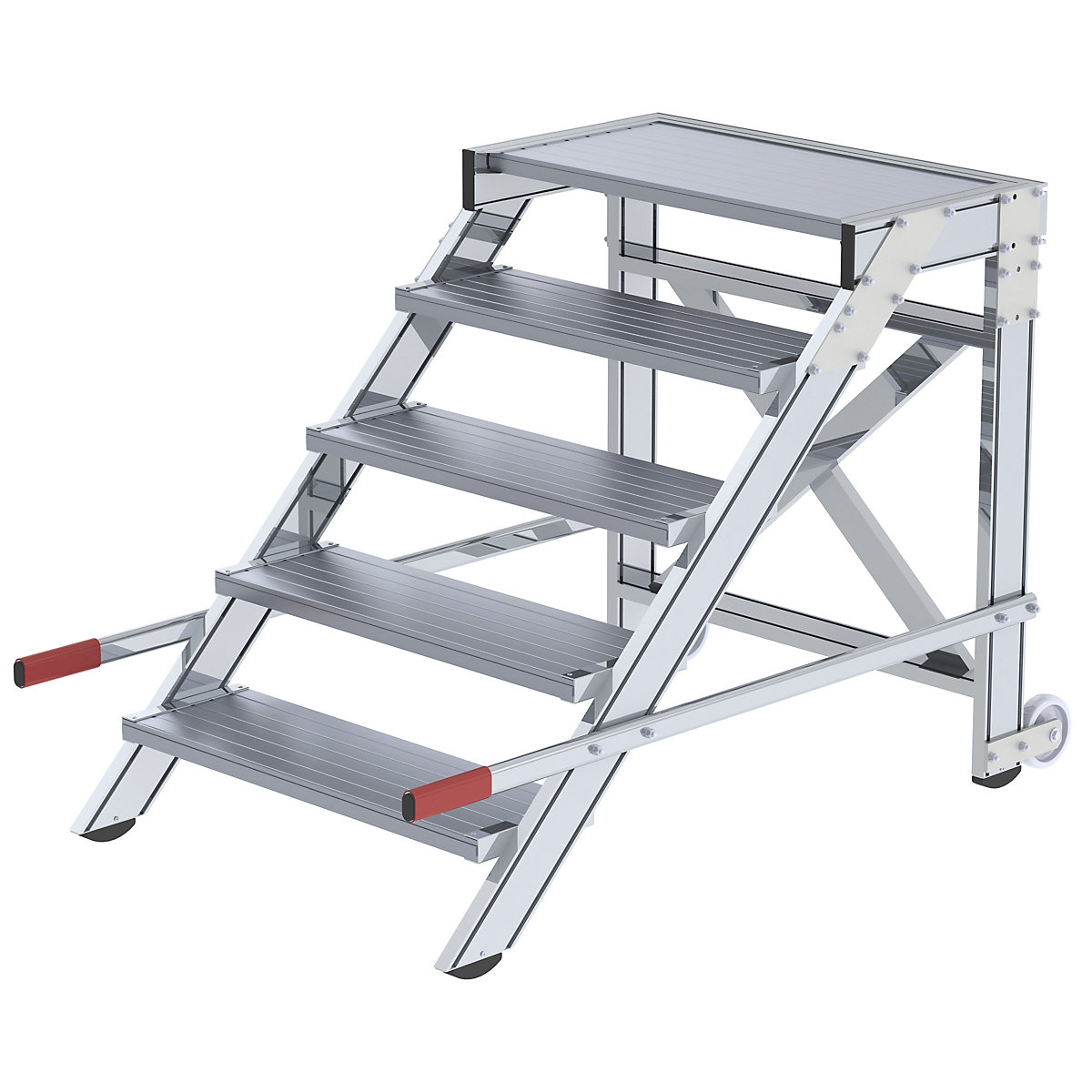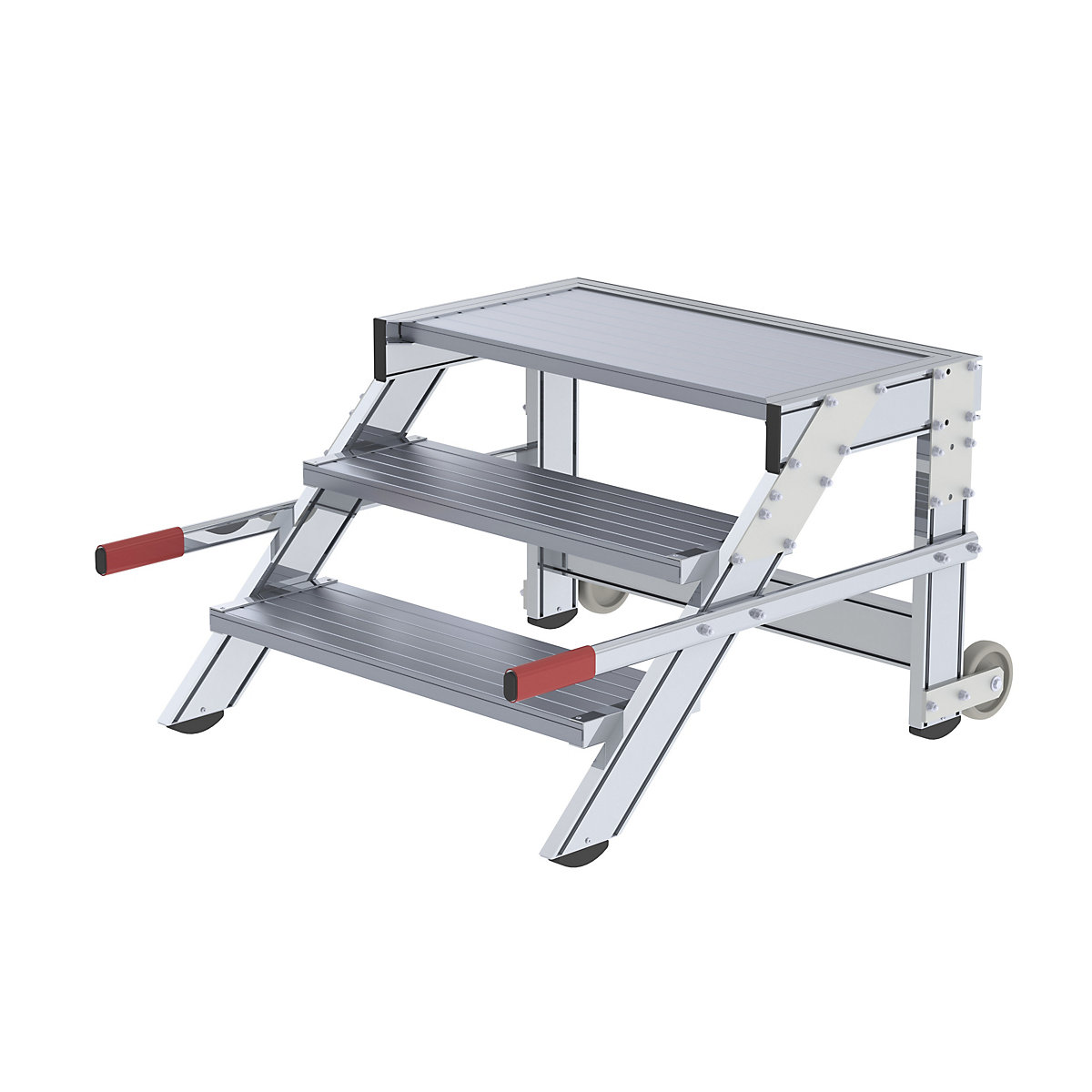 2 steps
Two fixed castors, wheel Ø 125 mm, and two push handles for particularly easy mobility.
Top ends of rails are closed and bolted to the sides of the platform.
Steps rigidly connected to the screw channel profiles.
Platform depth 400 mm.
Step depth 240 mm.
Additional platform depths, sizes and types of steps on request.
Ideal for mobile use – rolls ergonomically
Non-slip plastic inserts on the lower ends of the rails
Robust extruded aluminium profiles with screw channel for custom made models
Ribbed aluminium steps
Particularly stable model, heavy duty rectangular rails
Product type

heavy duty machine steps

Step depth

240

mm
Step width

800

mm
Feature

mobile

Access

single sided

Platform depth

400

mm
Frame material

aluminium

Material of treads

aluminium, ribbed

Overall width

900

mm
Wheel fittings

2 fixed castors

Max. load

200

kg
Model

with 2 push handles

Wheel diameter

125

mm
Supplied

assembled

Steps incl. platform

2

pcs.
Platform height

390

mm
Overall depth

885

mm
Weight

18

kg
Working height

2400

mm
Reach

850

mm

Sustainability
Enkelfähig
Enkelfähig product
Enkelfähig refers to multi-generational thinking, and reflects the extent to which a product or service contributes to the emergence of a sustainable, social and fair future in which our grandchildren will still be able to live. Enkelfähig asks the same question of every product: will this product help create a better tomorrow for future generations?
The 2 categories in which this product performs particularly well are listed below.
For more information about the product evaluation and the Enkelfähig Initiative, please visit our
Enkelfähig information page
.

Circular economy
A circular economy is an economic system in which waste is avoided and resources are used efficiently by recirculating materials, products and waste in closed cycles and reusing them as raw materials or sources of energy for new products.
This product makes a greater contribution to achieving a circular economy. The greater contribution compared to other products is the result of several factors, including the use of hardwearing materials, the ability to be recycled, and the use of recycled materials in the product design. Sustainable packaging is also factored into any assessment within a circular economy.

Innovation and technological progress
This product scores points within its product group due to the use of an innovative product design or innovative materials that advance product sustainability. Compared to other products, the product utilises, for example, material solutions that are more sustainable, the use of an increased share of recycled materials, or an optimised product design that has a positive impact on the recyclability, service life, durability and therefore the general sustainability of the product solution.