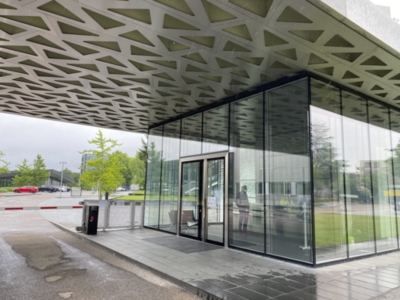 Trumpf project in Ditzingen
Some say interior design – we call it a business card
Extension of the reception area to install protective measures against coronavirus – Trumpf headquarters in Ditzingen near Stuttgart
Each of us knows that you don't get a second chance to make a first impression. This applies to job interviews as well as first dates. But even companies can achieve a lot if they make a good impression right at the front door. Just like Trumpf.

As a high-tech company headquartered in Ditzingen near Stuttgart, Germany, Trumpf offers manufacturing solutions in the tooling machine, laser technology, electronics and Industry 4.0 fields. With over 70 subsidiaries, the TRUMPF Group is represented in almost all European countries, in North and South America, and in Asia. The two large tooling machine and laser technology divisions are managed from Ditzingen, where the company produces 3D laser machines, CO2 lasers and EUV systems.

As one of the leading B2B mail order companies for business equipment, we are happy to get companies of all sizes fit for the challenges of tomorrow. And in the case of Trumpf, we specifically helped with preparing for the "industrial world of tomorrow": in the pandemic year 2020, we are extending the existing reception area for this technological leader by adding protective measures – without compromising its inviting atmosphere and pleasant discretion.


With a clear concept and modern design
Whether visitors, customers, guests, employees or applicants: everyone who comes to Trumpf first has to pass through the reception area. Making a good impression here is important – because the design and character of the reception area also conveys your own approach. "Placing trust in bold ideas" in this case; Trumpf's promise to each of the 14,490 people worldwide who work for the company. Or as Stefan Paul, head of plant security, puts it: "Trumpf style".

KAISER+KRAFT Germany's expert – Peter Deigentasch, key account manager, Sales Stuttgart – also implemented the requirements for the new protective measures in the reception areas in the main and ancillary buildings in the Trumpf style, with the aim of providing ideal protection against infection.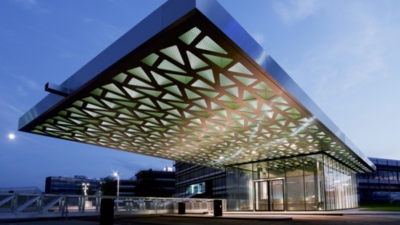 Healthy and safe workplaces have long since become the rule. But that's not all: more and more companies want the best for their employees and customers when it comes to company equipment. This is how plant security manager Stefan Paul formulated one of the challenges involved in extending the protective technology in the reception area: "The reception area should not just be furnished any old way, but should ensure occupational healthy and safety and be flexible to cater to the current recommendations for minimum distances and hygiene." Eva Kemper, head of the product management department, was in charge of selecting the products required, and carefully curating the appropriate individual products for this special area. These are points that are also important to Elmar Sander, head of occupational safety and strategic occupational safety management, and also for future cooperation at the workplace when it's cold and flu season, for example. "As an employer, we are obliged by law to provide employees and visitors with comprehensive information about the risk of infection and hygienic behaviour during these times. However, I am happy to go beyond the minimum standards and ensure comprehensive protection at an early stage for all areas within the company where many people gather. However, the overall visual impression must not be compromised by the functionality of the products."
These were the basic prerequisites that led to a special model being developed in close cooperation with our supplier FPS: instead of individual sneeze guard panels, which cannot form a continuous barrier as overall protection, we designed and implemented a four-meter long sneeze guard panel with a sturdy aluminium frame with a high aesthetic appeal.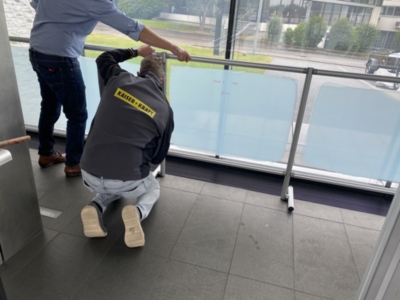 The additional health and safety precautions in the reception area include a free-standing disinfectant dispenser that can be operated using an elbow to avoid touching the surface. The dispenser can be set up in different ways, without drilling holes, and is therefore easy to set up at different locations within the company according to requirements.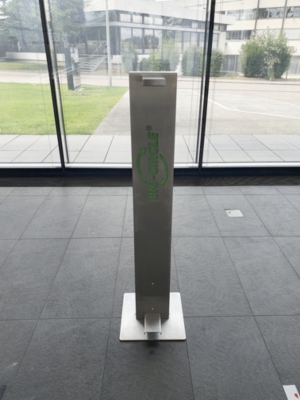 The issue of maintaining distance is also important in the reception area – instructions on observing the minimum distance of 1.5 metres had to be prepared and applied without neglecting aesthetic aspects. The self-adhesive floor marking tapes chosen for this purpose can be used to replace markings with paint and can therefore be applied quickly and easily, and be removed again without leaving any residue when necessary. As an additional and visible protective measure, signs have been affixed which quickly and clearly illustrate the mandatory physical distancing measures.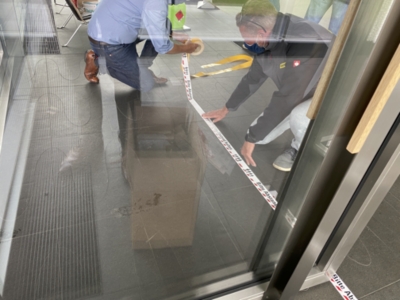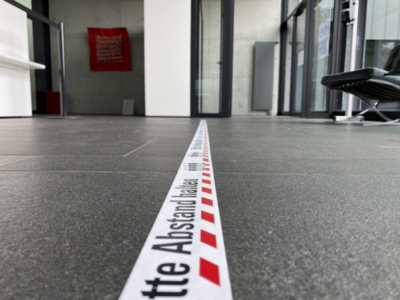 Individually tailored to the company: with style and functionality
As project manager Peter Deigentasch concludes: "Despite the new distancing and hygiene measures on site, it is important that the key message continues to reach customers and business partners: I am welcome here. We don't make any compromises here; after all, the specific requirement that Ditzingen had was to ensure the new protective equipment reflects the values of Trumpf. All too often, reception areas are designed for functionality only. With a clear concept and modern design, we were able to combine style with the practicality necessary in this age of coronavirus in a more than satisfactory way."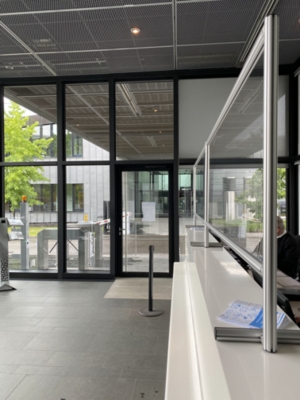 This is what the finished result looks like: tailor-made protection with an appearance that couldn't be more attractive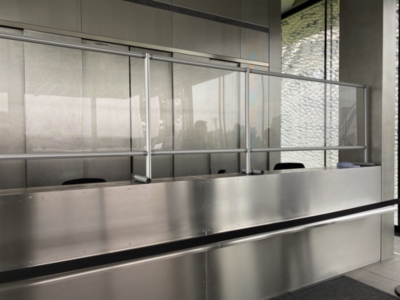 The modern reception area makes an impression on business partners, employees and guests
And... what would you like to equip your reception area with? We have special solutions for your specific challenges – regardless of whether you want to extend rooms or redesign them. This is what we can offer you any time: solutions for your business. Including quality, reliability and the right advice.
Contact
If you are also working on planning a project, then please do not hesitate to contact us. Our experts are always happy to advise you and provide competent support.
Contact for advice, planning and needs analysis: