EUROKRAFTpro – Environmental cupboard
full height side cupboard
For regulation compliant indoor storage of water hazardous liquids in small containers
Lockable doors with perforations for effective ventilation
Seamlessly welded tray shelves and base sumps made of 3 mm sheet steel, seamlessly welded in accordance with StawaR, with manufacturer's declaration of conformity
Full height cupboards with ventilation outlet for connection to an on-site exhaust system or ventilation kit (DN 75)
Seamlessly welded tray shelves
Base sump trays made of 3 mm sheet steel, seamlessly welded in accordance with StawaR, with manufacturer's declaration of conformity
Ventilation outlet for connection to an on-site exhaust system or ventilation kit, DN 75

For water hazardous liquids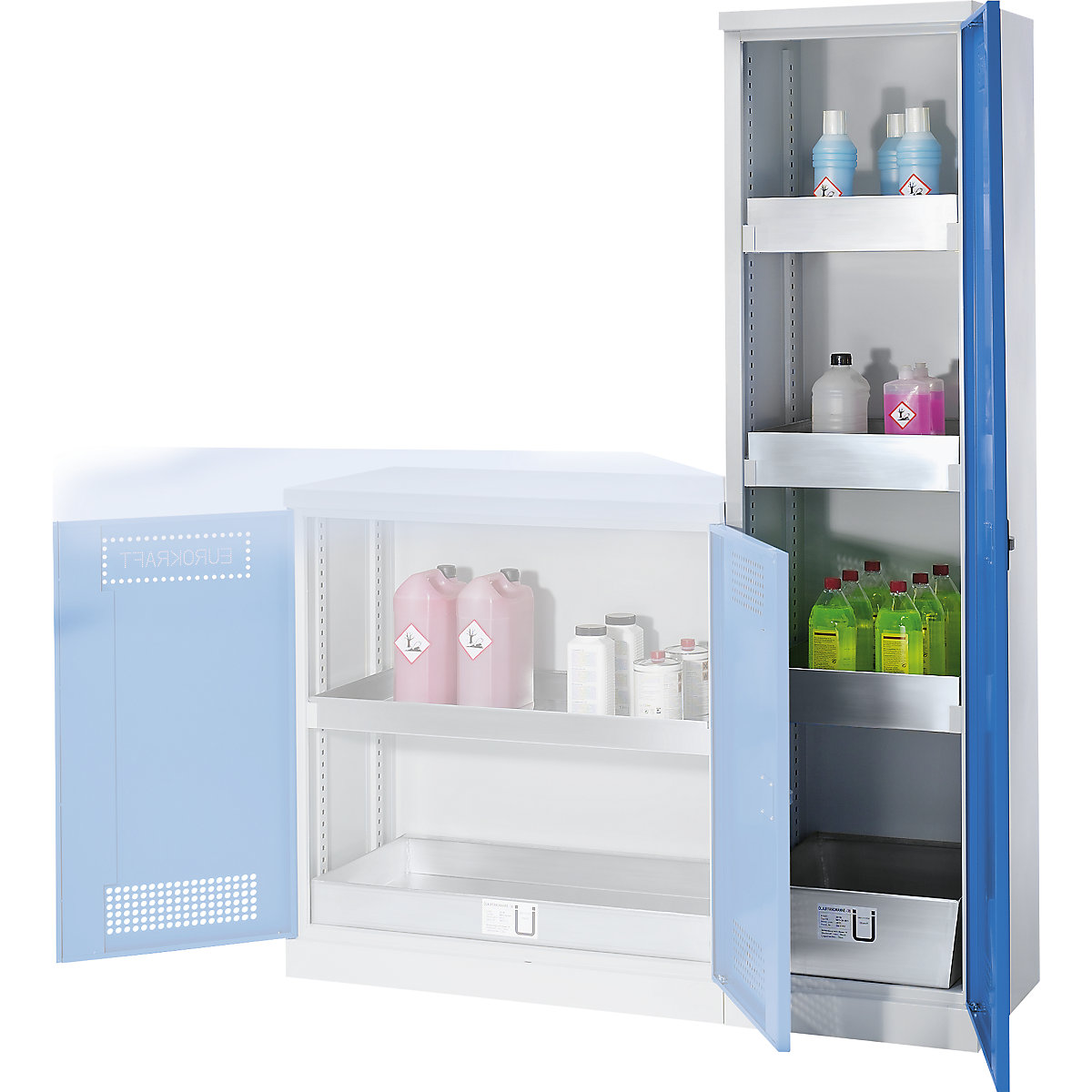 Ref.: 710980 49
EUROKRAFTpro – Environmental cupboard, full height side cupboard, HxWxD 1950 x 500 x 500 mm
Robust, reinforced sheet steel construction. Powder coated, body in light grey RAL 7035, doors in light blue RAL 5012.
Lockable with cylinder lock. Concealed lock linkage.

For space saving storage directly at the workstation.
– 3 tray shelves, zinc plated, height adjustable in 25 mm increments, can be removed separately
– 1 base sump tray, zinc plated

Max. tray shelf load (distributed load) 65 kg.
Tray shelf collection capacity 20 litres.
Base sump trays 30 litres.
Base sumps with manufacturer's declaration of conformity, seamlessly welded in accordance with StawaR, made of 3 mm sheet steel.

Please contact us before ordering to determine whether corrosion resistance of a cupboard is compatible with media to be stored.
All specified max. loads apply with uniform load distribution.
For regulation compliant indoor storage of water hazardous liquids in small containers
Lockable doors with perforations for effective ventilation
Seamlessly welded tray shelves and base sumps made of 3 mm sheet steel, seamlessly welded in accordance with StawaR, with manufacturer's declaration of conformity
Full height cupboards with ventilation outlet for connection to an on-site exhaust system or ventilation kit (DN 75)
Seamlessly welded tray shelves
Base sump trays made of 3 mm sheet steel, seamlessly welded in accordance with StawaR, with manufacturer's declaration of conformity
Ventilation outlet for connection to an on-site exhaust system or ventilation kit, DN 75
For water hazardous liquids

External width

500

mm
External height

1950

mm
External depth

500

mm
Material

sheet steel

Body colour

light grey RAL 7035

Door colour

light blue RAL 5012

Number of doors

1

pcs.
Door type

hinged door

Number of storage levels

4

pcs.
Lock type

cylinder lock

Finish

powder coated

Number of tray shelves

3

pcs.
Capacity of tray shelves

20

l
Max. shelf load

65

kg
Number of base sumps

1

pcs.
Weight

65

kg
Shelf height adjustment increments

25

mm
Base sump tray capacity

30

l
Hazard class

for water hazardous liquids

Test symbol

manufacturer's declaration of conformity in accordance with German construction regulation list A, part 1, DIBt, Berlin

Product type

environmental cupboards

Supplied

assembled

Pictorial instructions