Trailer
4-wheel linked ackerman steering, max. load 8 t
4-wheel linked ackerman steering
Extremely small turning radius
Steering radius 40°
Detachable drawbar, towing connection on both sides
Precision tracking stability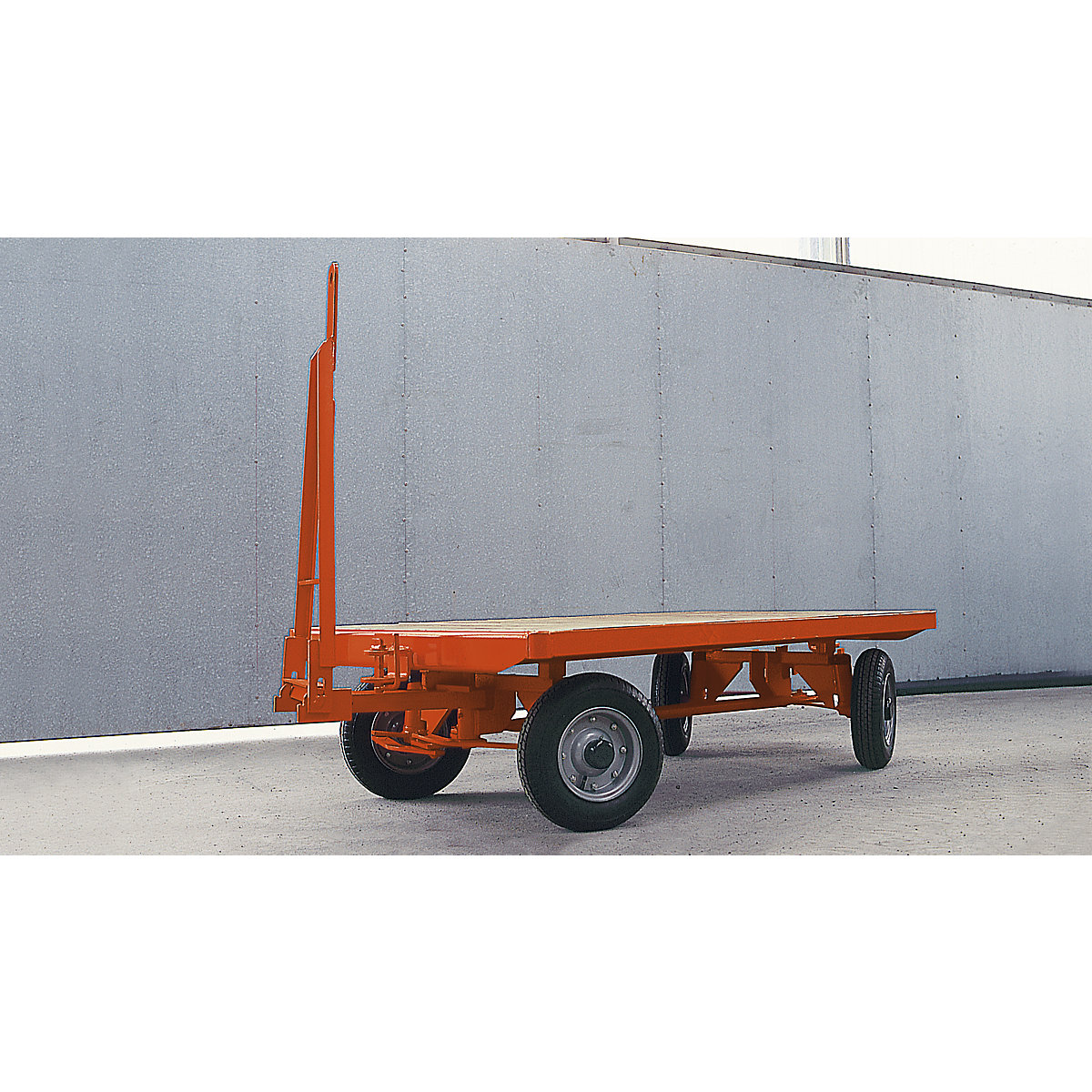 Trailer, 4-wheel linked ackerman steering, max. load 8 t, platform 2.0 x 1.0 m, solid rubber tyres
Chassis
Frame construction with rounded corners. Pipe corners for attaching posts or side panels, or as tie-down eyes. Pine laminate, hard-wearing varnish. Trailer coupling.
Wheel type
Solid rubber or pneumatic tyres. Hubs with double ball bearings.
Paintwork
Pure orange RAL 2004.

All-wheel Ackerman steering, tracking stability. Triangle drawbar, height adjustable with fall arrest.
4-wheel linked ackerman steering
Extremely small turning radius
Steering radius 40°
Detachable drawbar, towing connection on both sides
Precision tracking stability
Max. load at 6 km/h

8

t
Steering

4-wheel axle knuckle

Platform material

wood coating, treated with preservative

Type of tyre

single tyre

Feature

detachable drawbar

Finish

painted

Wheel type

solid rubber

Wheel width

150

mm
Wheel diameter

425

mm
Colour

pure orange RAL 2004

Steering radius

40

°
Towing eyelet diameter

40

mm
Product type

trailer

Supplied

assembled
Customers who purchased this item also purchased