Moist cleaning cloths
bamboo fibre, hands/surfaces, 8 canisters with 80 cloths
For cleaning hands, tools, machines and work surfaces, etc. without water and cleaning agents
Removes dirt, grease, oil, paint, adhesive, sealants – even heavy dirt and stains
Ideal for on the go – for drivers, fitters, tradespersons, construction sites – for locations without a water connection
Cloths made of the renewable resource bamboo – biodegradable, sustainable and environmentally friendly
This KAISER+KRAFT label distinguishes products that meet particularly sustainable criteria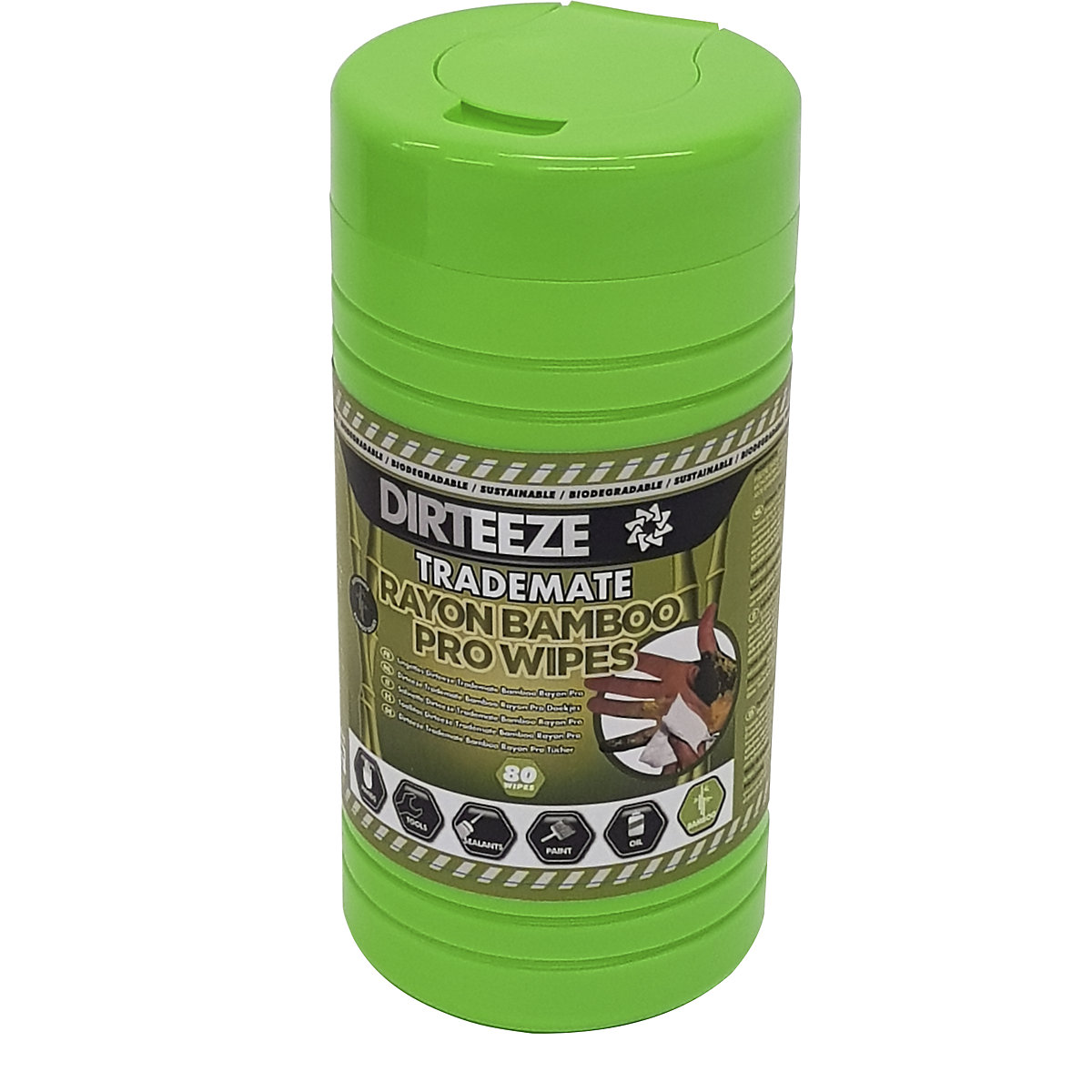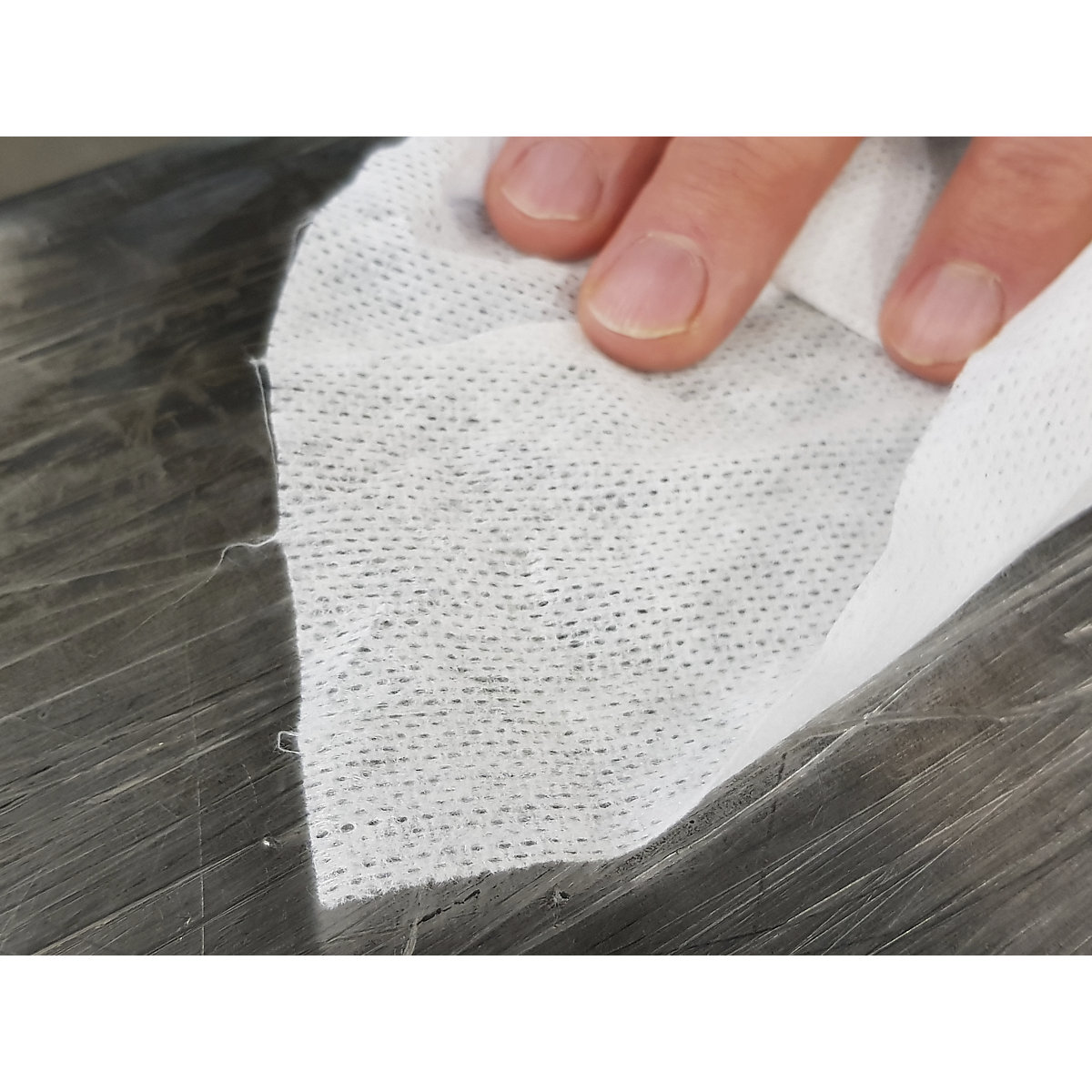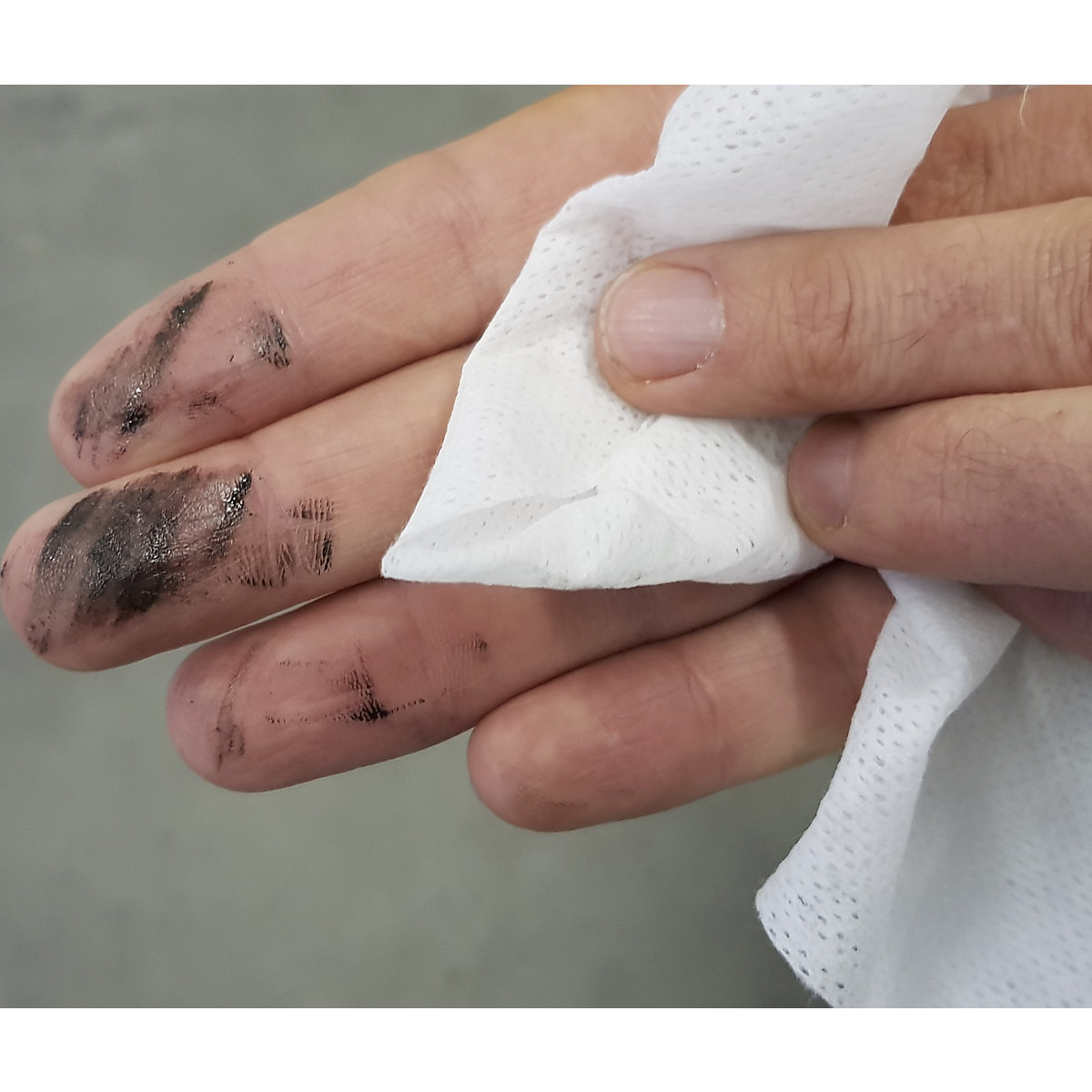 Moist cleaning cloths, bamboo fibre, hands/surfaces, 8 canisters with 80 cloths, 200 x 260 mm
Bulk discount
| Quantity | Price/pack | You save | |
| --- | --- | --- | --- |
| 1 | | - | |
| 2 | | 6,71% | |
| 5 | | 14,77% | |
Bulk discount
| Quantity | Price/pack | You save | |
| --- | --- | --- | --- |
| 1 | | - | |
| 2 | | 6,71% | |
| 5 | | 14,77% | |
Dispenser canister with super-absorbent universal industrial wet wipes made of 100% biodegradable, soft bamboo fibres.

Highly effective, gentle cleaning even in small crevices and on irregular surfaces.
Super-absorbent, for highly efficient dirt removal. Absorbent capacity exceeds that of wet wipes made of polypropylene.

Wet wipes made of 80% environmentally friendly bamboo fibre.
No materials from pine/hardwood trees used, which could promote deforestation.
No plastics used.
No fossil fuels/oil reserves used.

In a handy, resealable dispenser canister.
Pre-moistened cloths easy to remove individually.

Gentle on the skin – compliant with the Cosmetics Directive EC 1223/2009. Certified as pollutant-free in accordance with Oeko-tex 100. Approved for cosmetic use.

Cloth size 200 x 260 mm.
Pack of 8 canisters of 80 wipes.
For cleaning hands, tools, machines and work surfaces, etc. without water and cleaning agents
Removes dirt, grease, oil, paint, adhesive, sealants – even heavy dirt and stains
Ideal for on the go – for drivers, fitters, tradespersons, construction sites – for locations without a water connection
Cloths made of the renewable resource bamboo – biodegradable, sustainable and environmentally friendly
This KAISER+KRAFT label distinguishes products that meet particularly sustainable criteria
Supplied

assembled

Number per roll

80

pcs.
Model

universal

Application

heavy duty

Width

200

mm
Frequency of use

single

Place of use

indoor and outdoor use

Colour

white

For media

paints, semi-hardened sealants and adhesives, lubricants, foams, oils, greases and more

Weight

7.68

kg
Length

260

mm
Property

cleaning

Scope of delivery

8 canisters each with 80 cloths

Material

bamboo fibres

Product type

cleaning cloths

Safety data sheet

Display PDF
Sustainability
Biodegradable / natural product
This product belongs to the category containing products made of recycled materials or those from sustainable sources, and biodegradable products:
products that are (predominantly) made of a natural material or are fully biodegradable (e.g. cork, corn starch, etc.).