Vetter – ASSISTENT AS post mounted jib crane
with HF electric chain hoist, max. load 500 kg
Compact design, ideally suited for low rooms
High quality craftsmanship
Flexible assembly fixtures with several versions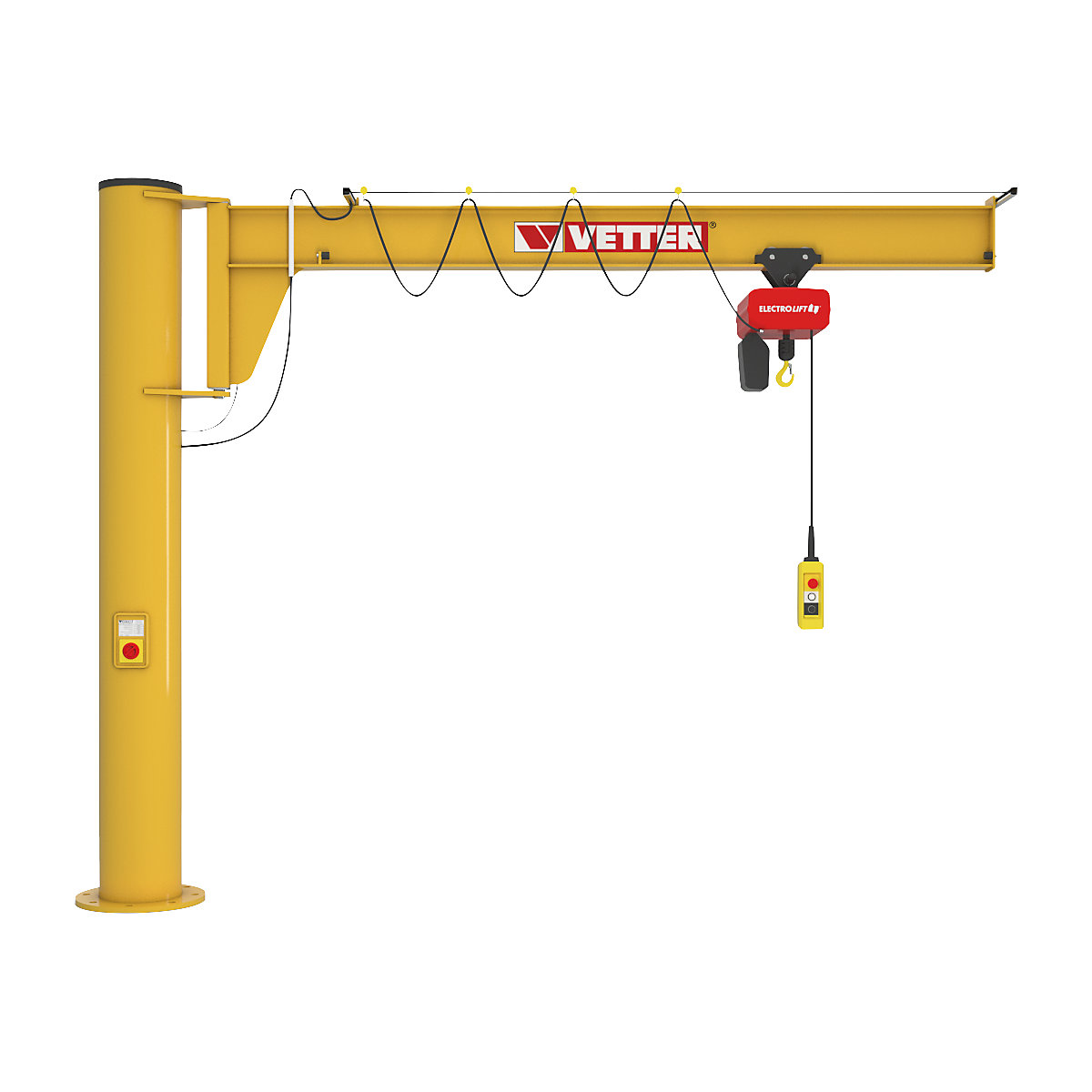 Vetter – ASSISTENT AS post mounted jib crane, with HF electric chain hoist, max. load 500 kg, reach 3 m, main and precise lifting 4.5/1.1 m/min
The versatile workplace crane is ideally suited for low and narrow workshop spaces with little space. Regardless of whether it is used in a hall or outdoors, the individual post height and the stabiliser length means it adapts perfectly to your needs. With a swivel range of 270°, it can quickly and easily move loads or machine components to the closest workplace.

Constructed according to EN directives and EU machine guidelines for light industrial use.

Included in delivery:
Standard electrical system with lockable mains cut-off switch and power supply to hoist. Cable holding bracket up to 3 m jib length, round trailing cable for min. jib length of 4 m. Dolly buffers on front and back. VAS2 securing anchor system. Detailed documentation is included in delivery.

VAS2 securing anchor system:
For direct mounting to B25 concrete floors, min. thickness 190 mm. Can be put into service immediately after assembly – no base casting required on even floor. Uneven flooring (up to 10 mm) compensated by underlay. Includes recessed plugs – no tripping hazard.

This model features an electric chain hoist with a manual drive dolly.
Compact design, ideally suited for low rooms
High quality craftsmanship
Flexible assembly fixtures with several versions
Max. load

500

kg
Operating voltage

400 V / 50 Hz

Swivel range

270°

Design of rotary crane

crane with electric chain hoist and manual drive dolly

Priming coat

daffodil yellow RAL 1007

Height of lifting gear

480

mm
Main lift

4.5

m/min
Precise lift

1.1

m/min
Crane jib bottom edge

2500

mm
Control voltage

48

V
Product type

post mounted jib crane

Supplied

flat pack

Customers who purchased this item also purchased