a.m.p.e.r.e – Construction site marking spray
content 500 ml, solvent-based, pack of 12 cans
Solvent-based construction site marking spray
Markings visible for long periods due to special paint concentrate
Clean spray paint with regular spray jet
Hardwearing, weather resistant markings
Fluorescent markings for higher visibility
No CFCs, lead or cadmium
Short drying time

Hazard class GHS02 – flammable, self-heating, self-reactive, pyrophoric, water-reactive, organic peroxides
Hazard class GHS07 – Attention, irritating substances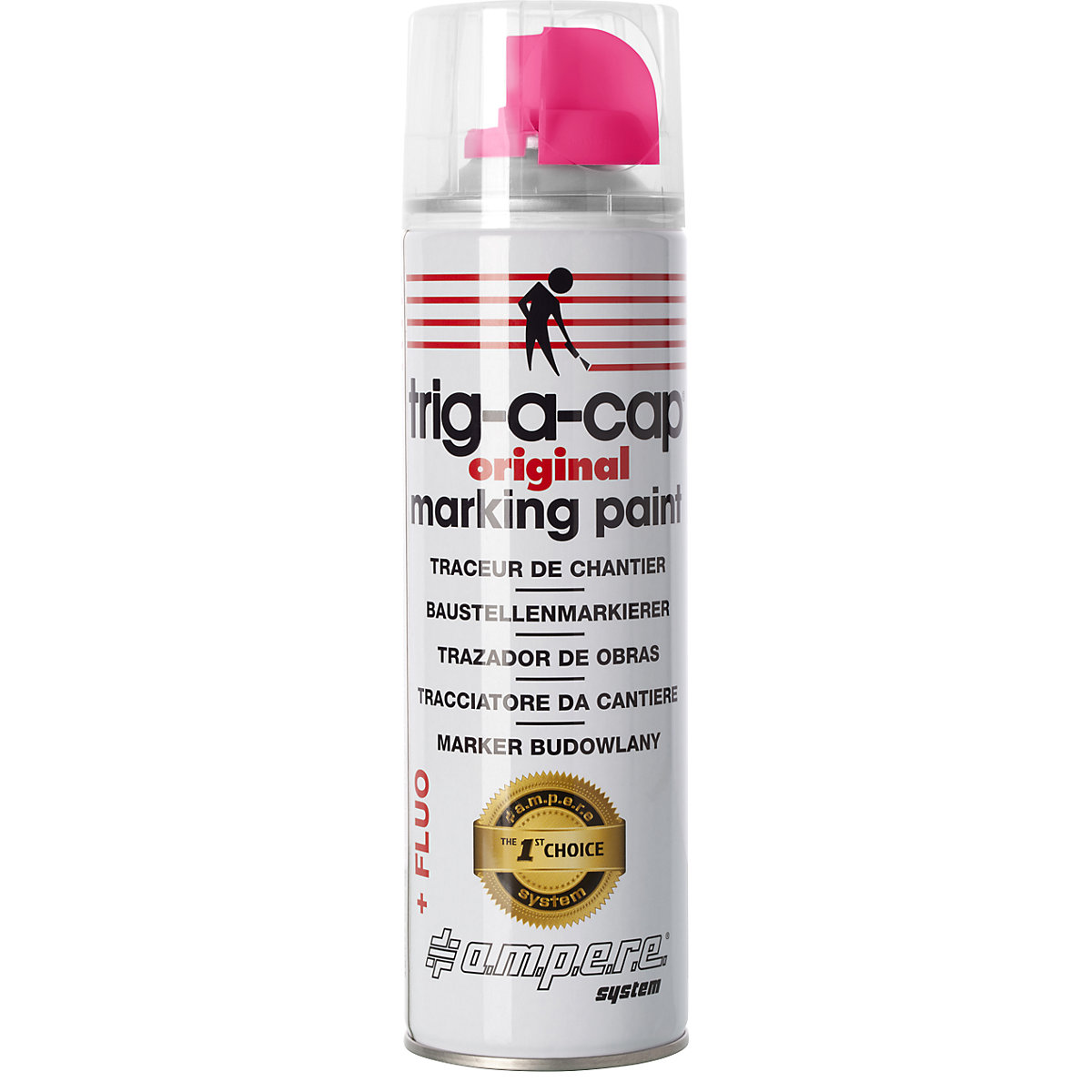 Ref.: 569430 49
a.m.p.e.r.e – Construction site marking spray, content 500 ml, solvent-based, pack of 12 cans, pink fluo
Colour: pink
Construction site marking spray trig-a-cap® original.

Professional and high visibility markings in no time:
Surveying points, topographic markings, asphalting work, service roads, pipe routes and conduits, accident scenes, markings in building construction and civil engineering, road construction and much more.
New, improved protective cap – prevents accidental escape of paint.

Can be used by hand or with a marking stick.

Fine a precise lines on every surface, e.g. on concrete, asphalt, sand, grass, gravel, wood or earth.

Pack of 1 box containing 12 cans.
Solvent-based construction site marking spray
Markings visible for long periods due to special paint concentrate
Clean spray paint with regular spray jet
Hardwearing, weather resistant markings
Fluorescent markings for higher visibility
No CFCs, lead or cadmium
Short drying time
Hazard class GHS02 – flammable, self-heating, self-reactive, pyrophoric, water-reactive, organic peroxides
Hazard class GHS07 – Attention, irritating substances