Hazardous goods storage container for water hazardous media, cold-insulated
external HxWxD 2585 x 5075 x 4200 mm
For frost-free, regulation compliant, versatile and mobile outdoor storage of temperature sensitive hazardous goods
Thermally insulated containers protect valuable media against the effects of frost and low temperatures
Approved for water hazardous liquids in GHS categories 1 – 4
The inside of all walls, doors and the roof are insulated with 60 mm thick, non-flammable insulation material
Heated with non-explosion-protected electric heater
Robust, zinc plated steel construction
Can be moved at any time when empty – crane eyelets, forklift access
With double doors as standard
Hot dip galvanised sump tray with grate, max. load 1000 kg/m² with evenly distributed load
Can be used as small container storage in conjunction with shelving (accessory)
Non-icing and condensation free


For water hazardous liquids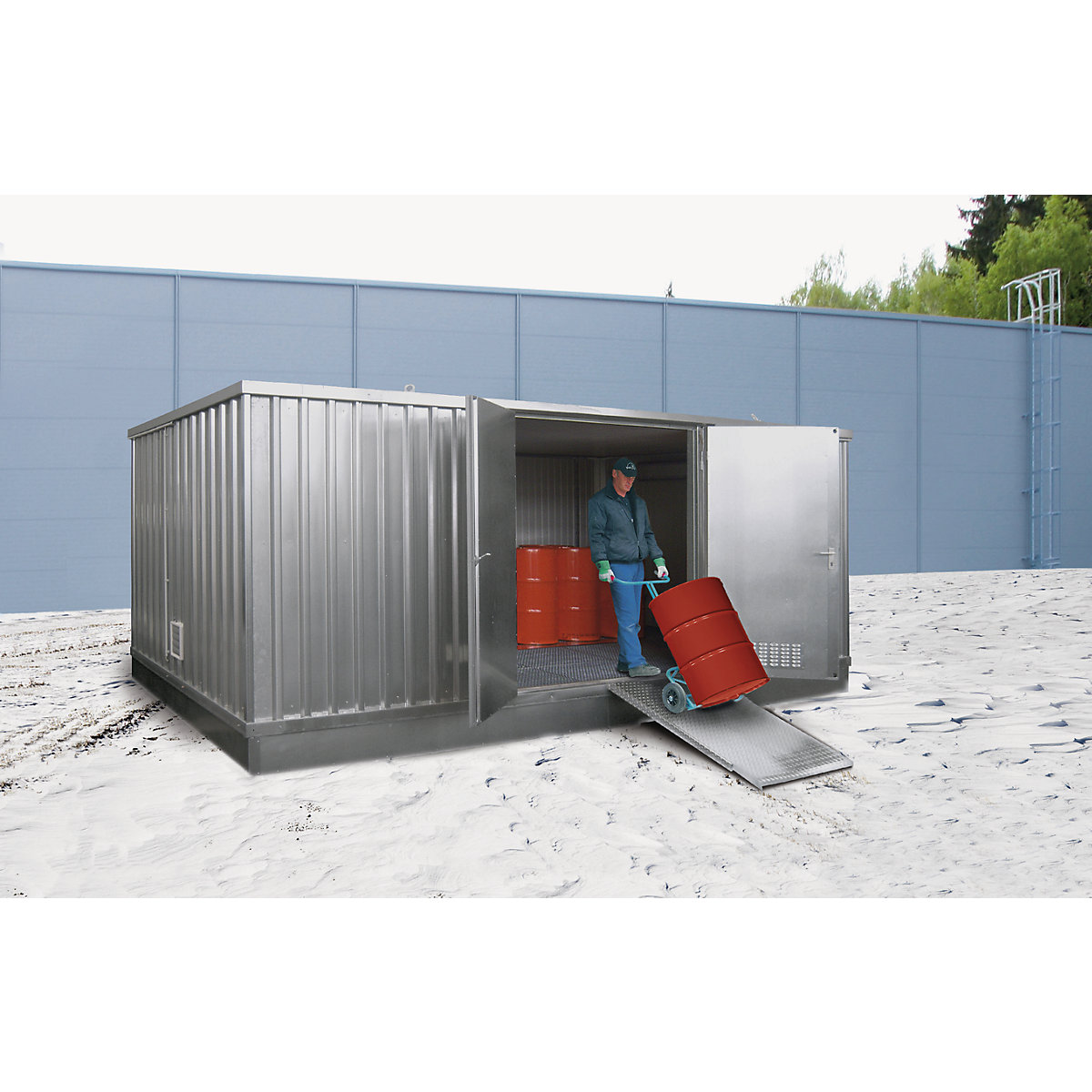 Ref.: 523499 49
Hazardous goods storage container for water hazardous media, cold-insulated, external HxWxD 2585 x 5075 x 4200 mm, zinc plated
For frost-free storage of water hazardous media in GHS categories 1 – 4
With convection heater (not explosion protected), factory fitted, wired to exterior mounted switch box, 230 V.

Zinc plated, particularly stable, profiled wall and roof panels made of sheet steel.
Reinforced roof and floor frame profiles, all round drainage rails (except for doors).
Weather protected ventilation openings in the doors and rear wall.

Double doors
With security lock.

Options available at extra cost
Insulated sump tray.
Exterior paintwork in sky blue RAL 5015.

Snow load: 150 kg/m²
EN 1055 compliant.
Pre-assembled, final assembly by customer.
Please enquire about additional models such as containers with air conditioning and fire protection containers.
For frost-free, regulation compliant, versatile and mobile outdoor storage of temperature sensitive hazardous goods
Thermally insulated containers protect valuable media against the effects of frost and low temperatures
Approved for water hazardous liquids in GHS categories 1 – 4
The inside of all walls, doors and the roof are insulated with 60 mm thick, non-flammable insulation material
Heated with non-explosion-protected electric heater
Robust, zinc plated steel construction
Can be moved at any time when empty – crane eyelets, forklift access
With double doors as standard
Hot dip galvanised sump tray with grate, max. load 1000 kg/m² with evenly distributed load
Can be used as small container storage in conjunction with shelving (accessory)
Non-icing and condensation free


For water hazardous liquids

External width

5075

mm
External depth

4200

mm
External height

2585

mm
Place of use

outdoor use

Sump capacity

2400

l
Position of double doors

long side

Heater type

convection heater (not explosion protected)

Internal height

1910

mm
Internal width

4840

mm
Internal depth

3940

mm
Material

sheet steel

Finish

zinc plated

Door clearance width

1950

mm
Door clearance height

1900

mm
Max. snow load

150

kg/m²
Door type

double hinged doors

Lock type

security lock

Type of floor

hot dip galvanised sump tray with grate, max. load 1000 kg/m² with evenly distributed load

Storage

frost-free

Heat output

3

kW
Colour

zinc plated

Hazard class

for water hazardous liquids in GHS categories 1 – 4

Test symbol

with general certification from the DIBt (German Institute for Construction Technology) Berlin

Supplied

pre-assembled, final assembly by customer

Weight

2750

kg
Items subject to surcharges & services available
Customers who purchased this item also purchased