Quick build container
zinc-plated, disassembled, without wooden floor
The universal solution – can be used anywhere at any time
Can be lifted by crane with 2 tonnes
Walls and roof made of zinc plated trapezoidal sheet metal
Components are joined using unique pressure point connections in order to prevent the protective zinc coating from being damaged
Can be assembled in minutes – without tools
Assemble / disassemble in 5 minutes

Can be lifted by crane with 3 tonnes

Tested by Rheinisch-Westfälischen TÜV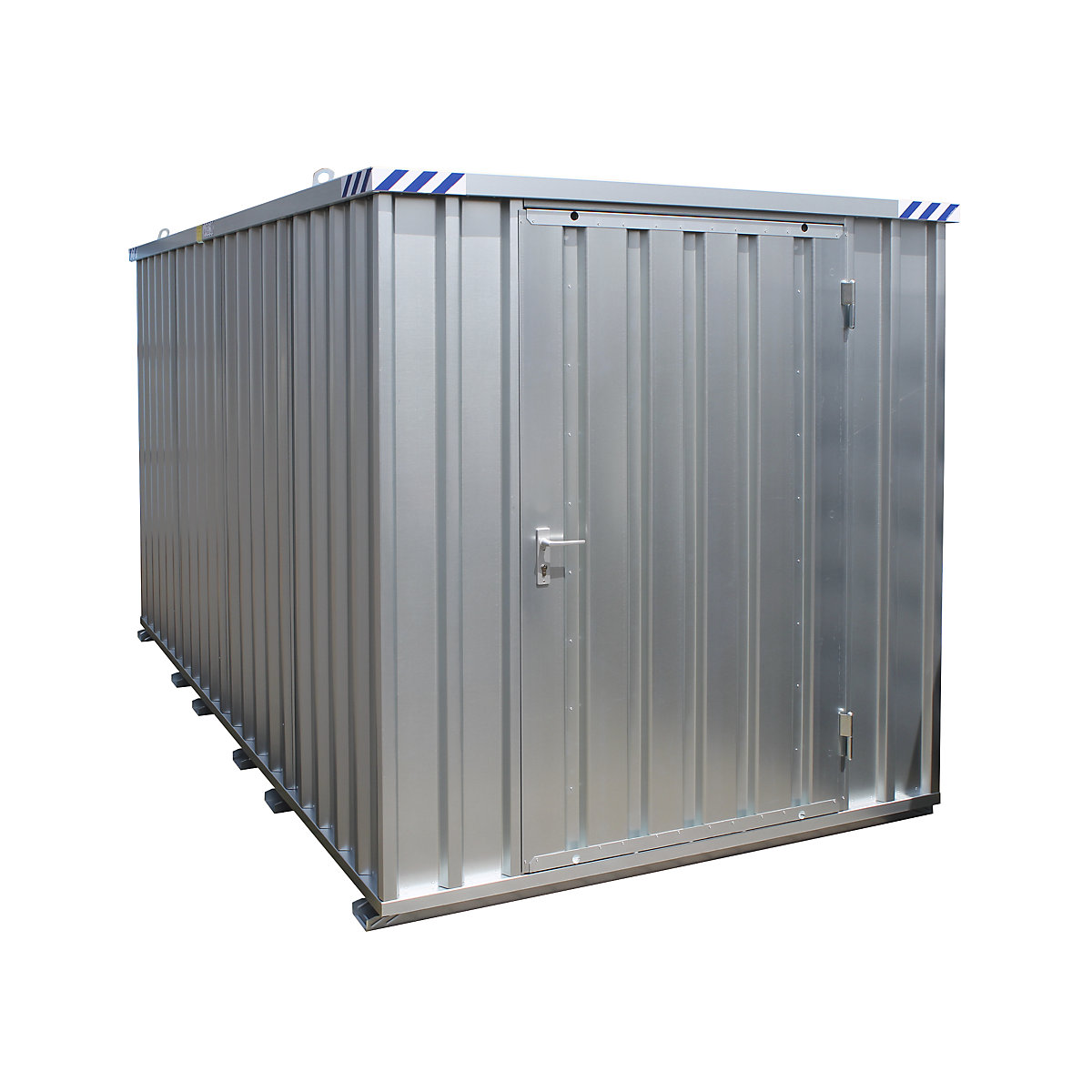 Quick build container, zinc-plated, disassembled, without wooden floor, external WxDxH 2100 x 1100 x 2100 mm
Single exterior door, hinged on right, height x width 1890 x 1150 mm. Door handle with profile cylinder (incl. 3 keys).

With 4 crane eyelets as standard.
Foundation work is not necessary.
Only a level, firm surface is required. Foundation plans for all models can be provided on request.

Supplied flat pack.
Assembly instructions with pictures guide you through the quick assembly process, e.g. 3100 x 2100 mm container in only 5 minutes with 2 people.
Please note
Door always positioned on the 2100 mm side of the container.
Door positioned on the long side available at extra cost.

Max. roof load

Max. snow load 210 kg/m² with structural analysis.
Without floor construction – subsequent installation of a floor (wooden floor) by the customer is not possible.
The universal solution – can be used anywhere at any time
Can be lifted by crane with 2 tonnes
Walls and roof made of zinc plated trapezoidal sheet metal
Components are joined using unique pressure point connections in order to prevent the protective zinc coating from being damaged
Can be assembled in minutes – without tools
Assemble / disassemble in 5 minutes

Can be lifted by crane with 3 tonnes

Tested by Rheinisch-Westfälischen TÜV

Safety tested
This is a test symbol. GS stands for certified safety.

Floor ventilation

External height

2100

mm
Type of floor

without floor

Finish

zinc plated

Max. snow load

210

kg/m²
Material

trapezoidal sheet metal, galvanised

Door type

hinged door

Door clearance width

1150

mm
Door clearance height

1890

mm
Lock type

door handle with profile cylinder (incl. 3 keys)

Door hinge position

right

Colour

zinc plated

Supplied

flat pack
Items subject to surcharges & services available
Customers who purchased this item also purchased