PE shelf sump tray
sump capacity 220 l, without certification
Existing racking systems can be retrofitted for storing drums and small containers
Easy to insert in existing standard pallet racking
Catches leaks from leaking, damaged containers, etc.
Made of durable, highly resistant polyethylene for storing corrosive chemicals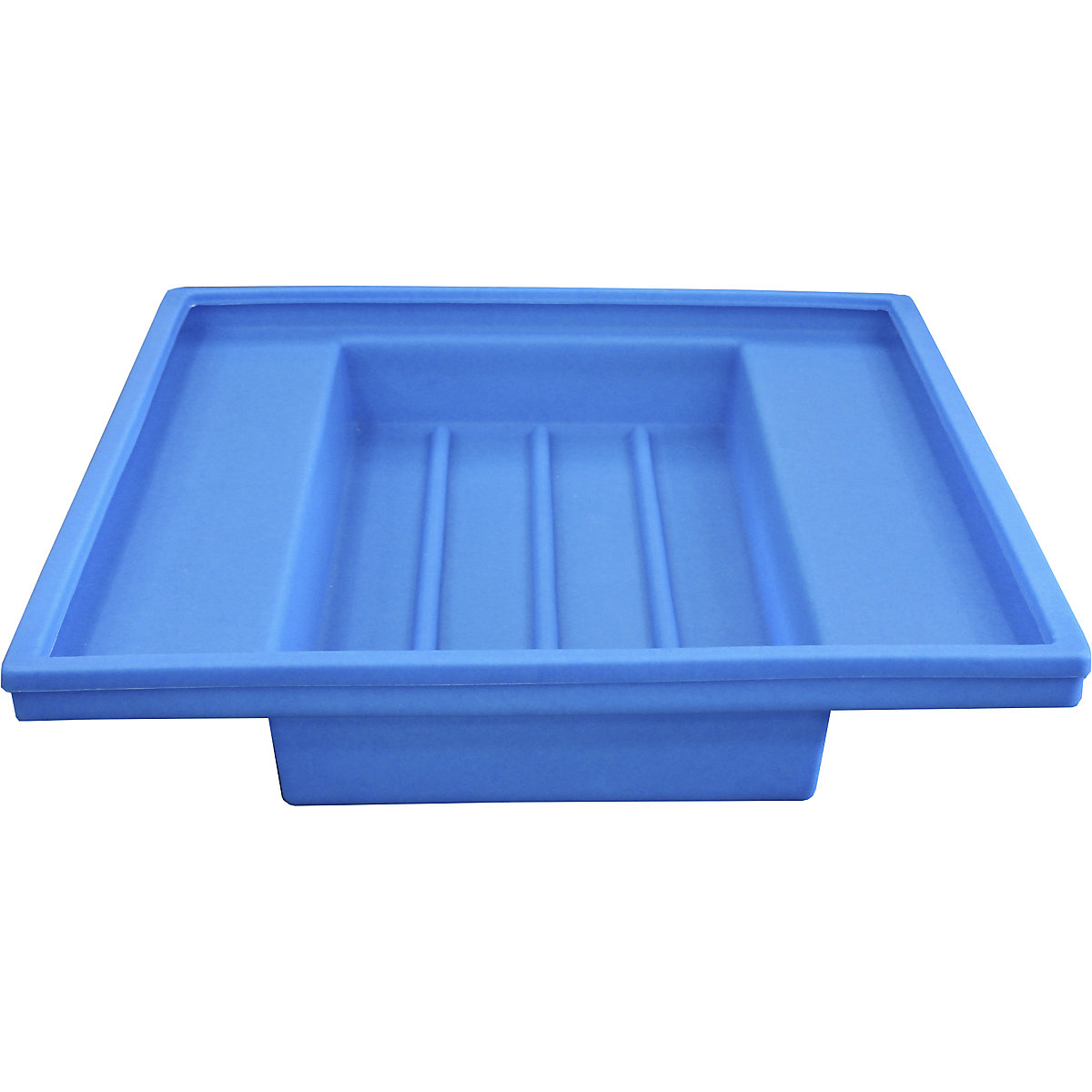 PE shelf sump tray, sump capacity 220 l, without certification, without grate
Sump trays are placed on the cross beams or suspended directly in the racking.
Distance between cross beams 700 mm.

Made of highly resistant, robust and durable polyethylene – ideal for storing corrosive media such as acids, alkaline solutions, oils.
Collection capacity 220 litres. Blue.
Tray without grate: for placing drums and small containers on pallets (e.g. on Euro/chemical pallets).
Tray with grate: drums and small containers can simply be placed directly on the PE grate and stored.

Sump trays without certification:
Only for the storage of non-water-hazardous media, etc.
Also for the storage of corrosive, water hazardous media in countries without approval requirements.
Existing racking systems can be retrofitted for storing drums and small containers
Easy to insert in existing standard pallet racking
Catches leaks from leaking, damaged containers, etc.
Made of durable, highly resistant polyethylene for storing corrosive chemicals
Sump capacity

220

l
Pallet capacity

1 Euro or 1 chemical

Length

1310

mm
Width

1310

mm
Height

245

mm
Material

polyethylene

Drum capacity

4 x 200 l

Colour

blue

Max. load

1000

kg
Material thickness

8

mm
Hazard class

for corrosive media such as acids and alkalis

Feature

stackable

Distributed load

1000

kg
Certification

without

Product type

shelf sump trays

Supplied

assembled
Customers who purchased this item also purchased