Floor/wall mounted door stopper set
3 x door wedge, 7 x wall stopper
Award winning door stopper innovation 3-STOP and elegant wall buffer for protecting doors, walls and furniture
3 different wedge heights can be used for every door gap, regardless of how large the distance between the door and floor is
Can be used as a door wedge, door stopper or door holder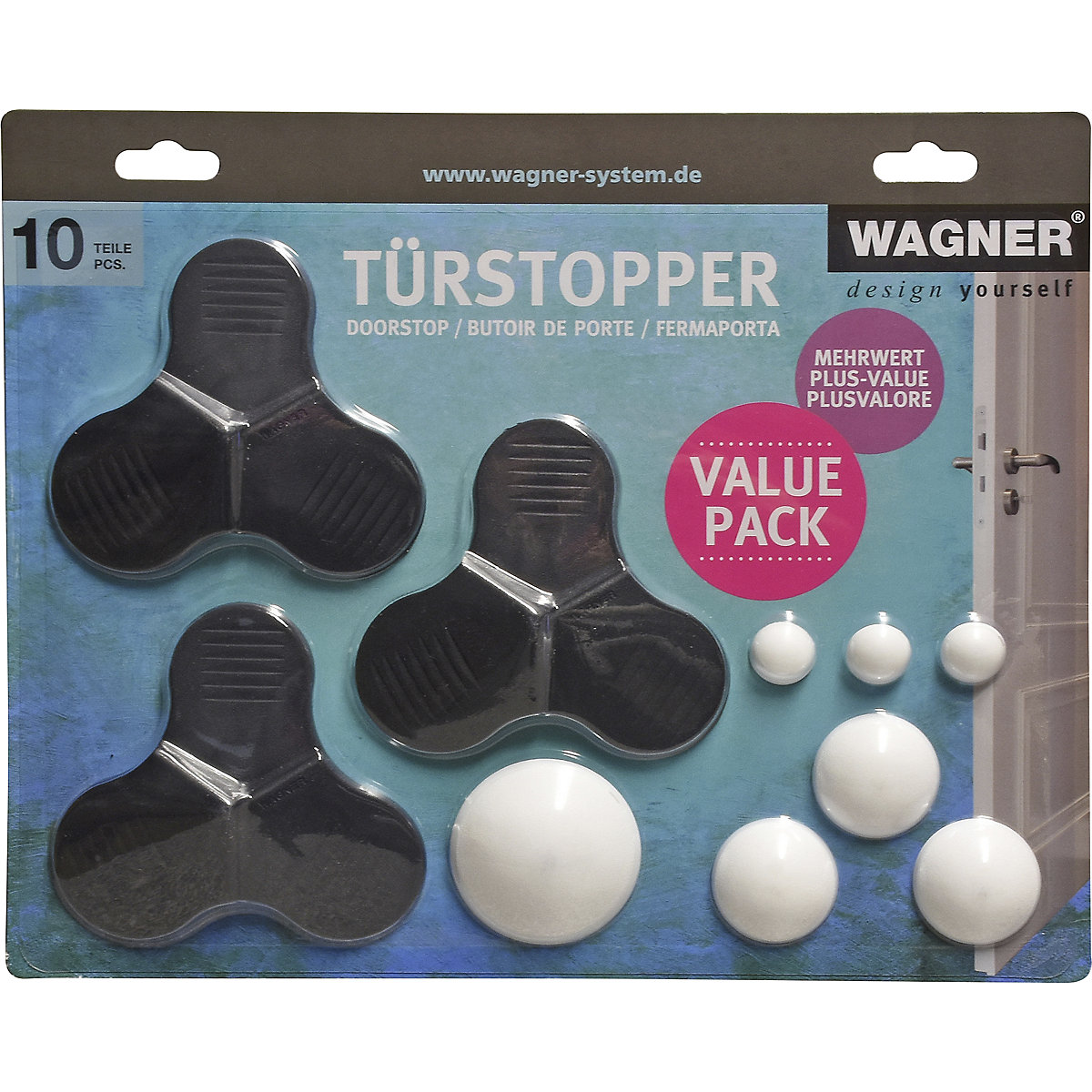 Ref.: 531007 49
Floor/wall mounted door stopper set, 3 x door wedge, 7 x wall stopper, 10 part
Door wedge 3-STOP made of innovative elastomer:
Three rounded wedge shapes with different pitch angles make it 100% flexible and suitable for every door gap.
The door wedge 3-STOP always fits, e.g. behind or in front of the door, between the door and wall, between the door and door frame.
The top and bottom are ribbed to prevent the wedges from sliding away on smooth floors, and to fix the doors in place.
The rounded shape protects walls, floor and doors from damage. Dimensions Ø 108.5 mm, height 19 mm.

Wall buffer:
Exclusive design made of high quality plastic. For bonding or bolting in place, suitable for all smooth surfaces.

Set comprised of 3 x door wedge 3-STOP, colour black. Self adhesive wall buffer, colour white 3 x Ø 20 mm, 3 x Ø 40 mm, 1 x Ø 60 mm.
Award winning door stopper innovation 3-STOP and elegant wall buffer for protecting doors, walls and furniture
3 different wedge heights can be used for every door gap, regardless of how large the distance between the door and floor is
Can be used as a door wedge, door stopper or door holder
Product type

door stoppers

Colour

black




white

Type of mounting

adhesive or screw on fitting

Diameter

108.5

mm
Height

19

mm
Weight

0.3

kg
Material

plastic

Supplied

assembled
Customers who purchased this item also purchased