Ref.: 681828 10
Complete modular system set 6 – RAU
for workbench
Suitable for RAU workbenches/work tables and selected EUROKRAFTpro workbenches
Ergonomics, tidiness and organisation at the workplace
All interior fittings and attachment parts are adjustable in height
Easy to add to or expand
Indispensable for the implementation of LEAN management methods

This label from kaiserkraft evaluates products based on a wide range of sustainability criteria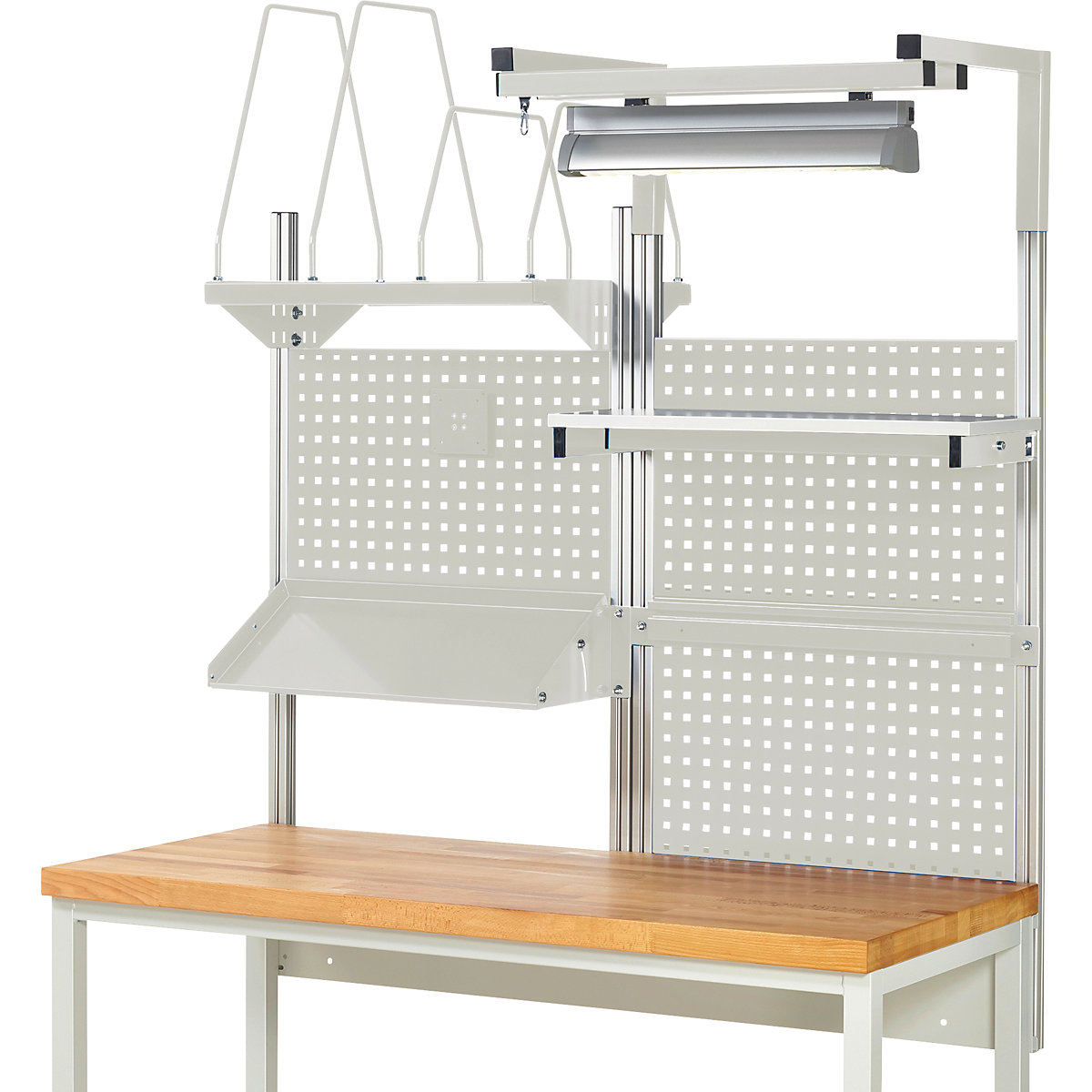 width 1500 mm
The complete modular system set 6 includes:
– 1 x fastening set (cross bar) with 4 system uprights for workbench width 1500 – 2000 mm or 2 x fastening set for workbench width 2500 – 3000 mm
– 3 x perforated panel (WxH: bay width – 85 mm x 450 mm) with square system perforation to integrate tool holders and accessories
– 1 x inclined metal shelf (WxD: bay width – 85 mm x 300 mm), raised edges on all sides
– 1 x suspension rail (width: bay width – 85 mm) to hold open fronted storage bins (open suspension edge at the rear of the open fronted storage bins required) and/or power strip
– 1 x packaging shelf (WxD: bay width – 85 mm x 600 mm), melamine coated panel with mounting brackets and C-profile affixed at the front and rear for variable positioning of the plug-in supports (heights 300 and 500 mm) by means of system bolts, positioning between the system supports with option of moving ±125 mm on the mounting brackets
– 1 x flat screen holder with mounting adapter for perforated panel (VESA MIS-D 75/100)
– 1 x shelf (WxD: bay width x 300 mm), melamine coated panel
– 1 x pair of stabilisers, HxD 300 x 550 mm, to hold guide track/mounting rail (max. 2)
– 2 x guide track/mounting rail in bay width to hold lighting strip and/or carriage with safety hook
– 1 x carriage with safety hook for spring balancer etc.
– 1 x workplace lamp (in width 590 mm for bay width 750 and 1000 mm, in width 1190 mm for bay widths 1250 and 1500 mm), strip light with laminate grid and reflector, on/off switch, connection cable with plug, electronic ballast (EB), protection class IP20, 2 x 24 W

The installation height of the add-on units can be adapted on the system supports. The fastening set (cross bar) is attached to the rear of the system frame under the worktop. The system uprights (aluminium profile 40 x 40 mm) are screwed to the fastening set (cross bar) by means of slot nuts (height adjustable) and run upwards behind the worktop so that the entire depth of the worktop remains free (not bolted to the worktop). The system uprights feature a profile groove on all 4 sides to allow use from all sides.
This modular system is designed for RAU workbenches/work tables and selected EUROKRAFTpro workbenches, and cannot be connected to workbenches made by other manufacturers! When placing an order without an appropriate workbench, it is imperative to specify for which series the modular elements are intended.
Suitable for RAU workbenches/work tables and selected EUROKRAFTpro workbenches
Ergonomics, tidiness and organisation at the workplace
All interior fittings and attachment parts are adjustable in height
Easy to add to or expand
Indispensable for the implementation of LEAN management methods
Depth

600

mm
Colour

light grey RAL 7035

Material

sheet steel




aluminium




wood

Number of uprights

4

pcs.
Max. load

100

kg
Effective height

1130

mm
Height

1400

mm
Product type

accessories for workbenches

Supplied

flat pack

Width

1500

mm
For table width

1500

mm
Bay width

2 x 750

mm
Weight

20

kg

Sustainability
Enkelfähig
Non-Enkelfähig product
This product is currently not yet Enkelfähig. This does not mean that the product does not exhibit any sustainable features, and instead only means that it does not yet meet enough of the sustainability aspects included in the diverse criteria covered by our sustainability evaluation to achieve a rating of more than 3 points. This is why it does not feature the Enkelfähig endorsement.
For more information about product evaluation and the Enkelfähig Initiative, please visit our
Enkelfähig information page
.