Ref.: 122983 10
System upright set – RAU
4 system uprights
Allows accessories to be attached to suitable work tables and workbenches
Mounted at the rear – the worktop remains tidy
Consists of cross member welded under the worktop at the factory, and aluminium system supports (40 x 40 mm)
Depending on the table width, panels with widths of 750/1000/1250/1500/2000 mm can be fitted
You can find work tables and workbenches suitable for this system under Combinations

This label from kaiserkraft evaluates products based on a wide range of sustainability criteria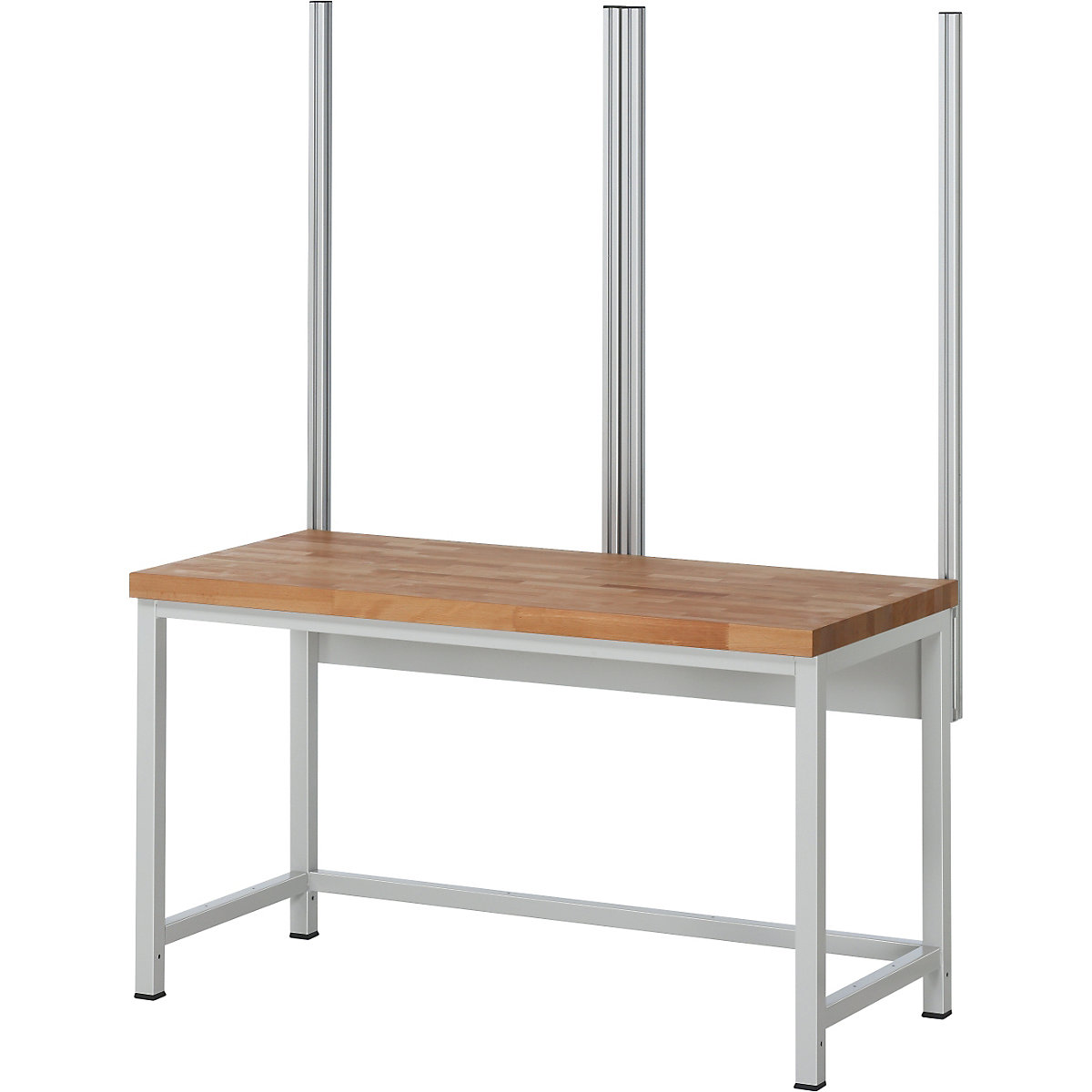 for work table width 1500 mm
For securing accessories to the work tables.
Consists of assembly kit (cross member, which is welded to the frame under the tabletop at the factory) and supports (aluminium profiles 40 x 40 mm, are bolted to the assembly kit).

Max. load 100 kg.
Effective height 1130 mm.
Please note! Only suitable for RAU work tables/workbenches or selected EUROKRAFTpro workbenches.
Can only be retrofitted in certain cases. As a rule, the supports are welded to the table frame at the factory. We will be happy to advise you.
The work surface remains open, as accessories are not mounted directly to the worktop. System uprights can be used on all sides.
Allows accessories to be attached to suitable work tables and workbenches
Mounted at the rear – the worktop remains tidy
Consists of cross member welded under the worktop at the factory, and aluminium system supports (40 x 40 mm)
Depending on the table width, panels with widths of 750/1000/1250/1500/2000 mm can be fitted
You can find work tables and workbenches suitable for this system under Combinations
Colour

light grey RAL 7035

Number of uprights

4

pcs.
Max. load

100

kg
Effective height

1130

mm
Product type

accessories for workbenches

Supplied

flat pack

For table width

1500

mm
Bay width

750 + 750

mm
Weight

10

kg

Sustainability
Enkelfähig
Non-Enkelfähig product
This product is currently not yet Enkelfähig. This does not mean that the product does not exhibit any sustainable features, and instead only means that it does not yet meet enough of the sustainability aspects included in the diverse criteria covered by our sustainability evaluation to achieve a rating of more than 3 points. This is why it does not feature the Enkelfähig endorsement.
For more information about product evaluation and the Enkelfähig Initiative, please visit our
Enkelfähig information page
.