Ref.: 676755 10
Phone battery, rechargeable – VARTA
AAA, 800 mAh
Premium quality for analogue and digital cordless phones
Capacity optimised for the power requirements of cordless phones that require frequent charging
Rechargeable hundreds of times without memory effect

This label from kaiserkraft evaluates products based on a wide range of sustainability criteria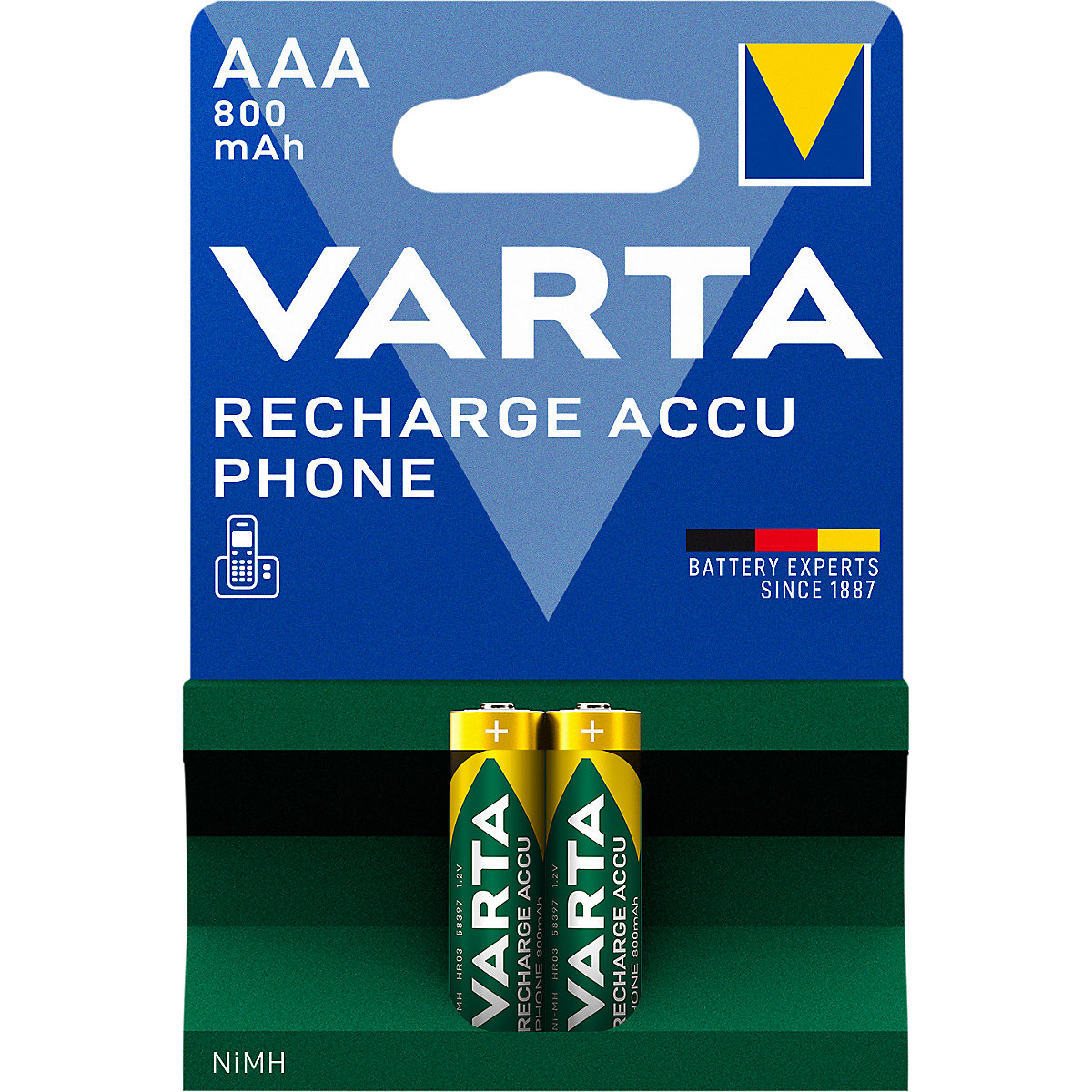 pack of 2, 10+ packs
The VARTA Recharge Accu Phone – customised battery solutions with optimised capacities and countless cycles to perfectly power low current devices such as cordless phones.
Please note:
It is prohibited to dispose of batteries and rechargeable batteries as household waste. They can contain hazardous substances that can harm the environment and your health. At the same time, they also contain important resources such as nickel, iron, zinc or manganese that can be recycled.
You are therefore obliged to dispose of these products in the correct manner. After using the batteries and rechargeable batteries, you can either send them back to us or dispose of them free of charge at the nearest collection point (e.g. at official collection points or at retailers).
Premium quality for analogue and digital cordless phones
Capacity optimised for the power requirements of cordless phones that require frequent charging
Rechargeable hundreds of times without memory effect
Battery version

nickel metal hydride (NiMH)

Battery capacity

0.8

Ah
Voltage

1,2

V
Height

44.5

mm
Width

10.5

mm
Battery size

AAA

Product type

rechargeable batteries

Supplied

assembled

Weight

0.02

kg

Sustainability
Enkelfähig
Non-Enkelfähig product
This product is currently not yet Enkelfähig. This does not mean that the product does not exhibit any sustainable features, and instead only means that it does not yet meet enough of the sustainability aspects included in the diverse criteria covered by our sustainability evaluation to achieve a rating of more than 3 points. This is why it does not feature the Enkelfähig endorsement.
For more information about product evaluation and the Enkelfähig Initiative, please visit our
Enkelfähig information page
.