Ref.: 124033 10
Anti-Stat POP™ ESD table matting – NOTRAX
blue, per metre
width 600 mm
Protection for sensitive components from damage due to electrostatic discharge
Satisfies IEC 61340-4-1 (category DIF)
Resistant to many chemicals
Smooth, easy to clean surface

This label from kaiserkraft evaluates products based on a wide range of sustainability criteria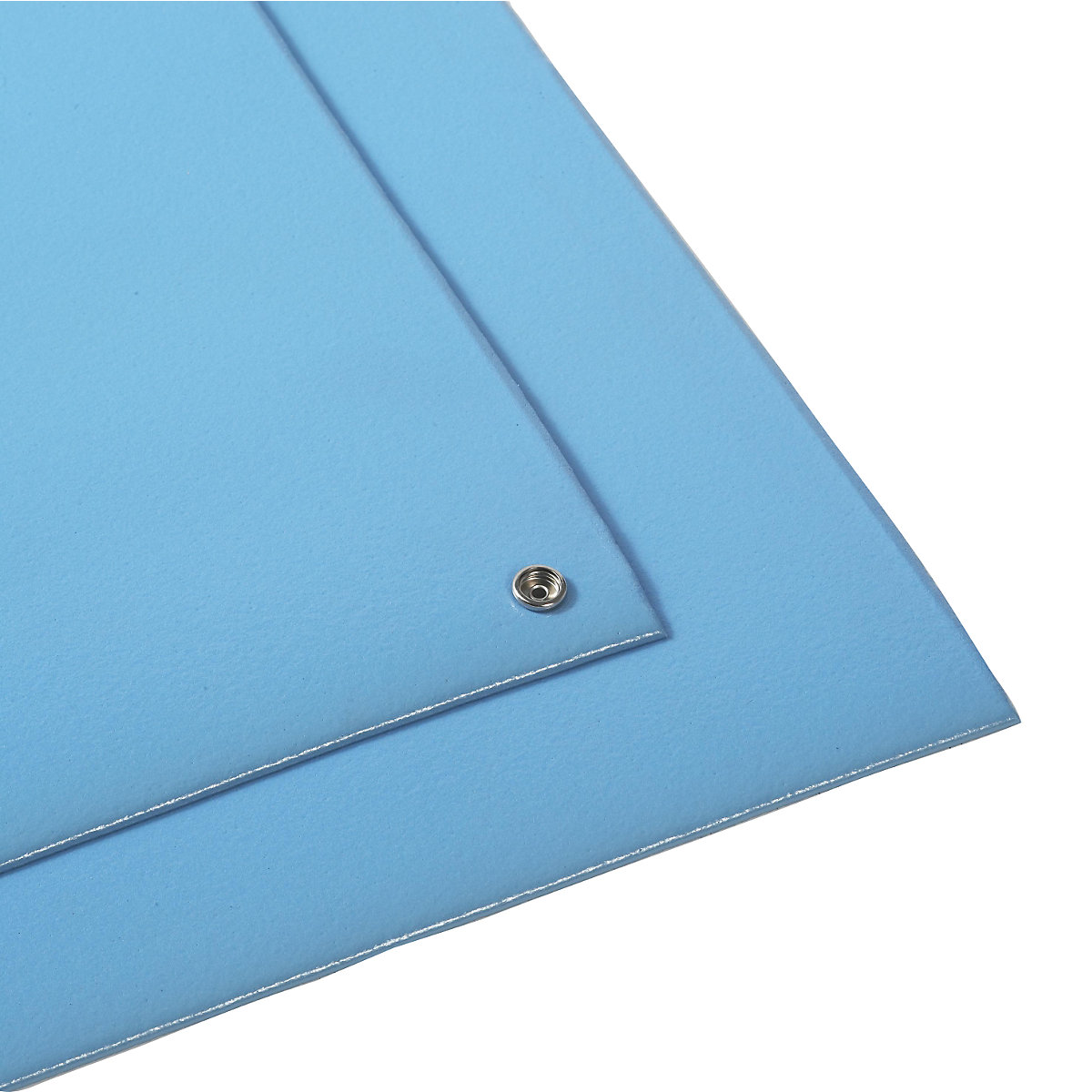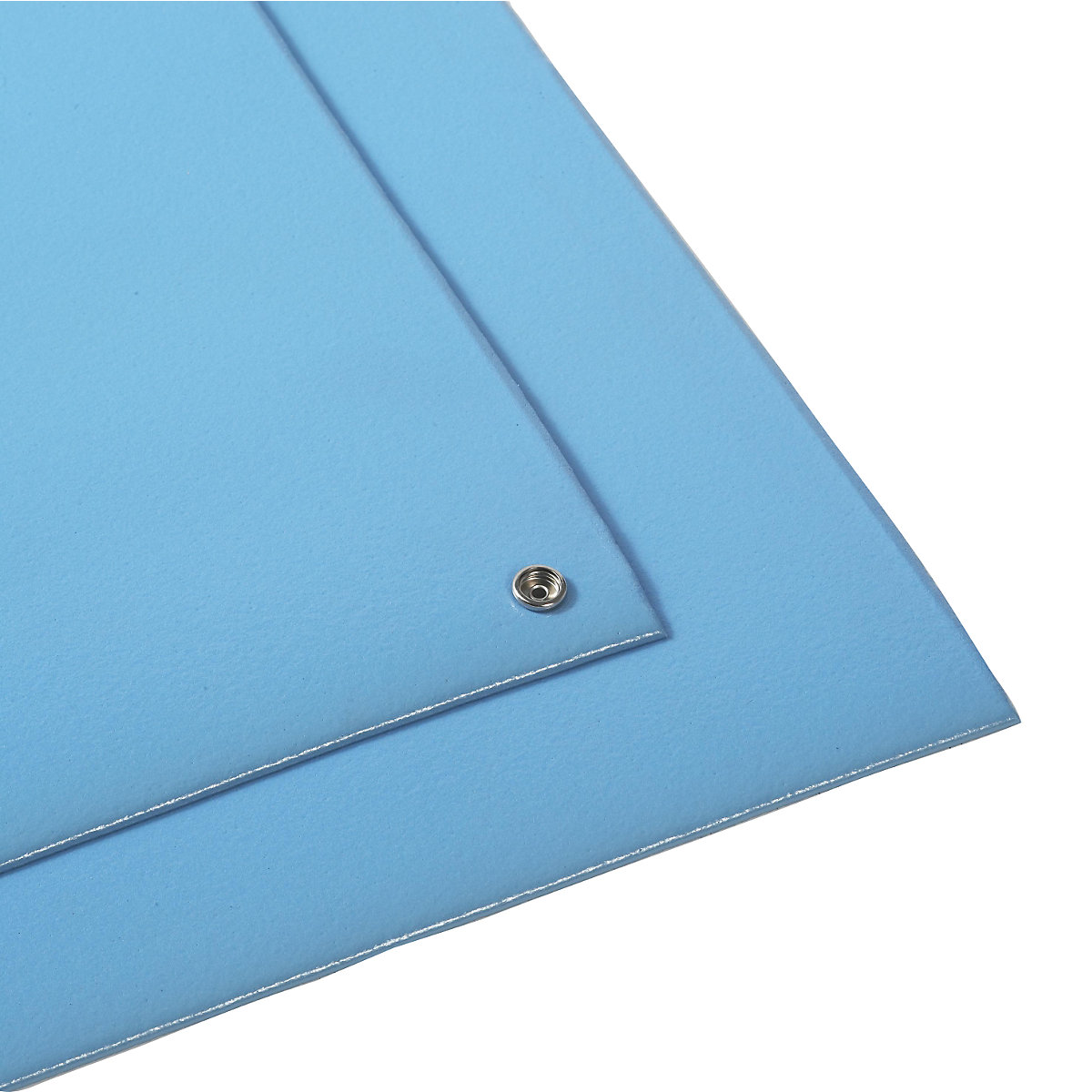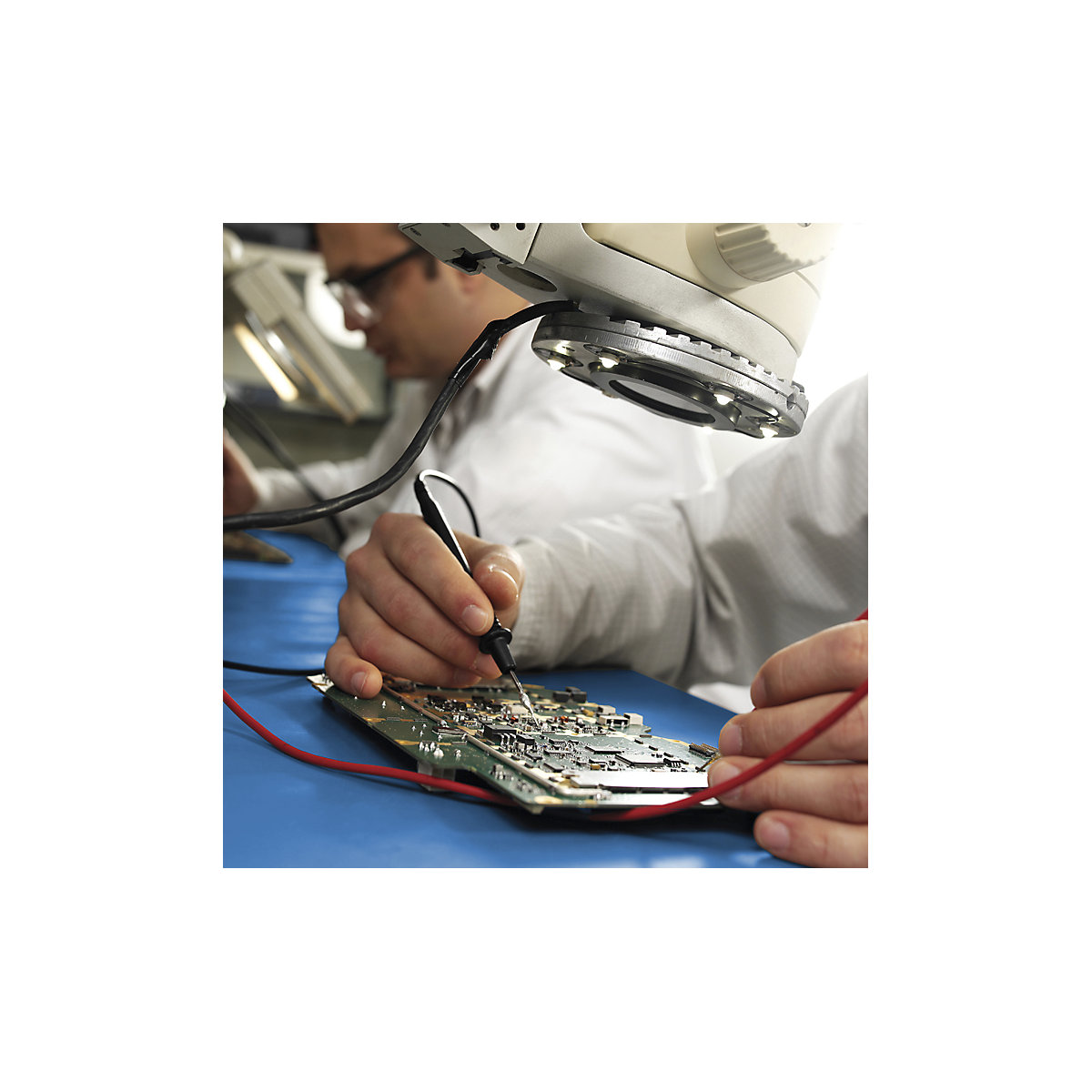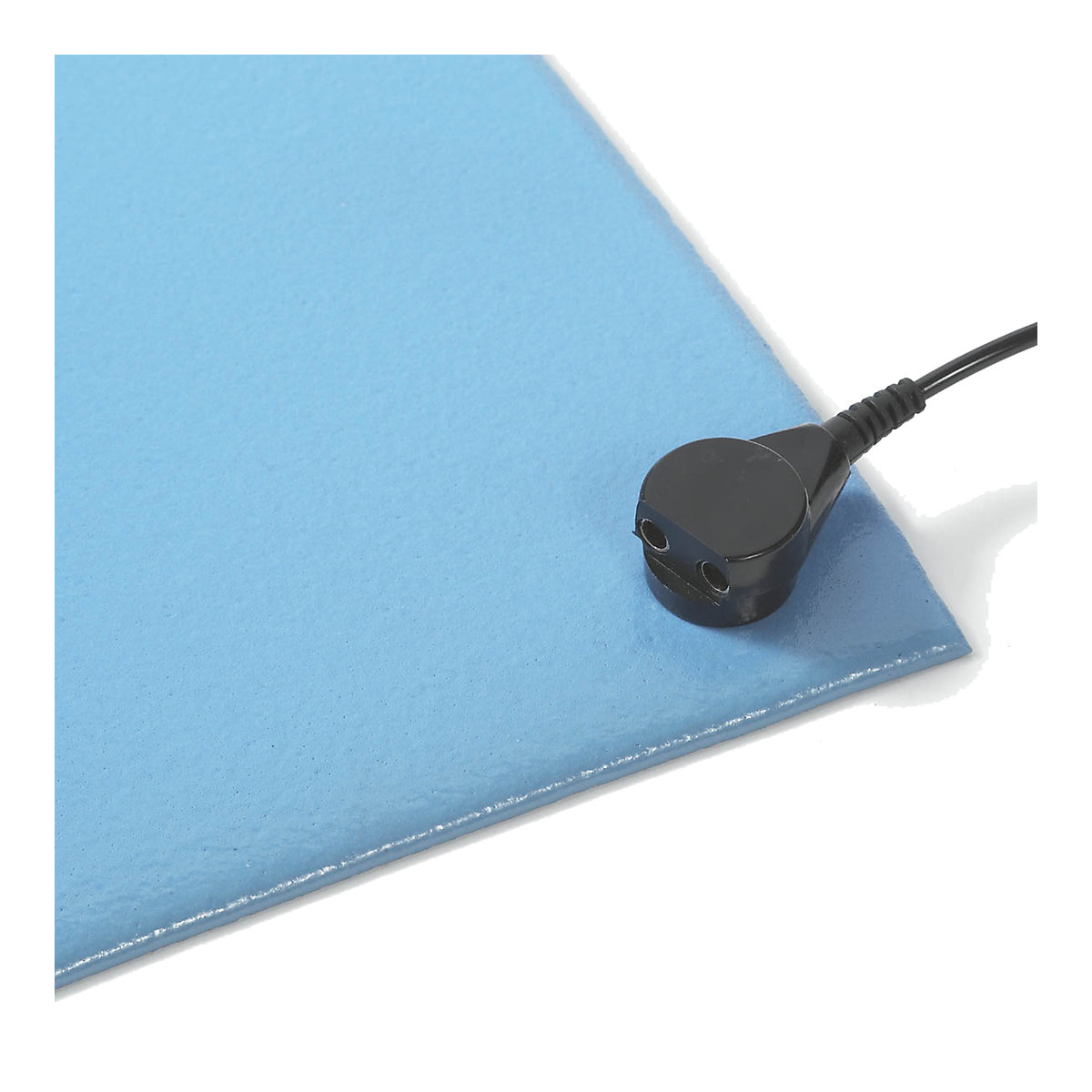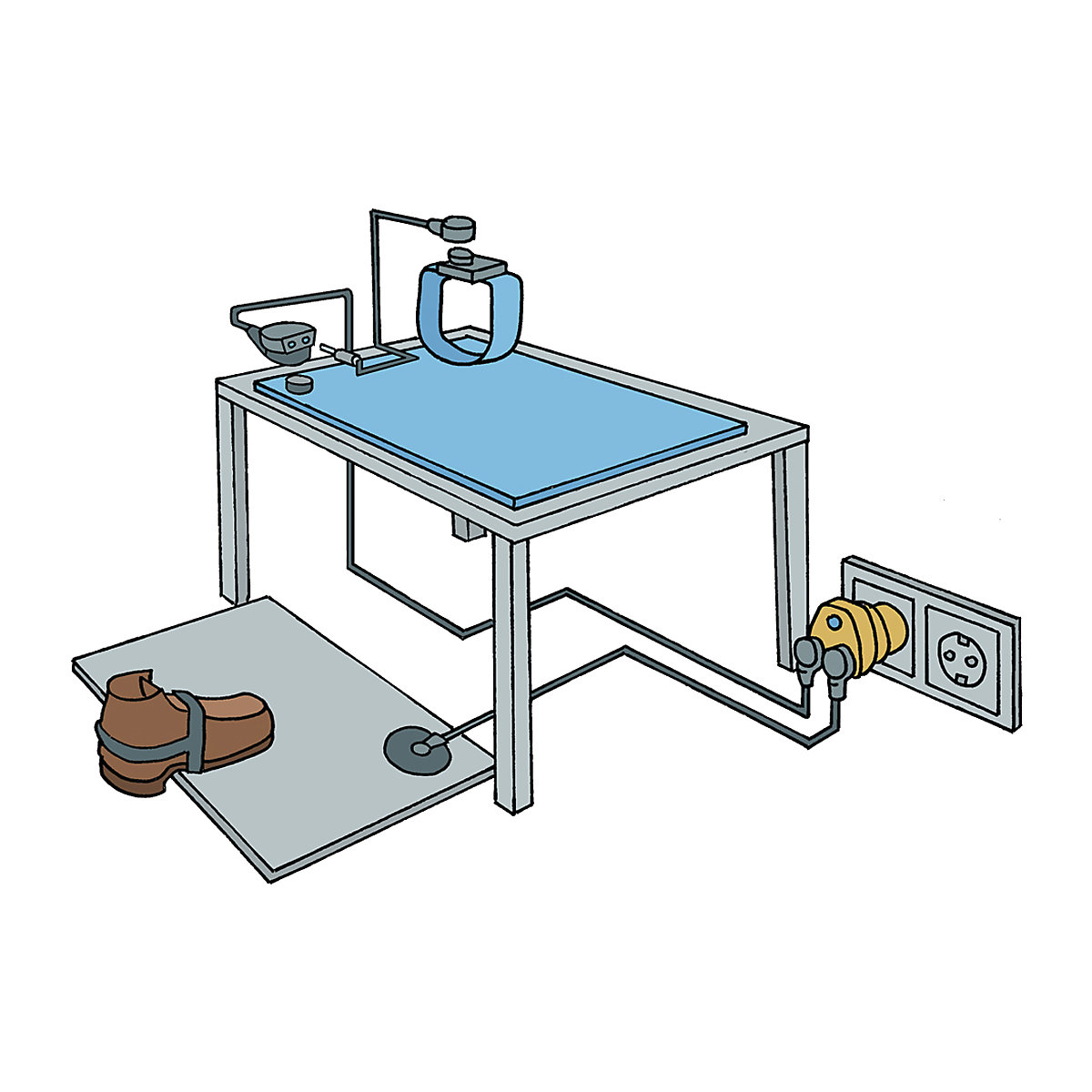 width 600 mm
The table matting series for workplaces at which electrostatic discharges need to be effectively prevented. Use these mats to connect the tabletop, staff and conductive material to a shared earth point. This equalises the charge between all items and staff to ensure that static electricity flows to earth in a controlled manner. Protects the table and keeps sensitive components safe from damage caused by electrostatic discharge. The smooth surface is hardwearing and can be treated with the mat cleaner, which is available as an accessory. Microcellular vinyl foam. Compliant with EOS/ESD-S4, measured resistance Rg 10⁷ Ω and Rp 10⁸ Ω. Electrostatic charge (walk test) in accordance with ISO 6356 and EN 1815. Height 6.4 mm.
Please include wrist earthing cable (see accessories) with your order.
ATTENTION: if the mat is ordered without a wrist cable as an accessory, the product delivered will not feature an option for attaching the earthing cable (snap fastener). Subsequent use of an earthing cable will then not be possible.
Products cut to order may exhibit dimensional tolerances of up to ±5% depending on the material.
Products cut to order are produced specifically for you, and can therefore not be returned.
Protection for sensitive components from damage due to electrostatic discharge
Satisfies IEC 61340-4-1 (category DIF)
Resistant to many chemicals
Smooth, easy to clean surface
Anti-static
This symbol indicates that the product is a conductive version (in relation to electricity or static charges).
Height

6.4

mm
Colour

blue

Material

PVC

Temperature resistance

–10 °C to +70 °C

Max. roll length

12.2

m
Surface weight

3.63

kg/m²
Place of use

indoor use

Feature

ESD version

Surface

closed

Work area

dry

Custom dimensions possible

no

Form of delivery

cuts per metre

Product type

mats, conductive

Supplied

assembled

Width

600

mm
Weight

2

kg
Datasheet

Sustainability
Enkelfähig
Non-Enkelfähig product
This product is currently not yet Enkelfähig. This does not mean that the product does not exhibit any sustainable features, and instead only means that it does not yet meet enough of the sustainability aspects included in the diverse criteria covered by our sustainability evaluation to achieve a rating of more than 3 points. This is why it does not feature the Enkelfähig endorsement.
For more information about product evaluation and the Enkelfähig Initiative, please visit our
Enkelfähig information page
.