a.m.p.e.r.e – Special paint
contents 500 ml, pack of 12
Special paint to prevent soiling and protect markings
Increases the durability of a marking
Quick drying

Hazard class GHS02 – flammable, self-heating, self-reactive, pyrophoric, water-reactive, organic peroxides
Hazard class GHS07 – Attention, irritating substances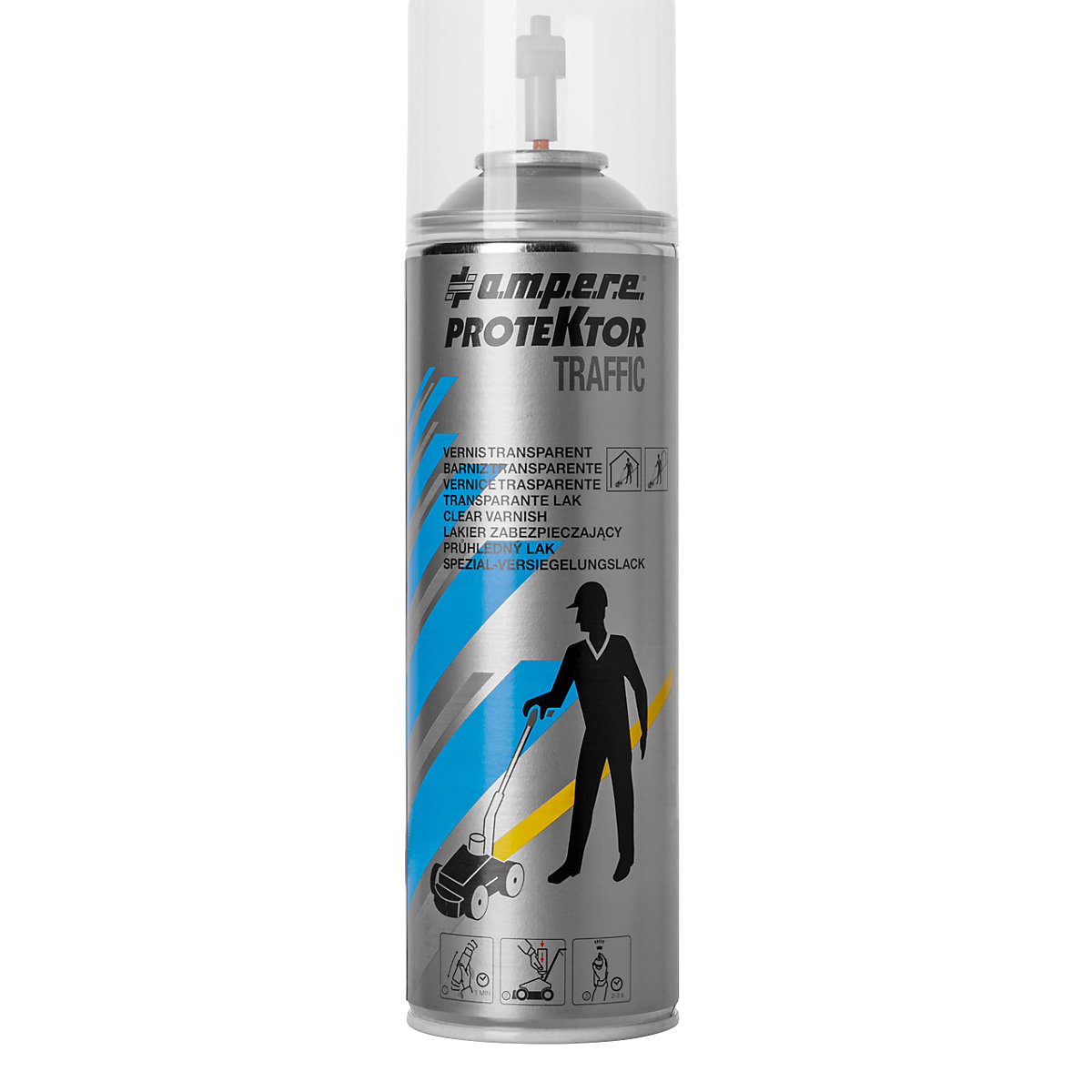 Ref.: 569412 49
a.m.p.e.r.e – Special paint, contents 500 ml, pack of 12, protection for markings
Special paint to prevent soiling and protect markings.

Traffic Protektor® special sealing paint

Protects markings from dirt.
Transparent special sealing paint to prevent soiling and protect the marking.
The new special sealing paint protects your markings from increased wear in areas subject to high mechanical loads in particular.

Once the marking has dried, simply apply the special sealing paint with the New Perfekt Striper® road marking device.

Quick drying:
Dry in approx. 20 minutes.
Hard in approx 4 hours.
Can be driven on after approx. 12 hours.

Yield:
1 box of 12 cans will cover approx. 2 boxes of road marking paint.

Pack of 1 box containing 12 cans.
Please note:
Test the paint prior to application, as adhesion can vary according to the road surface and weather conditions. When marking sealed or treated surfaces, we recommend testing the paint for compatibility, drying time and adhesion in each case. The surface may need to be briefly sanded back or a primer may need to be used to ensure optimal adhesion. If the surface has not be prepared accordingly, the marking paint may peel off after a short period of time.
To prevent the can from clogging, briefly spray the nozzle free of residue after use.
Special paint to prevent soiling and protect markings
Increases the durability of a marking
Quick drying
Hazard class GHS02 – flammable, self-heating, self-reactive, pyrophoric, water-reactive, organic peroxides
Hazard class GHS07 – Attention, irritating substances