PRESSOL – Electric drum/container pump for heating oil/diesel
with mechanical nozzle
For heating oil and diesel fuels
User friendly – the pump is very lightweight and very quiet
Resistant to smaller particles of dirt in liquids being pumped
Manual pumping possible in the event of a power failure

0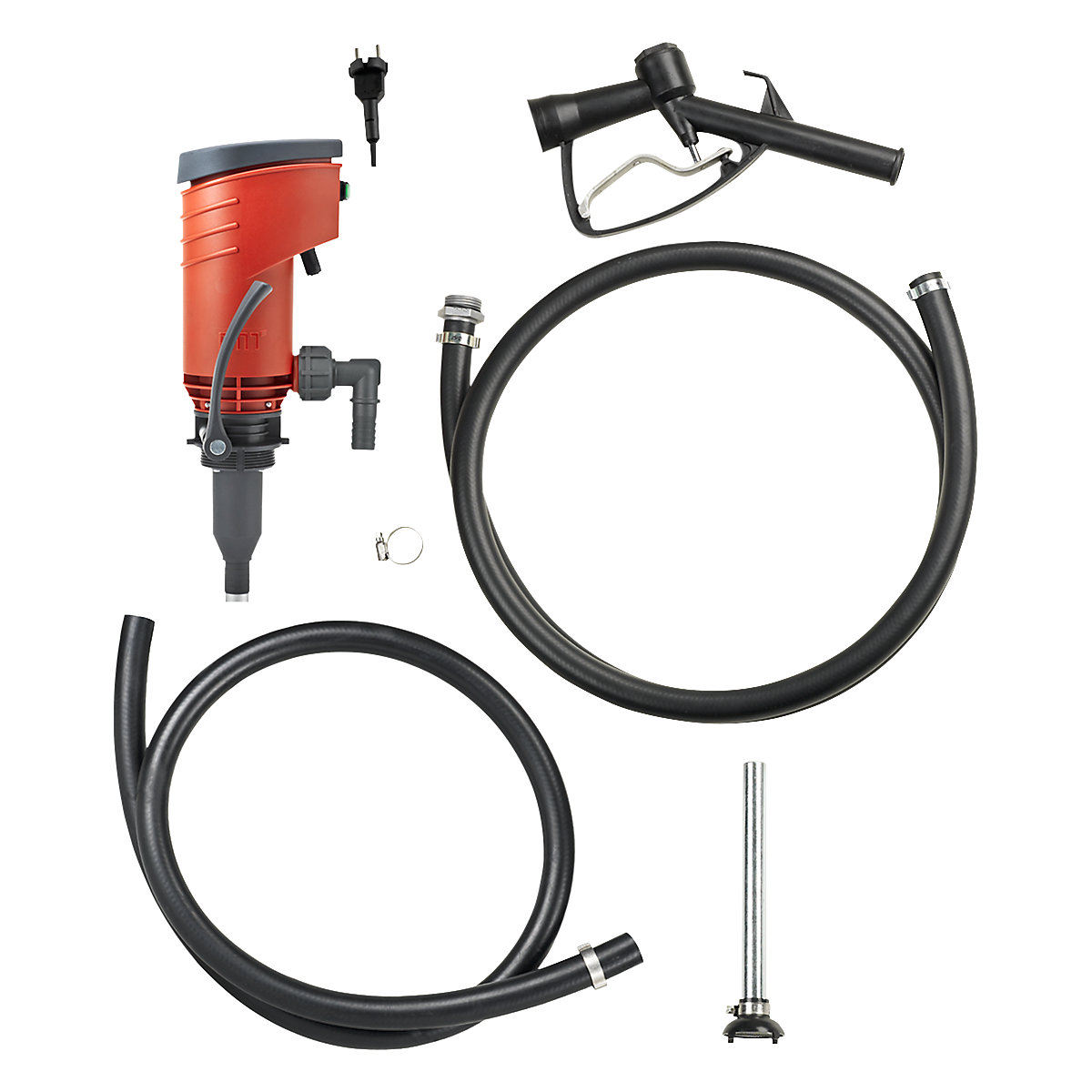 PRESSOL – Electric drum/container pump for heating oil/diesel, with mechanical nozzle, for heating oil/diesel
Bulk discount
| Quantity | Price/item | You save | |
| --- | --- | --- | --- |
| 1 | | - | |
| 2 | | 4,92% | |
Bulk discount
| Quantity | Price/item | You save | |
| --- | --- | --- | --- |
| 1 | | - | |
| 2 | | 4,92% | |
Electric drum/container pump (axial rotation pump).
With a nozzle and additional manual pump unit.
For 200 to 1000 litre containers.

Pump rate: 52 l/min
Voltage: 230 V
Not self-priming.

For heating oil and diesel fuels.

Features:
Illuminated on/off switch.
Motor with self-reset thermal circuit breaker.
Siphon protection compliant with German Water Management Act (WHG), always active.

Please note: if media compatibility is unclear, please enquire about the suitability of pumps beforehand.

Included in delivery:
Discharge hose, length 4 m, DN 19, G 1'' o, G 1'' i.
Mechanical nozzle made of polypropylene.
Suction hose, length 1.6 m, with metal filter.
Drum screw connection: G 2'' o.
For heating oil and diesel fuels
User friendly – the pump is very lightweight and very quiet
Resistant to smaller particles of dirt in liquids being pumped
Manual pumping possible in the event of a power failure
Supplied

partially assembled

Design of pump

electric drum and container pump

Pump rate

52

l/min
For media

heating oil and diesel

Weight

4.26

kg
Thread

G 2

inch
Power

0.32

kW
Nominal hose diameter

DN 19

Product type

drum pumps, electric

Material of pump

PA6 (nylon 6)

Suction hose length

1600

mm
Voltage

230

V